With the SBI PO Mains results out, it's time to gear up for the interviews!
Most candidates dread this part of the selection procedure, and we attribute it to the following reasons:
Fear of the Unknown

Fear of Rejection
Although mentioned separately, these causes are strongly interlinked. It all starts with not knowing where to begin, what to prepare for and what to expect from the interview. Pair it up with the anxiety of getting selected, the fear only multiplies.
As cliche`d as it may sound, interviews are not something to be scared of!
Blend the right mindset with a structured preparation and a dash of confidence — and voila! You have the perfect recipe for nailing that interview.  
We at Oliveboard, will be doing a series of blog posts to help you not only prepare for your banking interviews, but ACE them. Consider us as your 'Know It All Buddy' for interviews: right from advising you on preparation and polishing your technique to calming your nerves, this series will guide you through the entire process.
So, first things first, before you dive into the sea of questions to prepare for, it is necessary to know what an interview is for and understand the interviewer's perspective.
Why do organisations interview candidates?
While aptitude tests may help in finding the right person for the job, an interview helps a recruiter find the person best suited for a company.
And for that exact reason, an interview is aimed at getting to know 'YOU' better. The  interviewer wants someone who will fit in the culture and work environment of their organisation. He/ she wants to gauge how would you react to various situations that might arise at the workplace and whether you would make a good 'colleague', without making it too explicit.
What to expect in a banking interview?
It is similar to other interview processes. Although, there could be one person interviewing you or there could be more than one. Banks usually conduct a 'Panel Interview' (i.e. many interviewers).
The panel would already be having your forms and previous scores, and you are not allowed to carry anything to the interview room.
You would be asked questions from different areas such as: your field of graduation, puzzles, current affairs, banking (basic terminology) etc.
Some of these questions may be as absurd as 'Did you read today's newspaper?', but the important thing to keep in mind is the fact that the interviewer is looking for a level headed person who can handle unexpected situations at work.
There may be one person in the panel who doesn't say/ ask anything, but will just keep sitting there. Don't think he/ she isn't doing anything. In fact, he is the one observing you most intently. Thus, right from the way you dress to the way your hands move or don't move at all while you are talking, becomes important.  
What to do before appearing for an interview?
One has to be meticulous when preparing for an interview. Because every tiny detail matters! 
The thing of utmost importance is, research, about:
Know the Bank Better- Before appearing for an interview, you should make sure that you have a good knowledge of the bank, of their work culture and recent news related to that bank (if any).
Know YOURSELF better- What we mean to say is that you should know what your strengths and weaknesses are. You should be able to come up with real life stories that are indicative of those strengths. You should know why did you make certain career decisions. Hence, an introspection, is a must!
What factors matter during an interview?
Consider the following image: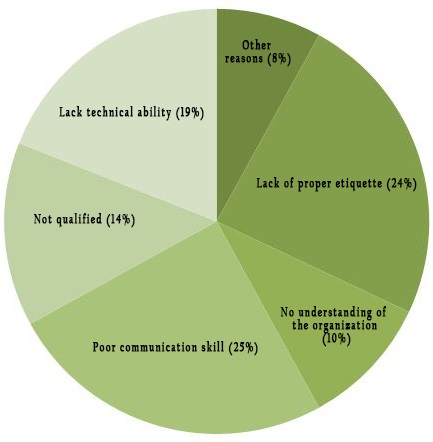 As you can see from the picture, poor communication skills and improper body language are major reasons why candidates are rejected in an interview. Hence, the ability to clearly express your thoughts is critical.
A great way of doing that is interviewing yourself. Start with asking yourself a simple question like: 'what are your strengths', while standing in front of a mirror and cross question yourself. Note your body language, if there is any shaking or fidgeting; make a conscious effort to stop it.
In the next post of this series, we will closely examine most common questions asked in banking interviews, so stay tuned.

The most comprehensive online preparation portal for MBA, Banking and Government exams. Explore a range of mock tests and study material at www.oliveboard.in