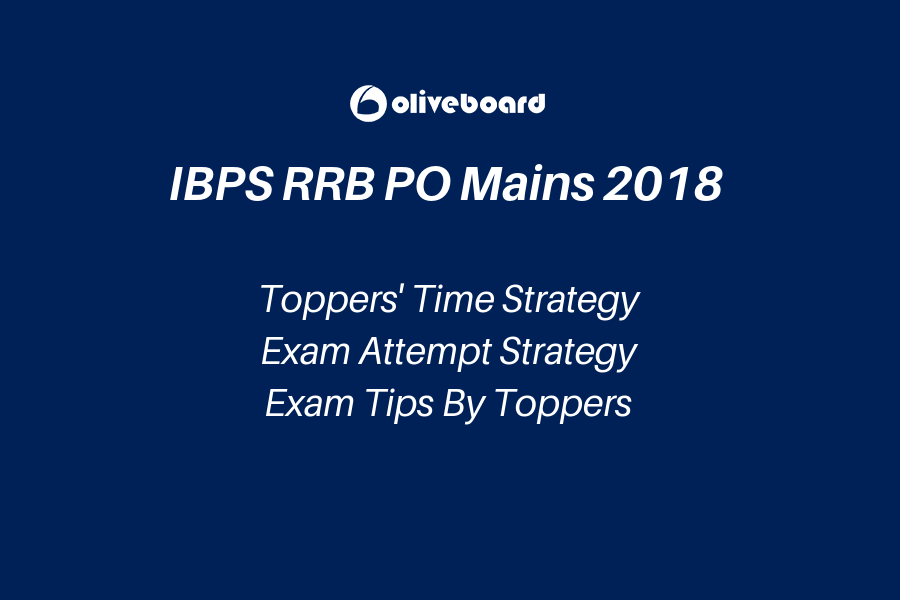 The IBPS RRB 2018 mains exam is just about 13 days away and we are positive that your preparation is on an all-time high. While preparation is the most crucial component of clearing an exam there are other minute details that help you boost your scores and gain an edge over your competitors. What are these 'minute-details', you may ask? 
In this article, we bring you:
Toppers' Time Strategy: This will tell you approximately how much time you should spend on each section.
Exam Attempt Strategy: How you attempt/ approach the paper can mark the difference between clearing and not clearing the exam, even if it's just by a mark. So, understand how important this is and try to follow.
Tips By Toppers: Right from peripheral concerns like reaching the center before time to how to tackle the situation when you're stuck at a question and panic, toppers' give you all the advice you'll ever need.
So, just read along!
How To Attempt IBPS RRB PO Mains 2018 | Toppers' Time Strategy 
The IBPS RRB Officer (Scale-I) Mains exam will be conducted over the coming weekend, and to help you fine tune your exam taking strategy, we'll show you what some of the toppers have been doing with their time allocation across sections. 
We checked the toppers' (Top 5% or >95%ile) time allocation and this is broadly what many of them used as their approximate time allocation during the exam.
1) Quantitative Ability: 42 minutes
2) Reasoning: 41 minutes
3) English Language: 16 minutes
4) General Awareness: 11 minutes
5) Computer Knowledge: 10 minutes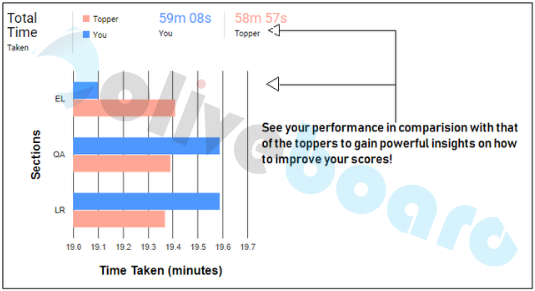 NOTE: What works for some may not work for others. Use this only as a guideline & not as a target. If something is working well for you, you can continue to use the same strategy. 
Visit here to take IBPS RRB Officer Mains Tests & build your own time strategy. 
How To Attempt IBPS RRB PO Mains 2018 | Exam Attempt Strategy 
The strategy/approach to an exam largely consists of answers to the following 3 questions:-
1) Which section should I attempt first or what order of sections should I follow? 
There is no one correct answer to this or the other questions that follow. It is advisable to attempt the section you are most comfortable and strongest in first, finish that section in quick time & then move onto the second relatively comfortable section. This way, one builds confidence & momentum that will help in solving the remaining sections. 
The drawback in trying to solve your weakest section first is that if things do not go as planned, one gets nervous quickly and this can adversely affect the mind & subsequently the performance during the rest of the exam. 
2) How much time to spend in each section? 
We have answered this in the very beginning of the article by telling you how some of the toppers are using their time. 
3) How many questions to attempt in each section? 
The obvious answer to this is to attempt as many as you possibly can, without compromising on accuracy. The actual number would also depend on the difficulty of the exam on the day. After following 1), within each section identify and solve the easy questions first followed by the relatively more difficult ones. Remember, all easy, as well as the difficult questions, carry the same marks. So quickly scan & identify the right questions to attempt.
DO NOT let your ego take over while solving questions. If you are stuck at something, just leave it & move on instead of proving to yourself that you can solve it. The one way to get out of this is to give yourself a time limit, say for example x seconds, and if any question takes more than this, you leave it & move on. You can always return in case you have time left.  
Having suggested the above, it is strongly recommended to try different approaches & follow the one that personally works for you. If something else is working for you which is different from the above, stick to it. 

How To Attempt IBPS RRB PO Mains 2018 | Toppers' Tips
I always believed that appearing for regular mocks will make me capable of cracking exam. It will acquaint me with the exam patterns and the difficulty level of all types of questions. The exam difficulty started changing and I started searching for different online mock test options which could match up to the level of these exams and I got to know about the Oliveboard Mock Test Series through one of my friends and really it helped me a lot. I used to give one test daily and after giving the test, I always analysed my performance in that test because I wanted to improve on my weaknesses.
Seema Singh (Cleared IBPS RRB PO 2017)
My only strategy was to increase my level at every next step. I used to practice the speed test firstly by attempting them and after that, I used to analyze my weak areas.
PREPARATION TIPS
I would like to suggest you that if you are attempting tests then do analyze them at the same time, as it will help you to identify your weak areas so that you can focus on those. Also try to practice new questions on daily basis from wherever you get them, as it will help you to increase your level of test preparation. Try to do something new daily, because repeating those old patterns daily would not increase your level at all, because today in order to survive in this competition you have to think differently, to have to build our own strategy.
GK
For GK, I used to go through the daily news and some of the notes and PDFs which are available on the Oliveboard blogs.
I faced difficulty with the English Language. My English was not up to that level, so what I did was, I attempted HINDI in RRB PO mains which gave a plus point to me as I was good in scoring more marks in Hindi.
I want to thank Oliveboard Mock test series as it helped me a lot to boost my preparation. The one and only success mantra is speed test and self-motivation.
FAILURE IS THE FIRST STEP TOWARDS SUCCESS.
– Ujjwal Arora (Cleared IBPS RRB PO 2017)