Dear Aspirants, we know Banking Awareness forms an important part of the General Awareness section. It is one section which can fetch you more marks as the questions can be solved within few seconds if you have thorough knowledge about them. That's why we always try to make you understand terms that we often overlook while studying. Because if the terms or concepts are clear, you can easily understand what the question is about. Today in this post we'll talk about Bancassurance. It is important to have a clear idea about this term if you are preparing for Banking or Insurance exams, like IBPS PO, IBPS Clerk, SBI PO, LIC HFL, NIACL, RBI Grade B, or other exams like SSC. So, let us get started!
Bancassurance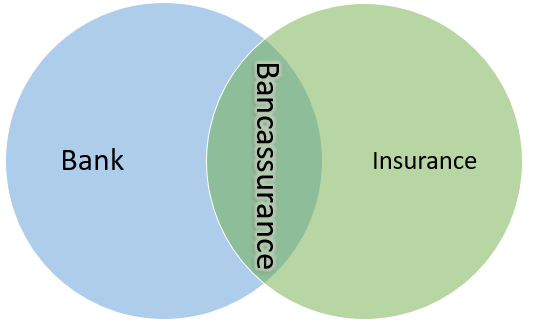 Bancassurance, as the name suggests, is formed by combining two words- banking and insurance. It refers to the delivery of insurance products through banking channels i.e., there is an agreement between an insurance firm and a bank to sell the insurance products through the bank's infrastructure to bank's client base. It is like a "give and take" situation where the bank grants the insurance company access to their wide-ranging customers to sell their insurance products in return of which they earn income.
The concept of Bancassurance originated in France and soon became successful in other countries of Europe. In India, the concept of Bancassurance was introduced in 2000. Banking Sector and Insurance Sector, in India, are governed by two different bodies. Banking sector is fully governed by the Reserve Bank of India (RBI) while the Insurance sector is regulated by The Insurance Regulatory and Development Authority (IRDA). The government of India has specified 'Insurance' as a permissible form of business that could be undertaken by banks under Section 6(1)(o) of the Banking Regulation Act, 1949. However, banks intending to take up the business must take specific approval from RBI.
Take Oliveboard Free All-India Mock Test
Bancassurance: Advantages for Banks
Banks can earn additional income

Banks gain customer loyalty thereby strengthening the customer relationship.

Proper use of existing infrastructure.

Optimizing the manpower utilization in order to increase efficacy in productivity.

Banks become sort of 'supermarket' where customers' financial and insurance-related demands can be met.

By providing all services under one roof, banks can improve customer satisfaction level too.
Bancassurance: Advantages for Insurance firms
Generation of additional sales.

Access through a vast customer base.

As banks have already established relationship with customers, conversion ratio of leads to sales increases.

Insurance companies can use the already existing outlets of banks in the rural areas to sell products in those areas.

Developing new financial products more efficiently in collaboration with their bank partners.

Establishing market presence rapidly without the need to build up a network of agents or brokers.

Can reach more customers without having to invest in more offices and manpower.
Bancassurance: Advantages for Customers
Customers get everything under one roof, which saves both time and energy.

Experience easy renewal and other formalities.

Claims can be easily made.

They get Professional experts and trained staffs to give proper advice.
Some Bancassurance Tie-Ups
SBI Life Insurance Co Ltd – SBI

HDFC Life Insurance – HDFC Bank

ICICI Prudential – ICICI Bank
So, Bancassurance has emerged as an important channel for the distribution of insurance products. This amalgamation of Banking and the Insurance sector, if implemented properly, can be beneficial for all the participants i.e., banks, insurers, and the customers.
That is all from us in this blog. Hope you find the information useful. We'll discuss more banking and finance-related terms in the upcoming posts. 
All the Best!
Take Oliveboard Free All-India Mock Test
Other Blogs:
Banking Awareness: Structure and Functions of RBI
Banking Awareness: Subsidiaries of RBI
Banking Awareness: GDP and GNP
Banking Awareness: NDP and NNI
Banking Awareness: List of Important Banking Abbreviations

Oliveboard is a learning & practice platform for premier entrance exams. We have helped over 1 crore users since 2012 with their Bank, SSC, Railways, Insurance, Teaching and other competitive Exams preparation.