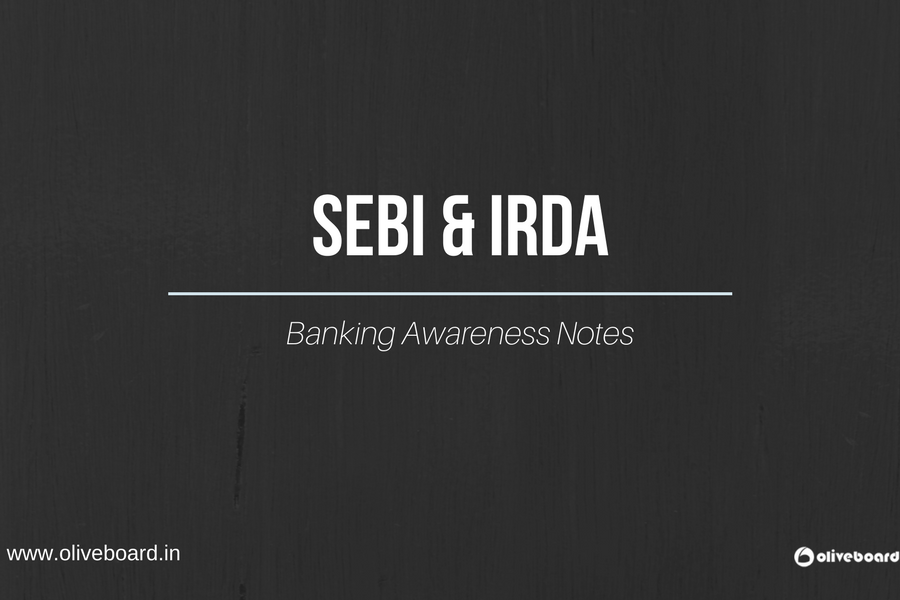 In this post, we would be covering one of the very important topics of the banking awareness section : SEBI & IRDA. This article would cover all the major points such as year of establishment and chairperson, as well as the functions of these regulatory bodies.

This blog will not only help you in your initial preparation but will also come in handy at the time of revision. So, read along!
 Security Exchange Board of India (SEBI) ( Capital Market Regulator )
Sector:
Securities market
Functions
SEBI has to be responsive to the needs of three groups, which constitute the market:
the issuers of securities

the investors

the market intermediaries.
SEBI has three functions rolled into one body: quasi-legislative, quasi-judicial and quasi-executive. It drafts regulations in its legislative capacity, it conducts investigation and enforcement action in its executive function and it passes rulings and orders in its judicial capacity.
Major Functions of SEBI
To promote the development of Securities Market and to regulate the Securities Market.

To Protect the Interest of Investor in Securities.

To overview the market operations, organizational structure and administrative control of exchange.

Registration and regulation of the working of the intermediaries.

For prohibit the unfair trade practices in the market.

Promoting and regulating self regulatory organizations.

To provide education for the investors and to give training for the intermediaries.

To regulate substantial acquisition of shares and to take over it.

Performing such functions and exercising such powers under the provisions of the securities contracts (Regulations) Act 1956 as may be delegated to it by the central government.
For the discharge of its functions efficiently, SEBI is vested with the following powers:
to approve by−laws of stock exchanges.

to require the stock exchange to amend their by−laws.

inspect the books of accounts and call for periodical returns from recognized stock exchanges.

inspect the books of accounts of financial intermediaries.

compel certain companies to list their shares in one or more stock exchanges.

registration brokers.
Insurance Regulatory Development Authority ( IRDA ) ( Insurance Sector

)
Headquarters:
Hyderabad, Telangana
The Insurance Regulatory and Development Authority of India (IRDAI) is an autonomous, statutary agency tasked with regulating and promoting the insurance and re-insurance industries in India. It was constituted by the Insurance Regulatory and Development Authority Act, 1999, ( IRDAI ).
Functions & Duties of IRDA ( As per the IRDAI Act of 1999 ):-
Ensure orderly growth of Insurance industry.

Protection of interest of policy holders.

Issue consumer protection guidelines to insurance companies.

Grant, modify, and suspend license for insurance companies.

Lay down procedure for accounting policies to be adopted by the Insurance companies.

Inspect and audit of Insurance companies and other related agencies.

Regulation of capital adequacy, solvency, and prudential requirements of Insurance business.

Regulation of product development and their pricing including free pricing of products.

Promote and regular self regulating organizations in the insurance industry.

Re-insurance limit monitoring.

Monitor investments.

Vetting of accounting standards, transparency requirements, in reporting.

Ensure the health of the industry by preventing sickness through appropriate action.

Publish information about the industry.

Prescribe qualification and training needs of agent.

Monitor the charges for various services by Insurance companies.

Regulating intermediaries like – Agents, Brokers, Surveyors, TPA Health services.
Hope this helps.
All the best!