Join the best Online CAT Coaching for CAT Exam 2015 : Prepare for CAT 2015, XAT 2016, IIFT 2015, and other leading MBA Exams using Oliveboard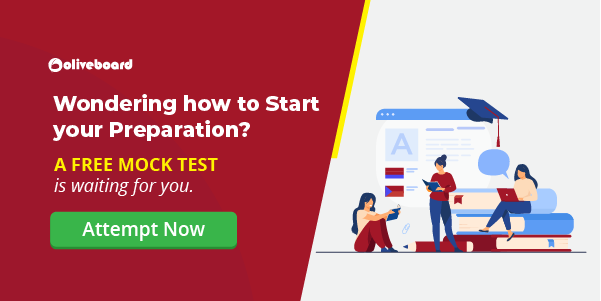 If you are not able to accommodate a coaching institute's schedule, Oliveboard's 1 year comprehensive Online Coaching Course for CAT 2015, XAT 2016, IIFT 2015 and other leading MBA Exams is specifically designed for the working professional, could be just what you need.  (Click here to Register and Sign up for the course).
1) Why is this useful for someone who is working?
a) The program is the most complete online course with everything one needs to prepare for at one's own pace:-  Videos, Lessons, Topic Tests, Adaptive Tests that challenge your current preparation levels, Mock Tests & Remedial Material on weak areas – all of which can be used anytime at your schedule.
b) If you are preparing for multiple MBA exams, there are mock tests for all major MBA exams – CAT, XAT, NMAT, MHCET, CMAT, SNAP & IIFT.
c) Our fun & engaging group study/practice sessions (25+ in all) on various topics are held post working hours .
2) I am not sure how to begin preparation & what topics to study.
Oliveboard's unique Smart CAT Study Planner creates a customized  study schedule for you based on syllabus & importance of topics and tracks how much you have completed.
3) How long is the course valid and how much does it cost?
The course is valid until Mar 31st 2016. The program costs Rs. 5999 but you can use the coupon code "LAUNCH" to get Rs. 2000 off and avail it at Rs. 3999. You can also use the EMI option to pay it in 4 installments of Rs. 1000 each. Click here to see more options.
4) Are there any scholarships available for students who have taken CAT before?
If you wrote CAT 2014, you can upload your scorecard and get an automatic scholarship added to your account. Click here to upload your scorecard.
5) How have Oliveboard students performed in CAT 2014?
More than 20 students have scored over 99 percentile on CAT 2014. Here are what a few of them who practiced on Oliveboard had to say:  (Testimonials can also be found here)
Shashwat Gangwar – 99.99%ile
I found Oliveboard to be one of the best sites for online CAT preparation in the comforts of your home. Its online Group Study sessions were very helpful, along with being entertaining as well. The experts were very friendly and helpful while clearing any doubts regarding any section of CAT. The mock tests were more difficult than the actual CAT, which helped me perform even better in the actual test. The analysis provided were very user-friendly and gave a neat view of your performance. All-in-all, a very handy website for CAT preparation!
Sai Vatsalya Mokka – 99.93%ile
The new Oliveboard platform is a very effective tool to boost up one's test prep. The timely break-up of mock tests, topic-wise mocks and the immediate overall analysis after every test helps students to a great extent. I also feel that the new mobile app is the first of its kind for preparing for cat on the go.
Atul Gandhi – 99.85%ile
Oliveboard has helped me immensely in my CAT preparation. The mock tests covered questions from all the topics with varying difficulty levels, thus preparing me for everything that CAT could have possibly put in front of me. The platform provides a very detailed after-test analysis report. I revised all the questions from these tests regularly, and often learnt new concepts. The personalized practice section helped me work on my weak areas. Innovative features like group study and the ability to take the mock test in parts are an added bonus.
Sandeep Reddy – 99.80%ile
I had not heard of Oliveboard when one of my friends here at IIT persuaded me to buy the course because he found it useful. And I am glad he did so. Everything about the site is great – from the tests of varying difficulty levels, detailed performance analysis and the improvement tests on my weak areas. It was ultimately very effective in helping me secure a very good score.
Bitan Nath – 99.79%ile
Oliveboard is arguably the best resource for online preparation for CAT, especially for working professionals, thanks to their awesome flexibility and robust testing mechanism. The fact that a full length mock test can be split into 4 parts to be attempted individually is testament to this. The mock tests are challenging, and the sectional tests are good for building concepts. Overall, a fantastic way to prepare for the CAT in the shortest amount of time possible!
Kautuk Kushansh – 99.79%ile
The best part of Oliveboard is the comprehensive analysis provided after the mock tests – It really helped me decide my time management strategies effectively. The fact that they show the percentage of people who have attempted a particular question right, gave me a fairly good idea of where I stood in comparison to others during my preparation. The various levels of difficulty in the mock tests ensured that I was ready for any surprises in the actual CAT. Overall, an effective website, having from daily practice sets to group studies for CAT preparation.
Sign up and join the best Online CAT Coaching for CAT Exam 2015

The most comprehensive online preparation portal for MBA, Banking and Government exams. Explore a range of mock tests and study material at www.oliveboard.in