Dear Aspirants, We all know that IBPS PO is one of the most coveted exams that people wait for a whole year. With the IBPO PO Prelims Exam just over a month ahead, it is now time to gear up your preparation and take it to the next level. We are certain that you are following the IBPS PO Study Plan for Prelims and the separate General Awareness Study Plan we shared with you earlier. Many of you will be attempting the exam for the first time and for many it might be another chance. No matter in which category you fall, make the most of this opportunity. Aim to CLEAR IT in this very attempt. This article is intended to help you Crack IBPS PO Exam and fulfill your dream of getting into the banking sector.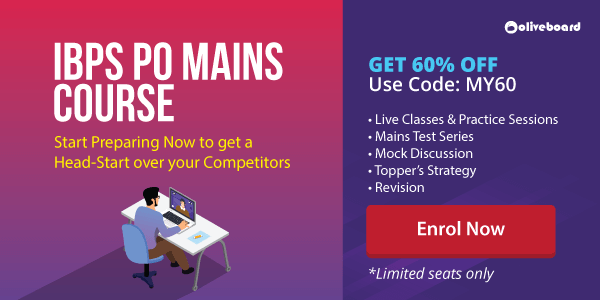 How To Crack IBPS PO in First Attempt?
The idea itself fascinates us. Doesn't it? Just the mere thought of it puts a smile on our face and lights up our mood. But as they say, "Success comes to those who dedicate everything to their passion". If you are passionate to Crack IBPS PO this year, then THIS is the TIME. Give it All. You have to change your ways, your habits, your lifestyle; change that brings improvement and leads you towards success. So, let us get started!
Know the Syllabus and Exam Pattern
If you are a fresher, get to know the syllabus first. Go through previous year papers to see what kind of questions have been asked and how the pattern has changed over the years.
If you are an experienced player, then don't let your past failures demotivate you. You already have won half the battle because you know what went wrong in previous attempts. You just need to polish yourself. Practice IBPS PO Mock Tests daily to improve your score. Every day give yourself a new goal and try to reach it. Keep Reminding yourself that why you started this journey. Remember that you have not come this far to ONLY come this far.
Plan Your Day Ahead
A goal without a plan is just a Wish. Schedule your activities a day before to avoid wasting time on selecting topics. Make an organised study plan for yourself and stick to it. We have already shared with you IBPO Study Plan but in case you want to customize it according to your convenience, take help of Oliveboard Study Planner.
Give Mock Test to Check Where You Stand
You are going to compete with lakhs of aspirants. Give a IBPS PO Free Mock Test to check the level of your preparation. This would give your preparation strategy a new direction.
Analyse Your Performance

Analyze your test score to know your Strengths and Weaknesses. It is very important to have an honest analysis of oneself. This would help you in realizing that you need to master areas which are your strength and focus more on topics you are weak at. It is equally important for candidates who could not make it earlier. Learn from your mistakes and move forward.
Get Expert Feedback
To approach the exam with the correct strategy, take Oliveboard' Expert Feedback. It will help you channelize your preparation in the right direction. Right advice from the Right person at the Right time would boost your chance of clearing IBPS PO 2018.
Compare Your Timing with Topper's Time
Make use of Topper-Time taken Comparison on every question. It will help you draw a comparison between your and topper's time. Take it as an opportunity to challenge yourself and try to beat Topper's score. Have faith in yourself that today you might be scoring less but tomorrow you'll be ahead of others. There is nothing that you cannot ACHIEVE in life.
Give Revision Tests
On Oliveboard you can give Revision tests on topics you are weak at. Working on your weaknesses would bring a huge change in your overall performance.
Practice Daily at Least One Mock Test
"Practice makes a Man Perfect" is the only Mantra to refine your preparation. So, Practice as many IBPS PO Mock Tests as you can. Oliveboard IBPS PO Test Series is designed by Toppers and Expert Faculty to give you up-to-date comprehensive course material.
Increase Your Level of Attempting Questions

Attempt Oliveboard Topic Test of Level 1, 2 and 3 to upgrade your performance. Based on your comfort with and preparation level of each topic you can take these tests of varying difficulty levels. This will prepare you for the real face-off.
Level 1: The difficulty level of these tests is basic and are aimed at building conceptual clarity. Once you've taken this, it's time to move to the next level!
Level 2: In these tests, you can expect moderate level questions and taking these tests will help you strengthen your ability to apply concepts.
Level 3: Here you can expect the difficulty level to range from high to very high. Level 3 tests are challenging and are aimed at preparing you for the trickiest of all questions.
# Tip: Go from level 1 to level 3 to reap the most benefits.
Tips for Numerical Ability, Reasoning, and English to Crack IBPS PO Prelims
For section-wise tips and strategy to Crack  IBPS PO 2018 prelims, Read Preparation Strategy for IBPS PO 2018
Attend Target IBPS PO 2018 – Free Live Online Classes
Oliveboard has brought for all aspirants Target IBPS PO 2018 – a Free Live Online Course. This will help you learn from an expert, practice tests with peers and clear your doubts from the expert – all these absolutely FREE of cost. 
Target IBPS PO – Free Live Online Course
When: 4thSep – 12th Oct 2018
Where: Oliveboard

What: Free IBPS Live Online Course (Quant + Verbal + Reasoning)
Download Complete Target IBPS PO Schedule in PDF
That's all from us. Hope you find it useful and implement it while preparing. All the Best!
"Great works are performed not by strength but by perseverance"

Also Read – IBPS PO Apply Online 2019