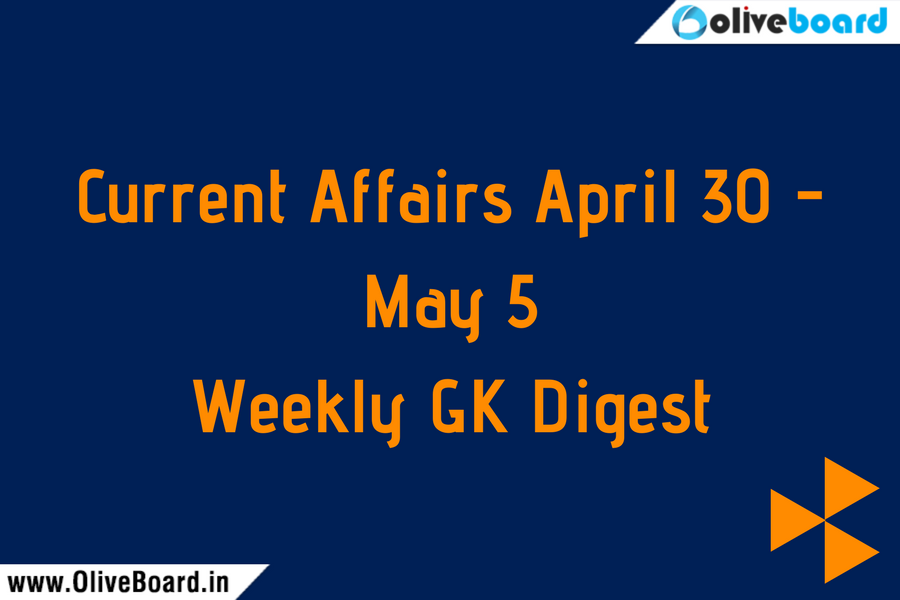 Current Affairs April 30 – May 5 | Weekly GK Digest
Current affairs are an important aspect of every government and banking examination; without a sound understanding and awareness of the current affairs and events happening in the country, the chances of scoring well in government and banking examinations are low. Hence, we at Oliveboard have brought you a weekly digest including all the current affairs that took place from April 30 – May 5, 2018.
Current Affairs April 30, 2018
Swachh Bharat Abhiyan (Mission) launches the GOBARDHAN (Galvanizing Organic Bio-Agro Resources) – DHAN scheme
Central Government launches Pilot Scheme to procure Aggregate Power of 2,500 MW on competitive basis for 3 years
India and Nepal agree to review bilateral trade treaty in July 2018
Airports Council International (ACI) projects India to be the second fastest growing nation in terms of passenger-based traffic as per its forecasts 2017-40
Nirmal Singh resigned as Deputy Chief Minister of J&K while Kavinder Gupta took oath in his place as the Dp. Chief Minister in Jammu and Kashmir
Current Affairs May 1, 2018
Maharashtra to have a new airport in Sidhudurg district functional by September 2018. The project is led by Maharashtra Industrial Development Corporation (MIDC).
9th India-Japan Energy Dialogue was held in New Delhi on May 1st.
GST Revenues collected exceeded Rs. 1 lakh crore in the month of April 2018
Economist and Ex-West Bengal Finance Minister, Ashok Mitra, passes away.
Indian Blind Football Federation (IBFF) conducts the 3rd edition of Indian Blind Football Tournament.
Current Affair May 2, 2018
Maharashtra becomes the first state in India to provide land record receipts with digital signatures
The Cabinet Committee on Economic Affairs (CCEA) has approved the expansion and upgrade of airport infrastructure at Lucknow, Guwahati, and Chennai
Kisan Kalyan workshops conducted at block level across India to discuss how to leverage technology to increase farmers' income
India and China resume their bilateral trade via the Nathu La border
Pradhan Mantri Swasthya Suraksha Yojana (PMSSY) has been approved for beyond 12th 5-Year Plan
India joins USA and China as world's top 5 military spenders
Indian economy's core industry growth slows down to 4.1% in March 2018
IAS Officer Subhash Chandra Khuntia selected to lead Insurance Regulatory and Development Authority of India (IRDAI)
Securities and Exchange Board of India (SEBI) tightens KYC requirements for Foreign Portfolio Investors (FPIs)
Current Affairs May 3, 2018
Union Cabinet approves bill to double investment limit under Pradhan Mantri Vaya Vandhan Yojana from Rs. 7.5 lakhs to Rs. 15 lakhs
Cabinet Committee on Economic Affairs (CCEA) approves the proposal to provide financial assistance to farmers
Maharashtra Government agrees to rename North Maharashtra University after the famous poetess, Smt. Bahinabhai Chaudhari
Indian boxer Neeraj Goyat is awarded the WBC Asia Boxer of the Year Award
India is down to 2nd position in ICC ODI rankings
3rd May celebrated as World Press Freedom Day
Current Affairs May 4, 2018
Serbian Deputy Prime Minister & Minister of Foreign Affairs, Mr. Ivica Dacic visits Smt. Sushma Swaraj as part of his India visit
Ministry of Home Affairs launches "online event clearance system" to expedite the process of granting security passes to foreigners visiting India
Pakyong airport in Sikkim becomes the 100th functional airport in the country
Ministry of Human Resource Development (HRD) launches an initiative of delivering online professional development education through Massive Open Online Course (MOOC) platform, SWAYAM
Ministry of Water Resources sets up the National Water Informatics Center (NWIC) to provide update statistics and actionable information on various natural water resource restoration programs
Current Affairs May 5, 2018
244 selected districts enter National Conference under Beti Bachao Beti Padhao
Union Minister, Nitin Gadkari expected to lay foundation stone for Telangana's highway projects
Government's Think Tank, NITI AAYOG signs Statement of Intent (SoI) with IBM to improve agriculture through artificial intelligence (AI)
A legal agreement has been signed between the Government of India and the World Bank on a National Biopharma Mission to develop and improve medical services in India
According to a study at Harvard University, India is expected to be the top fastest growing economy in the coming decade.
That's all for your weekly GK digest!