General Knowledge or Current Affairs form a very important part of all Banking and Government Exams, be it SBI, IBPS, Railways, UPSC or SSC examinations. This section usually poses problems to students because there is no defined syllabus and there are infinite resources to prepare from. Aspirants get confused in the selection of the right source of information. We are going to post the Top 10 news headlines every day from the most relevant and reliable sources so that it boosts your General Awareness preparation to crack these competitive examinations.
Top 10 Headlines for 14th February 2018 are as follows :
1) Indian Army is contributing approximately 2300 personnel to support United Nations Peacekeeping Missions to South Sudan  (UNMISS) in order to bring peace to the war-torn country.
2) More than Rs 2 lakh crore worth of stressed loans may be headed to bankruptcy court after the RBI dumped various restructuring schemes on Monday and pronounced the bankruptcy courts as the final arbiter of a defaulting company's future.
3) The Defence Acquisition Council (DAC) chaired by Defence Minister Nirmala Sitharaman approved capital acquisition proposals of the defence services, valued at Rs 15,935 crore.
4) India won their first ever Bilateral ODI series in SA taking a lead of 4-1.
5) Indian oil consumption increased at the fastest pace in 14 months in January to 16.9 million tons.
6) Revenue from GST could cross Rs 1 lakh crore a month towards the end of next fiscal once anti-evasion measures are put in place.
7) RIL to invest in a mobile making unit at Tirupati.
8) Two highlights of the PM's visit to UAE were the signing of the Concession Agreement between an Indian consortium and Abu Dhabi National Oil Company for award of 10% stake in Lower Zakum Offshore oil field, and an agreement between Indian Strategic Petroleum Reserves (ISPRL) and ADNOC to operationalise the filling up of a strategic petroleum reserve cavern in Mangalore.
9) The Reserve Bank of India's new norms directing banks to start insolvency proceedings on accounts, if stress is not resolved in 180 days, could result in an increase in bad loans.
10) Aadhaar may be seen by the government as an enabler for every Indian who does not possess even a single proof of identity, Justice D.Y. Chandrachud observed.
To appear for daily GK quizzes and tests, click
here
.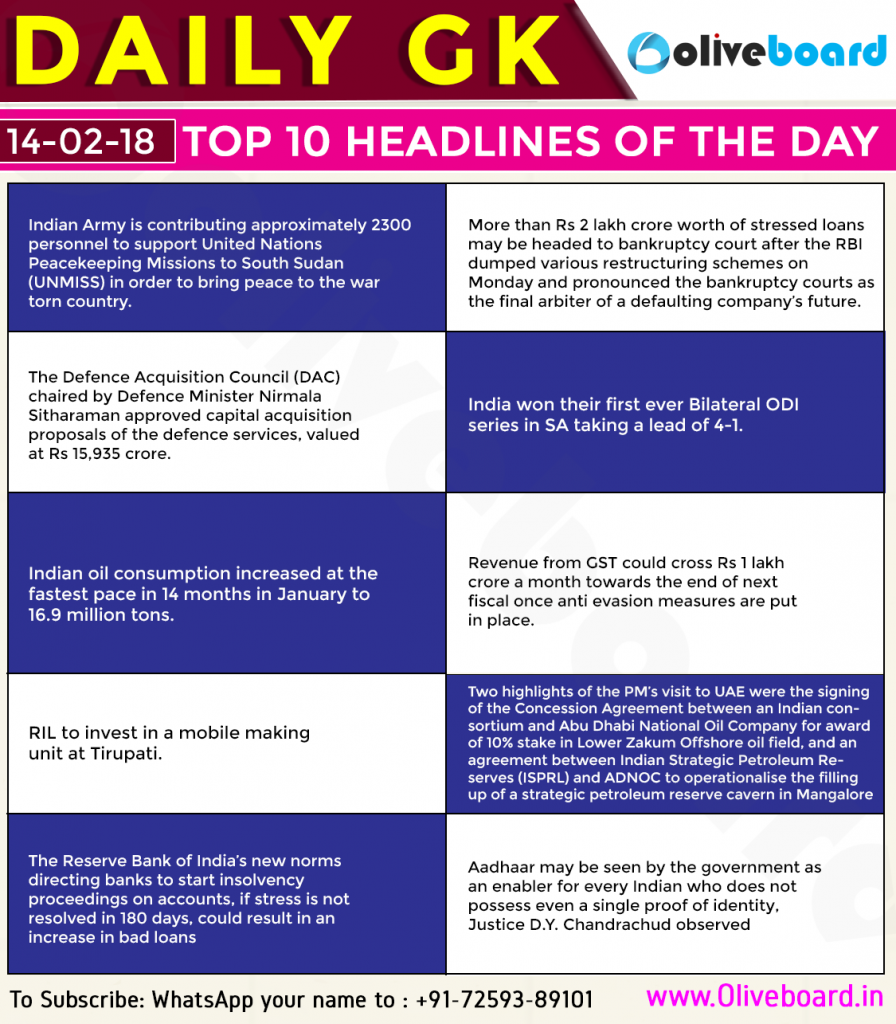 The most comprehensive online preparation portal for MBA, Banking and Government exams. Explore a range of mock tests and study material at www.oliveboard.in