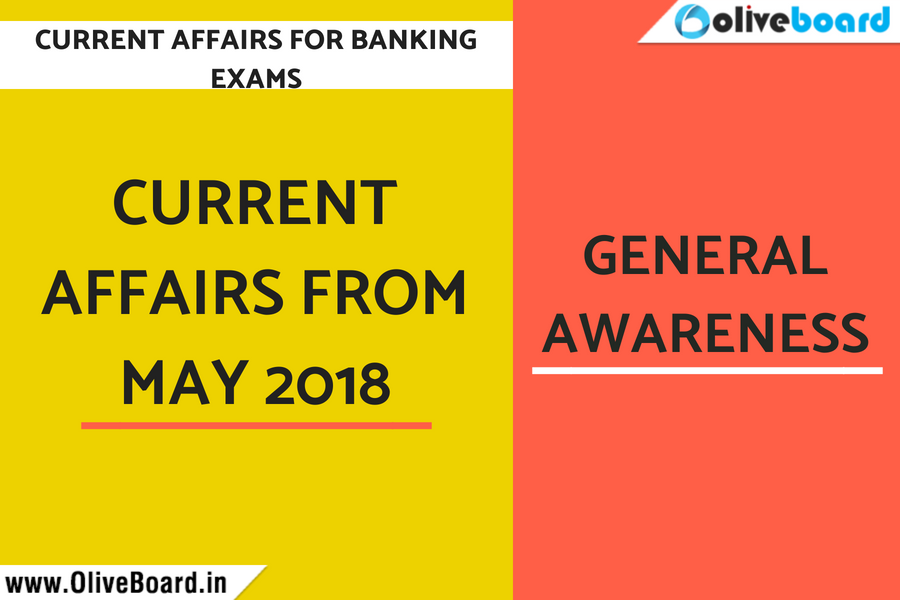 Current affairs are a vital part of any serious aspirant's preparation for banking and government examinations. Given that the nature of this dynamic nature is always changing, we at Oliveboard publish current affairs on a weekly basis to help our students prepare for this section better. So, here are the current affairs that happened in the month of May 2018.
Swachh Bharat Abhiyan (Mission) launches the GOBARDHAN (Galvanizing Organic Bio-Agro Resources) – DHAN scheme
Central Government launches Pilot Scheme to procure Aggregate Power of 2,500 MW on competitive basis for 3 years
India and Nepal agree to review bilateral trade treaty in July 2018
Airports Council International (ACI) projects India to be the second fastest growing nation in terms of passenger-based traffic as per its forecasts 2017-40
Nirmal Singh resigned as Deputy Chief Minister of J&K while Kavinder Gupta took oath in his place as the Dp. Chief Minister in Jammu and Kashmir
Maharashtra to have a new airport in Sidhudurg district functional by September 2018. The project is led by Maharashtra Industrial Development Corporation (MIDC).
9th India-Japan Energy Dialogue was held in New Delhi on May 1st.
GST Revenues collected exceeded Rs. 1 lakh crore in the month of April 2018
Economist and Ex-West Bengal Finance Minister, Ashok Mitra, passes away.
Indian Blind Football Federation (IBFF) conducts the 3rd edition of Indian Blind Football Tournament.
Maharashtra becomes the first state in India to provide land record receipts with digital signatures
The Cabinet Committee on Economic Affairs (CCEA) has approved the expansion and upgrade of airport infrastructure at Lucknow, Guwahati, and Chennai
Kisan Kalyan workshops conducted at block level across India to discuss how to leverage technology to increase farmers' income
India and China resume their bilateral trade via the Nathu La border
Pradhan Mantri Swasthya Suraksha Yojana (PMSSY) has been approved for beyond 12th 5-Year Plan
India joins USA and China as world's top 5 military spenders
Indian economy's core industry growth slows down to 4.1% in March 2018
IAS Officer Subhash Chandra Khuntia selected to lead Insurance Regulatory and Development Authority of India (IRDAI)
Securities and Exchange Board of India (SEBI) tightens KYC requirements for Foreign Portfolio Investors (FPIs)
Union Cabinet approves bill to double investment limit under Pradhan Mantri Vaya Vandhan Yojana from Rs. 7.5 lakhs to Rs. 15 lakhs
Cabinet Committee on Economic Affairs (CCEA) approves the proposal to provide financial assistance to farmers
Maharashtra Government agrees to rename North Maharashtra University after the famous poetess, Smt. Bahinabhai Chaudhari
Indian boxer Neeraj Goyat is awarded the WBC Asia Boxer of the Year Award
India is down to 2nd position in ICC ODI rankings
3rd May celebrated as World Press Freedom Day
Serbian Deputy Prime Minister & Minister of Foreign Affairs, Mr. Ivica Dacic visits Smt. Sushma Swaraj as part of his India visit
Ministry of Home Affairs launches "online event clearance system" to expedite the process of granting security passes to foreigners visiting India
Pakyong airport in Sikkim becomes the 100th functional airport in the country
Ministry of Human Resource Development (HRD) launches an initiative of delivering online professional development education through Massive Open Online Course (MOOC) platform, SWAYAM
Ministry of Water Resources sets up the National Water Informatics Center (NWIC) to provide update statistics and actionable information on various natural water resource restoration programs
244 selected districts enter National Conference under Beti Bachao Beti Padhao
Union Minister, Nitin Gadkari expected to lay foundation stone for Telangana's highway projects
Government's Think Tank, NITI AAYOG signs Statement of Intent (SoI) with IBM to improve agriculture through artificial intelligence (AI)
A legal agreement has been signed between the Government of India and the World Bank on a National Biopharma Mission to develop and improve medical services in India
According to a study at Harvard University, India is expected to be the top fastest growing economy in the coming decade.
Central Board of Direct Taxes notified the protocol between India and Kuwait to amend the Double Taxation Avoidance Agreement (DTAA)
Gujarat Biotechnology Research Centre on initial steps to develop vaccine for leptospirosis
NITI Aayog signs a Statement of Intent (SoI) with Google to boost growth of Artificial Intelligence (AI) and Machine Learning (ML) in the technological ecosystem of India
India signed a $200 million loan deal with World Bank for National Nutrition Mission (POSHAN Abhiyaan) for 315 districts across all states and union territories
Indian Space Research Organization (ISRO) develops an atomic clock for use in navigation satellites
Indian shooters Pooja Ghatkar and Gagan Narang win silver medals in mixed event at Czech shooting event
India finished 1st in the 3rd South Asian Junior Athletics Championships with 20 gold, 22 silver, and 8 bronze medals
Fiji's former PM of Indian origin, Mahendra Chaudhry selected to receive the Krishna Menon Award
Delhi Jal Board (DJB) approves INR 5,137 crore budget for 2018-19 to develop and improve sewage systems and water supply networks
19th Edition of TOONZ Animations Masters Summit 2018 was held on Thiruvananthapuram, Kerala
3rd Edition of the United Nations Peacekeeping Course for African Partners (UNPCAP) was inaugurated
India to host 15th Asia Media Summit as per Union Ministry of Information and Broadcasting from May 10 – 12, 2018
Maharashtra Government to give about Rs. 3 per litre to the milk producers as subsidy
Madhya Pradesh State Government launches India's first Integrated Control and Command Centre for all the 7 smart cities across the city of Bhopal
From May 8 – 11, 2018, the first edition of the Naval Commander's conference is held in New Delhi
Andhra Pradesh Chief Minister, Chandrababu Naidu launches the Nara Chandrababu Naidu App in the Collector's conference held at Amravati
India ranks 4th out of 25 countries in the Asia Power Index released by the Lowy Institute, an Australian think-tank.
India slips to the 6th position in the Business Optimism Index as per a survey conducted by Grant Thorton
India launched the 9th City Gas Distribution (CGD) licensing round to offer permits for selling of CNG and PNG
Government plans to expand the Van Dhan Vikas Kendras in Tribal Districts
President Ram Nath Kovind approves Delhi Government's proposition to amend the Minimum Wages Act
The 15th Finance Commission constitutes an Advisory Council to guide them
The National Small Industries Corporation Limited (NSIC) signed an MoU or memorandum of understanding with the Ministry of Micro, Small, and Medium Enterprises (MSME) for the year 2018-19.
To help women suffering from violence, the Centre has approved the setup of 100 more OSCs or One Stop Centres in 9 states including Haryana, Himachal Pradesh, Madhya Pradesh, Maharashtra, Mizoram, Nagaland, Odisha, Tamil Nadu, and Uttar Pradesh
US announces withdrawal from the Iran Nuclear Deal
2019 Climate Summit to be conducted in New York USA in September 2019
The Investment Board Nepal (IBN) has granted the license to a subsidiary of the Indian government
India predicted to become the fastest growing economy in 2018 under IMF
Ram Nath Kovind visits Siachen base camp: India's second President to have ever done so
NITI Aayog to announce the top 30 innovations submitted during the Atal Tinkering Marathon in Delhi
Union Minister Nitin Gadkari has approved the use of green license plates for e-vehicles
Suresh Prabhu, Union Minister for Civil Aviation inaugurates the 6th US-India Aviation Summit in Mumbai
India's capacity to generate clean electricity as much as 70 GW as per Union Ministry of New and Renewable Energy report updated as of March 31, 2018
Memorandum of Understanding signed between the Gujarat Government and the Polish Government to mark the centenary celebrations for Poland's independence in Delhi and other regions of the world
India sends the second relief consignment for Rohingyas in Bangladesh
Airports Authority of India (AAI) signs an INR 945 crore deal with the Harris Corp. for its development of futuristic infrastructure
India's tea industry reaches the highest record of tea production in the financial year 2017-2018.
Jammu and Kashmir launches new fellowship programme that is named after Mufti Sayeed
US President Donald Trump planned to meet N. Korea's Kim Jong Un in Singapore on June 12, 2018
Rishabh Pant becomes the first cricketer to smash the IPL maiden hundred
US-based retailer Walmart confirms that it will buy 77% of the stake in Flipkart for $16 billion
India and Panama have signed two agreements on Visa exemptions for holders of Diplomatic/Official passports in the agricultural field.
Union Minister of Electronics and Information Technology Ravi Shankar Prasad launches the website of Digital India Internship Scheme in New Delhi
Environment Minister Harsh Vardhan launches Green Skill Development Programme (GSDP) that aims to train more than 5,50,000 workers in the environment and forest sectors.
Ayushman Bharat initiative's first workshop held in Shimla
UNESCO reports India witnessing the highest number of Internet shutdowns in 2017-18
Kerala witnessed an advanced demographic transition with lowering mortality and fertility rates.
From May 14 – 26, 2018, the first edition of International Children's Film Festival will be conducted in Thiruvananthapuram, Kerala
Union Minister Nitin Gadkari inaugurates 2 national highways in Punjab
Union Home Minister approves financial assistance of INR 1,161 crore to Assam, Himachal Pradesh, Sikkim, Lakshadweep, and Rajasthan
IIM Ahmedabad launches the Bharat Inclusion Initiative to support and develop knowledge, innovation, and entrepreneurship in areas such as financial inclusion
United Nations Development Programme (UNDP) decides to setup a skill development center in Hyderabad
President Ram Nath Kovind launches several public welfare schemes in Rajasthan for economically backward classes
Union Government orders a cabinet reshuffle: Piyush Goyal takes over the finance ministry
In a bid to improve their efforts towards developing sustainable sources of energy, the Indian Government has issued a National Wind-Solar Hybrid Policy through the Ministry of New and Renewable Energy
Minister of State of Communication and State of Railways, Manoj Sinha, flagged off the Darbhanga-Jalandhar City Antyodaya Express
Smriti Irani chairs the meeting of stakeholders on the 'Samarth' scheme for Capacity Building in the Textile Sector
Central Public-Sector Enterprise (CPSE) along with National Aluminium Company Limited (NALCO) signs an MoU with the Union Ministry of Mines thus setting the highest ever revenue target of INR 9,350 crores for the financial year 2018-19
Union Finance Ministry announces the roll out of its e-way bill system for intra-state movement of goods that are valued over INR 50,000 on May 16, 2018 for Assam and May 20, 2018 for Rajasthan
First Apex Conference for Smart City CEOs conducted successfully in Bhopal, Madhya Pradesh
National Thermal Power Corporation signs agreement to acquire 3 power-generation projects in Bihar
India's first all-women Post Office Passport Seva Kendra starts operations in Phagwara, Punjab
President Ram Nath Kovind inaugurates the Global Exhibition on Services 2018
Union Cabinet passes approval for several Memorandums of Understanding (MoUs) signed between India and foreign countries
Prime Minister Narendra Modi approves the establishment of the National Institute of Mental Health Rehabilitation (NIMHR) in Bhopal, M.P.
Cell for IPR Promotion and Management organized a National Intellectual Property Rights (IPR) Conference in New Delhi
The International Rail Coach Expo (IRCE) to be held in Chennai, Tamil Nadu from May 17-19. 2018
Uttarakhand Chief Minister, Trivendra Singh Rawat inaugurates the state's first City Gas Distribution (CGD) network at Rudrapur in Udham Singh Nagar district of the state
3rd advance estimates of production of major crops for the year 2017-18 released by Department of Agriculture, Cooperation, and Farmers Welfare
Guwahati now has the country's first solar-powered railway station
Inter-Ministerial Task Force (IMTF) created to constitute the review of the current or existing coal sources of Independent Power Producers (IPPs)
"Swachhata Abhiyan" launched by Department of Administrative Reforms and Public Grievances (DARPG)
Punjab Chief Minister, Amarinder Singh, announced several projects that aggregated to Rs. 555 crores for the development and upliftment of border district Tarn Taran.
Prime Minister Narendra Modi lays foundation stone to construct Zojila Tunnel in Jammu & Kashmir
Telangana Chief Minister K. Chandrashekhar Rao announces new Pay Revision Commission (PRC) for government employees
Union Ministry of Environment forms 19 teams to clean beaches, lakes, and rivers in India
Ministry of Housing and Urban Affairs announces success in its 'Smart Cities' mission with the completion of 1,333 projects worth Rs. 50,626 crores
Minister of Commerce and Industry, Suresh Prabhu launched an Intellectual Property Mascot named IP NANI at a National Intellectual Property Rights Policy conference conducted in New Delhi
Union Ministry of Development of North Eastern Region (DoNER) sanctions 2 projects worth INR 48 crores to develop tourism industry in Tripura
Union Minister of Agriculture and Farmers' Welfare, Radha Mohan Singh, addresses National Conference of Fisheries Ministers of Coastal States
Bombay Stock Exchange (BSE) becomes the first Indian stock exchange to receive U.S. Securities Exchange Commission (SEC)'s recognition as a Designated Offshore Securities Market (DOSM).
Swacch Survekshan 2018 becomes the first pan-India exercise to assess cleanliness in urban India thus covering 4203 cities
Himachal Pradesh State Government approves the budget of INR 25 crore to be used to renovate Bantony Castle as a major tourist attraction.
Indian Railways come up with a new kind of aerator for washbasins and taps in Tejas Express
Union Minister of Commerce and Industry, Suresh Prabhu, creates the Directorate General of Trade Remedies (DGTR) in the Department of Commerce
Union Minister of Coal and Railways, Piyush Goyal chairs a review meeting between top officials of Ministries of Coal, Railways and Power in New Delhi
Supreme Court approves the Central Government's Cauvery Management Scheme draft proposal to ensure smooth distribution of water among the states of Karnataka, Tamil Nadu, Kerala, and Puducherry
Gujrat Government to bear expenses of up to INR 50,000 for victims of road accidents within the first 48 hours from May 18, 2018
DAY-NULM or Deendayal Antyodaya Yojana – National Urban Livelihoods Mission launched to improve the working conditions of the urban poor
Delhi Cabinet gives approval for procuring 1,000 CNG buses under the cluster scheme to upgrade them with in-built GPS, panic buttons, IP cameras, and anti-skid features
RBI modifies norms to for banks setting up International Financial Services Centres (IFSC) Banking Units (IBUs)
RBI prescribes 100% net stable funding ratio (NSFR) for banks to help them be more resilient and maintain adequate liquidity
PM Narendra Modi inaugurates the Kishanganga Hydroelectric Project in Jammu and Kashmir
The Central Reserve Police Force (CRPF) commissions the Bastariya Battalion to combat Naxalites in the Bastar district of Chhattisgarh
Haryana Government to launch the 'Chatra Parivahan Suraksha Yojana' for the protection of female students in Haryana
Energy Efficiency Services Limited (EESL) announces the distribution of 30 crore LED bulbs across the country under the government's UJALA scheme
IIT Kanpur sets up India's first advisory Centre for Energy Regulation (CER)
Uttar Pradesh Institute of Design (UPID) to launch a mobile application to help weavers market their products
The World Bank extends $300 million credit to help scale up EESL scale up their energy efficiency program
Asha Bhosale is honoured with the with West Bengal's highest civilian award, Banga Bibhusan.
India's Shivangi Pathak becomes the youngest Indian woman to scale Mount Everest
IDBI Bank appoints two new independent directors, Mr. Samaresh Parida and Mr. N. Jambunathan, to the board.
First commercial flight lands at Pasighat in Arunachal Pradesh
South-Western command Chetak Corps engage in 'Gandiv Vijay' intense training exercise in Rajasthan
Under the approval of the Union Home Minister Rajnath Singh, Chhattisgarh shall receive a specialized anti-Naxal combat force titled, "Black Panther"
Vice President Venkaiah Naidu lays foundation stone for construction of the Southern Campus of National Institute of Disaster Management (NIDM) in the Krishna district of Andhra Pradesh
India receives the 1st cargo of Abu Dhabi National Oil Company (ADNOC)'s crude oil for its Mangalore Strategic Petroleum Reserve
India and Russia's first ever informal summit held at Sochi, Russia
Bank of Baroda (BoB) signs an agreement with the CDSL Commodity Repository (CCRL) for pledge finance services
Multi-Commodity Exchange of India (MCX) launches copper options
As per the Vice Chairman of NITI Aayog, Rajiv Kumar, the Indian economy will achieve 9% growth rate by 2022
The Oil and Natural Gas Corporation (ONGC) commences its operations in the Nagayalanka block of Krishna District, Andhra Pradesh
In a Lancet study, India secured the rank 145 among 195 countries in terms of healthcare facility access
Defence Acquisition Council (DAC) approves measures for the simplification of defence procurement procedures
Government of Rajasthan launches the 'Nidaan' software to help with disease monitoring
Election Commission to launch multilingual mobile app to enable public to share evidences of corruption in the governmental bodies directly with the electoral body
The Department of Empowerment of Persons and the Ministry of Social Justice and Empowerment signed a Memorandum of Understanding (MoU) with the Artificial Limbs Manufacturing Corporation of India (ALIMCO) for FY 2018-19
Western Railway (WR) launches e-catering services in 23 major railway stations
New scheme launched by Maharashtra Government to help landless labourers
Ministry of Railways signs Memorandum of Understanding (MoU) with the RailTel Corporation of India (RCIL) for FY 2018-19
The 4th Smart Cities India Expo 2018 commences at Pragati Maidan, New Delhi
D. Moorthy is appointed as the next Ambassador of India to the Republic of South Sudan
India and Nepal join forces to bring wildlife poaching under control
India and Nepal to conduct Joint Military Exercise 'SURYA KIRAN-III' in the Pithoragarh district of Uttarakhand from May 30 – June 12, 2018
Union Cabinet approves the ordinance for setting up the first Indian National Sports University in Imphal, Manipur
Union Cabinet approves the ordinance for the amendment of the Insolvency and Bankruptcy Code
World Health Organization (WHO) declares Nepal as the first organization to eliminate Trachoma.
India moves up a rank and reaches the 44th place in IMD's competitiveness rankings
US disinvites China from participating in the Rim of the Pacific (RIMPAC)exercise
Pakistan hosts the Shanghai Cooperation Organization-Regional Anti-Terrorist Structure (SCO-RATS) Meeting in Islamabad
The Ministry of Commerce and Industry announces the commencement of the fifty Cambodia, Laos PDR, Myanmar, and Vietnam (CLMV) countries conclave at Phnom Penh, Cambodia
Indian banks' credit grew at 12.64% while its deposits grew at 7.61%
Interface (UPI) on its own platform
The University Grants Commission (UGC) now approves online courses and grants autonomy to 9 deemed universities
Arunachal Pradesh-based NGO, Singchung Bugun Community Reserve (SBVCR) wins the India Biodiversity Award 2018 in the "Conservation of wildlife species" category
To facilitate the balanced expansion of the healthcare sector in India, the 15th Finance Commission constituted a high-level group
Union Ministry of Human Resource Development starts the initiative titled, 'Samagra Sikhsha Scheme' to improve the quality of school education.
That's all for the monthly current affairs in May! Stay tuned for the current affairs of the next month!
You can also view those videos below if you'd prefer to listen to the current affairs instead of reading them:
All the Best!