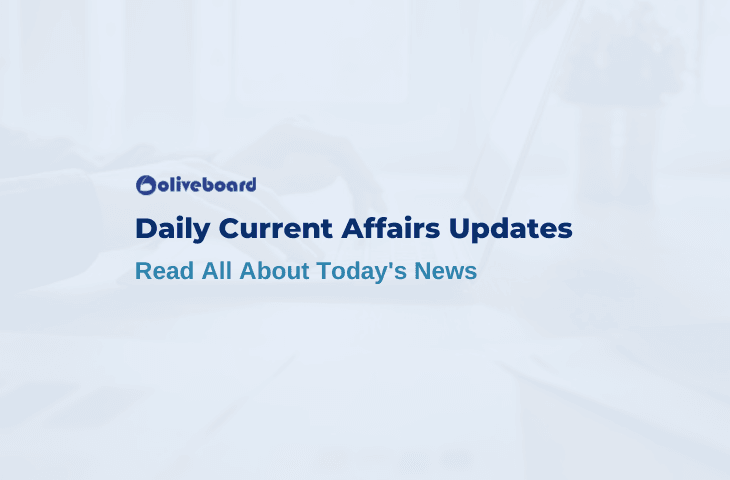 Oliveboard is bringing you Daily Current Affairs updates to help you capture the significant essence of the day's highlights in a single place. Current Affairs are very important especially if you are a competitive exam aspirant. Current affairs forms a good part of most of the exams may it be Banking, Insurance, Railways, etc. If you are preparing for various exams like  RBI Grade B, IBPS PO, IBPS Clerk, SSC CPO, LIC Assistant, etc. Join Oliveboard and get the courses designed with the latest patterns and high-end mock tests to check your preparation level. Let's start with the blog.
Join Oliveboard and Prepare for Baking and Government Exams
Daily Current Affairs Updates
Daily Current Affairs Updates – National
Pakistan Skips inaugural session of SCO Joint Exercise
Pakistan did not participate in the inaugural session of the Shanghai Cooperation Organisation. The session was addressed by Home Minister Amit Shah.
Maharashtra is like a wait and watch situation for BJP
BJP is taking over the wait and watch attitude over Maharashtra government forming situation. Shiv Sena has asked for 50:50 term of Chief Minister position or else they will form a government in coalition with INC.
Former MP Vijayshankar to rejoin BJP today
Mr. Vijayshankar, 2 time MP from Mysuru will rejoin BJP after he quit BJP in 2017 and joined Indian National Congress.
Gauhati High Court Approves post-retirement facilities for Ranjan Gogoi
CJI Ranjan Gogoi retiring on 17 November 2019 has been given approval for few benefits post his retirement. The benefits will include 1 personal secretary, a chauffeur-driven car, and a grade IV peon.
Join Oliveboard and Prepare for Baking and Government Exams
Daily Current Affairs Updates – International
Turkey claims to have captured slain IS leader's sister in Syria
Rasmiya Awad, sister of slain IS a leader is capture in Syria by Turkey during the raid conducted by them.
UK Parliament elects Hoyle as speaker
Lindsay Hoyle has been elected as the speaker for the UK Parliament. He was previously entrusted as Labour Lawmaker.
Boeing tests space taxi
Boeing in collaboration with NASA tested their Space taxi. One parachute fails to open during the trial.
The United States is in talks with Russia and China on Arms Control
Trump in his address to the media mentioned that the US is in talks with Russia and China on a major arms control-like agreement.
Facebook launches new company logo
Facebook has revealed a new company logo to represent itself. The move aims to highlight themselves.
Join Oliveboard and Prepare for Baking and Government Exams
Daily Current Affairs Updates – Sports
ATP Rankings | Rafael Nadal back to No. 1 position
Rafael Nadal has claimed back the no. 1 position in the ATP ranking. This is the 8th time in his career that he is ranked at no. 1 position.
Deodhar Trophy
The All-round performance of India-B in the Deodhar trophy has given them the title.
National Junior Athletics Championship
Haryana's Prashant Kumar Kanhaiya broke a 33-year old National under-20 pole vault record with an effort of 5.05m in 35th national junior athletics championship.
Tough Draw for Saina Nehwal and PV Sindhu in China Open
Saina and PV Sindhu are nest bets for India in the China Open. K. Srikanth has pulled out of the China Open.
Daily Current Affairs Updates – Business
Ashok Leyland showcases BS-VI trucks and buses
Ashok Leyland showcased their range of BS-VI trucks and buses that are built on modular platforms
Sensex closes at new high
Sensex rose for the 7th straight session on Monday and closed at an all-time high of 40,288.04. Nifty also neared the 12,000 mark on Monday.
Wheels India net rises 26%
Wheels India Ltd. recorded 26.4% growth in a net profit for the quarter ended on 30 September 2019.
HDFC profit rises 61% on one-off gains
HDFC Ltd. reported a 61% rise in the second quarter of the current Financial year. The profit is boosted by one time pre-tax gain 0f 1627 crore INR from sale in Gruh Finance.
Subscribe to Edge and get the access to Specially Designed Course
That is all from us in this blog, we have tried to cover the major headlines for the and its essence to help you get a good read. For more such updates, please stay tuned to Oliveboard.
Do Explore other courses and study material available on Oliveboard for Upcoming Exams.
For more exam related content Join Oliveboard Edge and ace the Exam.
Also Check: