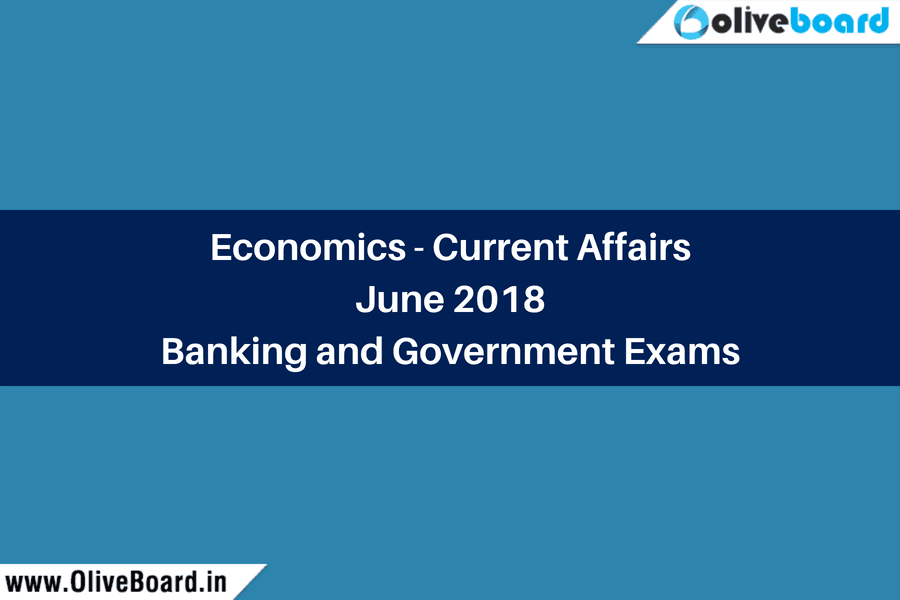 In this blog, We have covered all the Economics – Current Affairs for the Month of June 2018. These Economics – Current Affairs would help with the preparation of Various Banking and Government Exams like RBI Grade B, SBI PO – Mains, IBPS RRB Officer, SSC CGL, SSC CPO and Railway RRB Exams.
Economics – Current Affairs (June 2018)
The Tax Department has launched New Benami Transactions Informants Reward Scheme, 2018 to get people's participation in the Income Tax Department's efforts to unearth black money and to reduce tax evasion.

Government has launched an Online Analytical Tool to facilitate closer monitoring of the flow and utilisation of foreign contributions received by various organisations registered or permitted under the Foreign Contribution (Regulation) Act (FCRA), 2010.

IDBI CEO M K Jain has been appointed as the fourth deputy governor of RBI for a three-year term. He would be succeeding SS Mundra, who retired in July last year.

President Shri Ramnath Kovind has approved the promulgation of Insolvency and Bankruptcy Code (Amendment) Ordinance, 2018.

The World Bank has approved Water Resources and River Development Ministry's Rs 6000 crore worth central sector scheme, 'Atal Bhujal Yojana'.

RBI allows Urban Co-operative Banks to become Small Finance Banks as per the recommendations of High Powered Committee on Urban Cooperative Banks, chaired by R Gandhi, RBI Deputy Governor.

As per the recommendations of a committee headed by Y.M. Deosthalee, RBI to set up Public Credit Registry to curb bad loans.

The Union Government is planning to launch Rs 500-crore worth credit enhancement fund in July to boost infrastructure financing. The move aims to facilitate infrastructure investments by insurance and pension funds.
Take a Mock test now to check how would you score in the Exam, if it was conducted today
RBI releases draft guidelines to modify loan system for large borrowers. As per which, Borrowers having aggregate fund based working capital limit of Rs 150 crore and above from the banking system, need to withdraw a minimum of 40 per cent of the limit as loan component and the remaining as cash credit, with effect from October 1, 2018.

In a retaliatory move to the heavy tariffs imposed by the United States on imported steel and aluminium items, India has decided to raise customs duty on 29 US products including almond, walnut and pulses.
This brings us to the end of Economics – Current Affairs for June 2018. We hope you have read the blog carefully made the necessary notes to revise during final stages of Banking and Government Exams.
Economics – Current Affairs (May 2018)
Economics – Current Affairs (April 2018)
Sports – Current Affairs (June 2018)
If any have any further queries or suggestions regarding Banking and Government Exams you can connect with us on FB, Twitter, Instagram and YouTube as well.
All the best for Banking and Government Exams
Related – Banking and Government Exams Study Material blogs – :
Govt. and Banking Exam Study Material – A to Z of Reading Comprehension
Govt. and Banking Exams Study Material: Quantitative Aptitude – Time, Speed and Distance Problems