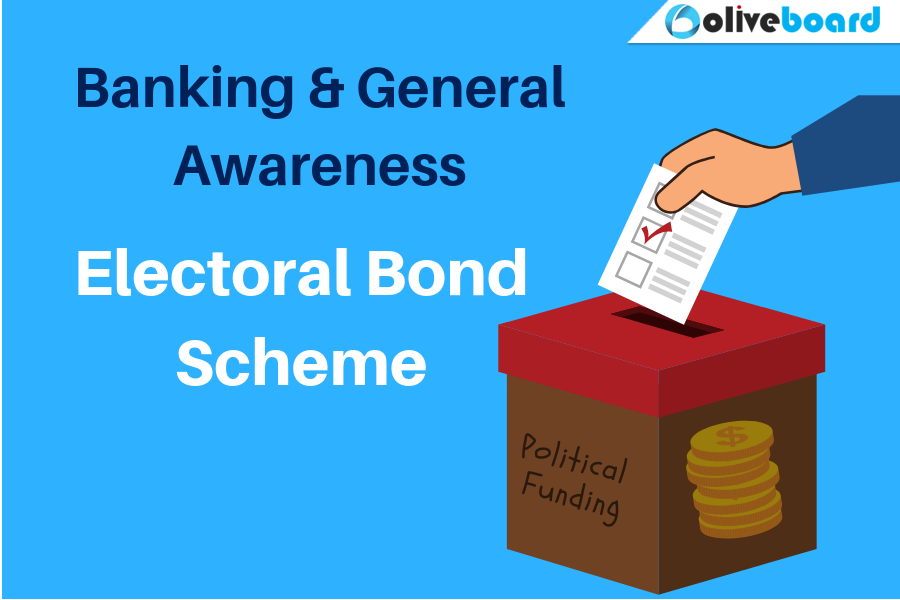 Dear Aspirants, we are sure your exam preparation is in full swing as many banking and government exams are lined up for the upcoming months. Today, in this post we'll talk about Electoral Bond Scheme as questions may come from this in the General Awareness Section of exams like IBPS PO, IBPS RRB Officer, RRB Assistant, NIACL Assistant or even in SSC, UPSC, etc. Pay equal attention to General Awareness section as you prepare for Quant, or Reasoning, the reason being it is scoring and less time consuming. Moreover, if you keep track of latest happenings and the static part, you can easily answer the questions within few seconds with 100% accuracy. So, let us get started!
Electoral Bonds
Electoral Bond is an interest-free financial instrument, in the nature of a promissory note, for making donations to political parties. These bonds are issued on a non-refundable basis and are not available for trading.
Read about Promissory Note here.
Take Oliveboard Mock Test Now!
Electoral Bond Scheme
Electoral Bond Scheme was announced in the Union Budget 2017-18 in order to "cleanse the system of political funding in the country". The scheme was announced with the aim of rooting out the current system of anonymous cash donations to make political funding transparent. 
Govt. of India, in a notification, described that electoral bond means,
"a bond issued in the nature of promissory note which shall be a bearer banking instrument and shall not carry the name of the buyer or payee"
The Electoral Bond Scheme, thus, addresses the concerns of donors to remain anonymous to the general public or to rival political parties. No details of the donor nor of the intended political beneficiary can be made out. So electoral bond cannot be identified or associated with any particular buyer or political party.
Who can purchase Electoral Bonds?
The Electoral Bonds under this Scheme may be purchased by a Person, who is a Citizen of India or Incorporated or Established in India.
Know your Strong and Weak Areas through Expert Analysis 
In what denominations the Electoral Bonds are sold?
It shall be issued/purchased for any value, in multiples of Rs.1,000, Rs.10,000, Rs.1,00,000, Rs.10,00,000 and Rs.1,00,00,000 from the Specified Branches of the State Bank of India (SBI), but only against cheque and digital payments. It cannot be purchased by paying cash. Donors, with a KYC-compliant account, can purchase and donate the bonds to their Party of choice.  Parties receiving bonds can redeem them only through a designated bank account. 
What is the validity of Electoral Bonds?
The validity of Electoral Bonds shall be 15 days from the Date of Issue i.e., these bonds shall be redeemable in the designated account of a political party within 15 days from the date of issuance of bond. No payment shall be made to any payee political party if bond is deposited after expiry of validity period.
Who can redeem these Electoral Bonds?
The Electoral Bonds can be redeemed only by an eligible Political Party (registered under Section 29A of the Representation of the People Act, 1951) by depositing the same in their Designated Bank Account maintained with Authorised Bank (SBI is the Sole Authorized Bank by the Government of India for selling Electoral Bonds).
As per the suggestion made by the Election Commission, a political party can receive maximum Rs. 2000 in cash donation from one person. Any amount higher than this has to be paid via cash-less methods such as cheque, NEFT/RTGS, Electoral Bonds etc. This scheme is expected to bring about greater transparency and accountability in political funding, while preventing future generation of black money.
Note: The Electoral Bonds under the Scheme shall be available for purchase for a period of 10 days each in the months of January, April, July and October.
Attempt Oliveboard' Topic Test of Level 1, 2, 3
Sample Questions:
Q1. Read the following statements:
A. Electoral bonds shall be a bearer banking instrument and shall carry the name of the buyer or payee.
B. Electoral Bonds would be valid for 15 days.
C. Electoral Bonds can be purchased from any Government-owned banks.
Choose the correct option:
Only A

Only B

Only C

Both A and B

Both B and C
Answer: 2
Q2. Read the following statements:
A. Electoral Bonds are short-term Promissory Note.
B. The Electoral Bonds can be redeemed in any account.
C. Electoral Bonds shall not be eligible for Trading.
Choose the correct option:
Only A

Only B

Only C

Both A and B

Both A and C
Answer: 5
That's all from us in this blog. Hope you find the information useful. Make a note of it for quick revision and take Mock Tests to keep a track of your preparation. Also, do comment below if you have any doubt regarding this topic.
All the Best!
---
Take Oliveboard Free Mock Test to start your exam preparation.
Compare your timings with Topper's-Time on every question
Also interact with fellow aspirants in our discuss forum. 
To get free study material and daily current affairs on your mobile, download Oliveboard Mobile App
TAKE FREE OLIVEBOARD BANKING QUIZ