The Indian Institute of Banking and Finance conducts JAIIB/DBF exams twice a year. For bank personnel, taking this test is a great chance to progress their careers. The JAIIB test is designed to verify that applicants have a thorough grasp of bank functions. Learners may read brief notes on one of the most significant subjects of bank notes functioning in this eBook.
Download Functions of Bank Here – JAIIB Short Notes
How To Download The Free Calculation of Interest and Annuities pdf for JAIIB?
Step 1: Click on the download link. You will be taken to Oliveboard's FREE E-Books Page.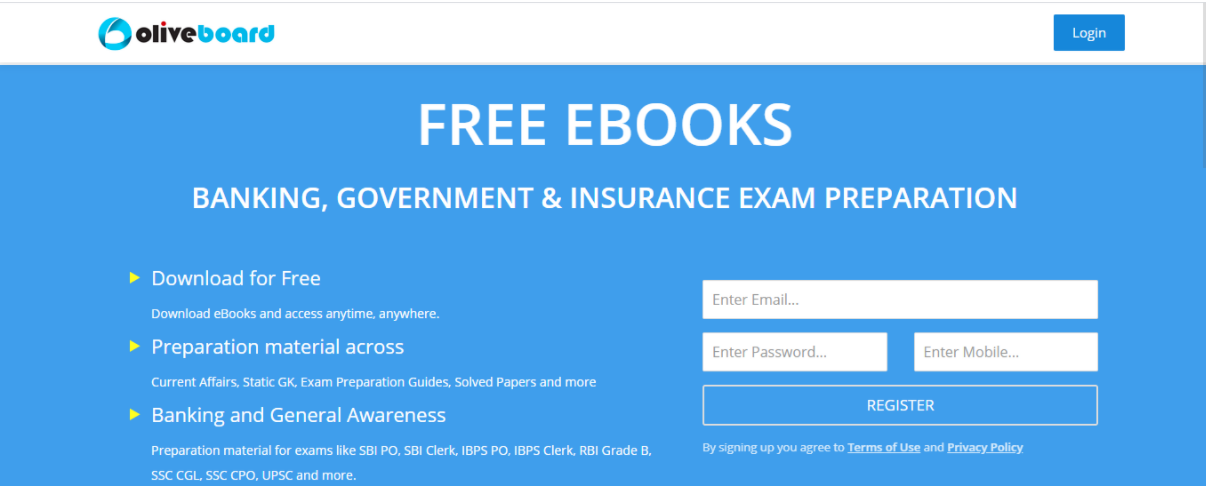 Step 2: Register/Login to the Free E-Books Page of Oliveboard (It is 100% free, You just enter your valid email ID and a password to be able to download the JAIIB Practice questions pdf.
Step 3: After Logging in, you will be able to download the free e-book by clicking on "click here" as shown in the snap below.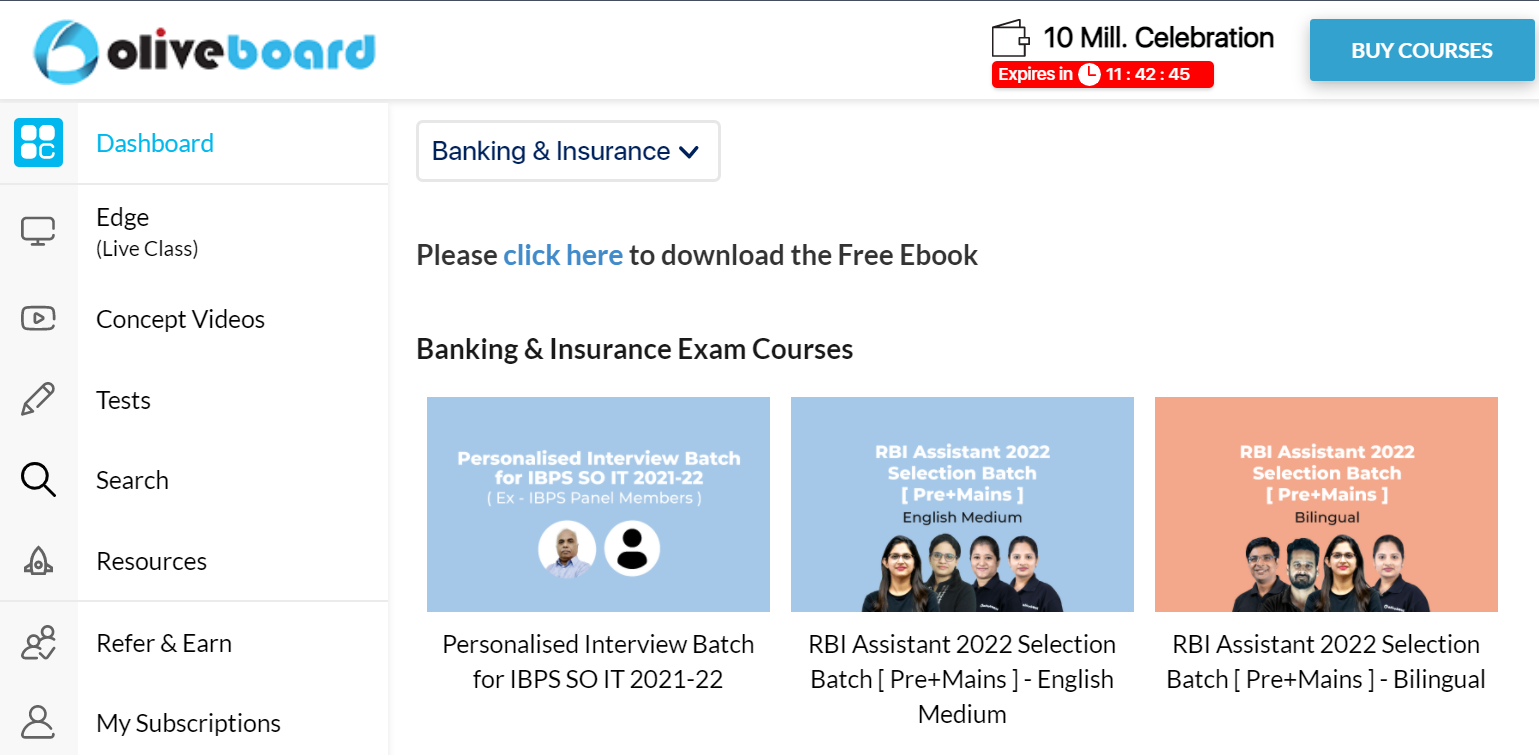 What's there in Functions of Bank eBook?
Table of Content
What is a Bank?
Primary Functions of a Bank
Other Functions
Banker Customer Relationship
KYC/CFT/AML Norms
Banker's Special Relationship
Do's and don'ts of banks under Garnishee order
Banking Ombudsman & COPRA
Negotiable Instruments
Sneak-Peak into the free Functions of Bank JAIIB eBook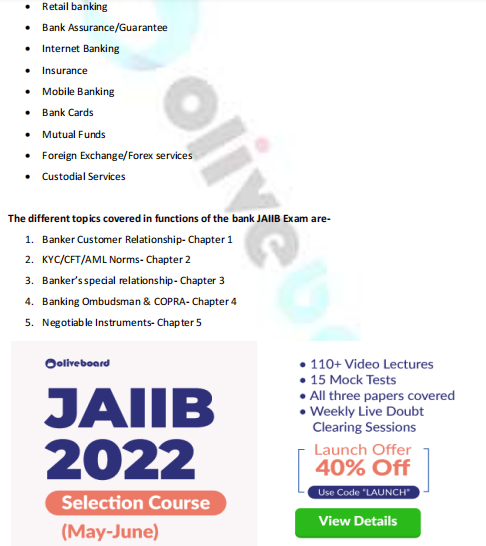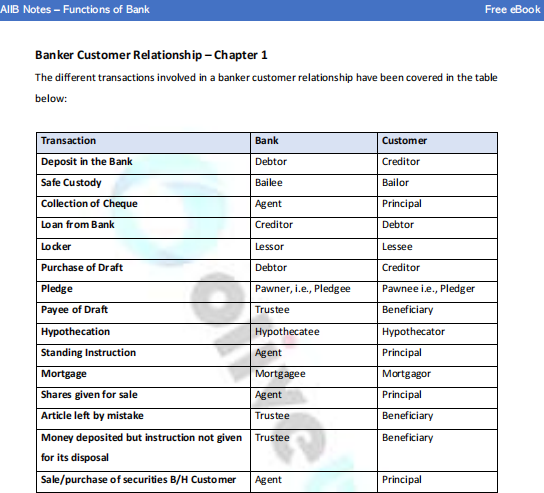 What is a Bank?
A bank is a legal entity that takes deposits that can be withdrawn at any time. Banks are financial entities that assist the public in managing their finances. People deposit their savings with banks with the confidence that they will be able to retrieve money when needed.
Banks accept deposits from both the general public and the corporate community, and they provide depositors with two guarantees:
Deposit security
Withdrawal of the deposit as needed
Banks pay interest on deposits, which is a tremendous incentive for depositors because it adds to the original deposit amount. This encourages citizens to save money. The bank also makes loans based on deposits, contributing to the country's economic progress and the general public's well-being. With this stature, it becomes important to understand the major functions of a bank.
Primary Functions of Bank
The main purpose of banks is to keep people's money safe and to provide loans to those who need them. People put money in banks, which the banks then use to provide loans to them. Aside from these basic roles, banks also execute a variety of other tasks.
Increased financial competition, technical developments, and a variety of other factors all led to the rise of products and services.
The concept of money's temporal value is well-known among the general public; they are now aware of their money's future potential. Individuals now have a variety of alternative investment alternatives in addition to maintaining a savings account for the purpose of investing. One of the main reasons why banks can no longer operate is because of this.
Other Functions
Other functions that the bank performs, which are known as ancillary services, are as follows-
Fund Transfer (RTGS/NEFT)
Merchant Banking
Factoring
Bank drafts
Traveller's Cheque
Retail banking
Bank Assurance/Guarantee
Internet Banking
Insurance
Mobile Banking
Bank Cards
Mutual Funds
Foreign Exchange/Forex services
Custodial Services
Banking Ombudsman & COPRA
Consumer Protection Act (COPRA)
District Forum- up to Rs. 20 Lakh
State Commission- Above Rs. 20 Lakh to Rs. 1 Crore
Central Commission- Above Rs. 1 crore
Banking Ombudsman Scheme
Resolution of complaints relating to services rendered by banks
Compensation amounts arising directly out of act or Rs. 10 Lakhs, whichever is lower
In the case of credit cards- Not exceeding Rs. 1 Lakhs
DOWNLOAD THE OLIVEBOARD APP FOR ON-THE-GO EXAM PREPARATION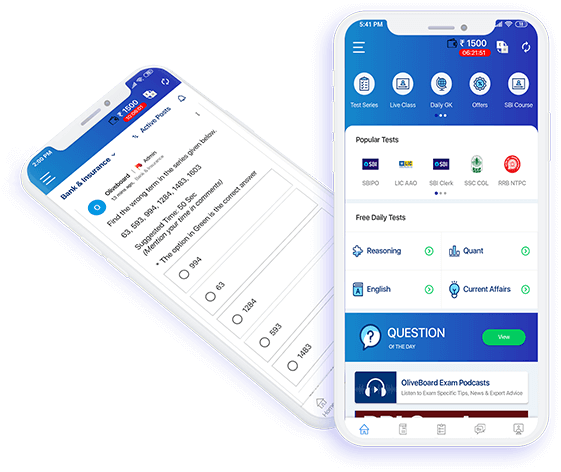 Video Lessons, Textual Lessons & Notes
Topic Tests covering all topics with detailed solutions
Sectional Tests for QA, DI, EL, LR
All India Mock Tests for performance analysis and all India percentile
General Knowledge (GK) Tests
Free videos, free mock tests, and free GK tests to evaluate course content before signing up!

Oliveboard is a learning & practice platform for premier entrance exams. We have helped over 1 crore users since 2012 with their Bank, SSC, Railways, Insurance, Teaching and other competitive Exams preparation.