With the publication of bank recruitment notification, thousands of aspiring candidates are looking forward to appearing for the upcoming banking exams. Many aspirants come up with the question – how do I prepare for bank exams? While most of these candidates enroll for banking coaching classes to prepare for the entrance, let us be clear that an hour or two of coaching alone is not enough to clear your doubts and enhance your skills. To ensure that your exam preparation is top-notch, you must devote a considerable amount of studying at home as well.
Register here for a Free Mock Test & also get Daily Exam & Upcoming Offers
1. How Do I Prepare For Bank Exams? – Best Tips to Remember
Here are some effective tips to help you get through bank exams with good marks –
1.1 Understanding the Exam Pattern – The first thing you need to understand is the pattern and syllabus of the exam – the number of sections in each paper, important topics to cover, sectional cut-off, and allotted time, etc. It is imperative that candidates be aware of the different topics from the syllabus. Questions may be asked from a particular topic or section of the syllabus. Therefore, you should be well prepared to attempt a variety of questions.
1.2 Create a Timetable – Preparing a timetable at home will help you with a study plan. Spending an entire day trying to solve similar questions or studying the same topic will not help you progress any further. Moreover, it becomes monotonous. Therefore, divide your day in a way so that you are able to study different sections of the paper. You can start your day with the 'General Awareness' section and then move on to practicing some Quantitative Aptitude problems. Later in the day, keep it light with English Grammar or studying about Computer programs. This way, you will be able to manage your time going through the topics that need to be covered. Focus on the section that you think you are weak in and make proper time-division accordingly.
Want to attempt a free mock test & test your preparations? CLICK HERE
1.3 Go Through Online Resources and Competitive Books – Besides textbooks, there are several resources and study materials – articles and blogs available online to help candidates prepare for banking exams. You can visit the various websites dedicated to competitive exam preparation and download these study materials, previous years' question papers, and solved mock test papers. This will help you to derive a brief idea of the question pattern and important topics.
1.4 Keep Track of Time – Time management is the key to cracking banking exams. You should know that for each of the sections of your exam paper, you will be allotted a specific time. Therefore, you need to speed up in order to be able to attempt maximum questions in the least possible time. When solving papers, keep a stopwatch next to you. This way, you can analyze exactly how much time it is taking you to solve each question. This will help to improve the candidate's speed and boost confidence in him/her in the course of time.
Register Here & Attempt Important GK Questions Here
1.5 Master the Methods and Tricks – Learning the shortcuts and tricks to solving questions particularly in Logical Reasoning and Quantitative Aptitude sections of the paper can help the candidates to obtain good marks. There are certain formulas for Speed Math and Reasoning Ability that are sure to save you time and spare the trouble of doing complicated calculations. You should memorize the formulas and practice as much as you can.
Therefore, the next time you ask yourself, how do I prepare for bank exams? glance through the above pointers. Regardless of these quick tips, the one thing that makes all the difference is rigorous practice.
Banking exams are hard to crack but if you work hard enough, you can surely get through with flying colors. In addition to the pointers mentioned here, it is very important to have a good source to prepare for the exam. Oliveboard gives you a surreal experience of the exam with its mock test designed according to the latest pattern. We also provide you the mock analytics which helps you capture your weak areas and a plan to help you overcome that.
Keep Yourself With Weekly Current Affairs Questions & Answers Here
In an attempt to answer, how do I prepare for bank exams? we have written this blog to help with the answers.
2. Ebooks
You can download 200+ ebooks important for SSC, Banking, Railway, Insurance, and other government exams here.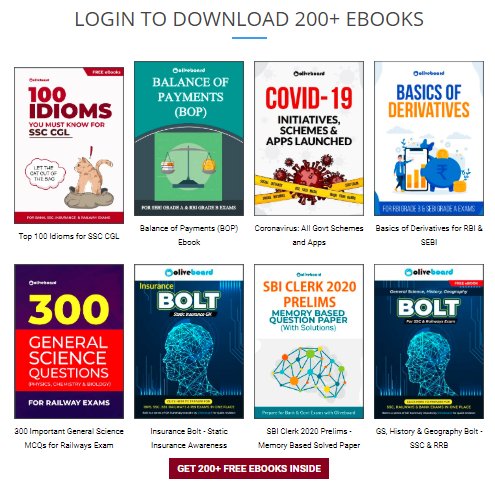 Oliveboard Bolt series E-books: 
  Oliveboard Live Courses & Mock Test Series