IBPS PO Mains Revision Strategy. The IBPS PO Mains exam is just 15 days away and it's time to start with the revision process.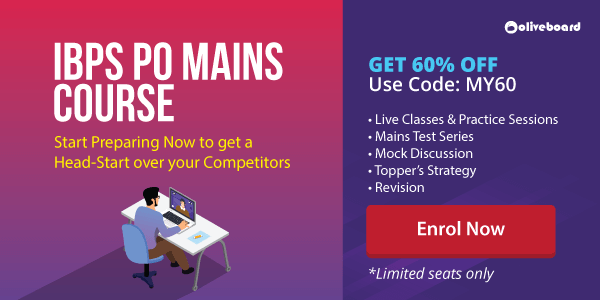 It could be the case that some you are still in the preparation stage, but it is advisable to incorporate this IBPS PO Mains Revision strategy in your daily study routine anyway. This will only bolster your preparation. 
An important thing to remember is that completing the syllabus on time should be one of the aspects but not the final goal. The idea is to prepare so that you can perform to the best of your abilities on the day of the exam and come out with flying colors and this IBPS PO Mains Revision plan will help you with just that.
Let's glance through the exam pattern first.
IBPS PO Main Exam Pattern 2018

| | | | | |
| --- | --- | --- | --- | --- |
| Name of Tests | No. of Questions | Max Marks | Medium of Exam | Duration |
| Reasoning and Computer Aptitude | 45 | 60 | English and Hindi | 60 Minutes |
| General/Economy/Banking Awareness | 40 | 40 | English and Hindi | 35 Minutes |
| English Language | 35 | 40 | English | 40 Minutes |
| Data Analysis and Interpretation | 35 | 60 | English and Hindi | 45 Minutes |
| Total | 155 | 200 | | 3 Hours |
| Descriptive Test | 2 | 25 | English | 30 Minutes |
The Main exam also consists of an English Language Descriptive Writing Test.
Questions: 1 on Essay writing; 1 on Letter Writing (Total: 2)

Maximum Marks: 25

Time Allotted: 30 mins
Note: Descriptive Test paper of only those candidates will be evaluated who have scored qualifying marks in the Objective Tests and are placed adequately high as per total marks in objective tests.
Do not forget to read How to Clear IBPS PO in first Attempt.
Attempt Oliveboard's Free Mock Test for IBPS PO Mains
15 Days IBPS PO Mains Revision Plan
Steps to be followed:
Divide these 15 days as follows: 12 days (4 days/section; with daily practice of essay and letter writing for Descriptive Paper) + 3 days.
In the first 12 days, keep 4 days for each of the three sections. Keep the last 3 days aside for lighter topics such as: revision of calculation shortcuts or formulae, gk or current affairs you need to memorize.
Get acquainted with the change in syllabus. Here Reasoning is merged with Computer Aptitude. Revise the concepts and tricks of Reasoning and practice High-level questions. Make sure you complete these topics while preparing for Computer Aptitude-

Important Topics under Computer Aptitude for IBPS PO: DBMS, Full form of Technical Terms, Networking and Protocols, Flowchart, Logic gates, Basic terms of Hardware and Software, Computer Programmes, commands, Basic logical questions on routine operation of computers, computer languages, Basic Conversion, etc.
The English language syllabus for both IBPS PO Prelims and Mains, overlap. Hence, for Mains preparation, what you essentially need to do is to Revise and Practice High-Level Questions. Strengthen your grammar basics. Re-read the notes you've prepared. Also practice at least 5 RC passages every day.
In Data Analysis and Interpretation, you have already gone through the concepts of DI in Prelims as it was the part of Quantitative Aptitude. But in Mains, we have complete section of Data Analysis and Interpretation, which means you have to practice more questions of High Difficulty Level to reach the standard of exam.

Revise topics that form the base for other topics and then move on to higher-level difficult topics that require you to have a knowledge of these base topics.
For instance, most Data Interpretation question requires you to apply concepts of Interest, Perc

entage, Ratio

 and Profit & Loss. Therefore, start with what are called the 

base of Arithmetic section: Per

centage, Profit & Loss and Interest. Allot sufficient time for each type of DI – Line Graph, Bar Graph, Pie-Chart, Tabular, Caselet, etc.
The DI questions are known to be calculation intensive. Hence, make sure you practice at least 5 sets every day.  This is the only thing which will help you stand ahead of others.
Attempt Topic Tests of difficulty Level 2 & Level 3, and on the Mains Examination day, you'll realize the difference it made in your preparation.
For Descriptive English: simply Practice writing letters and essays on topics pertaining to banking and government (such as on schemes released by the government or on RBI's notifications). Download Oliveboard's Free Ultimate Guide for Descriptive English
Practice Descriptive English daily. Take a Descriptive Test now. Discuss with your peers and get evaluated!
Read – IBPS PO 2018: Beat Topper's Time
Take Oliveboard's Free Mock Test to check your Preparation
While doing the things mentioned above, it is also important to attempt at least 1-2 mock tests every-day and spend some quality time analyzing your attempts. Devise a strategy on the following three points:-
Order of attempting various sections

Time to be spent on each section

Number of questions to be attempted
Attempt Oliveboard's Free Mock Test for IBPS PO Mains
Understand that all the 3 things mentioned above are dynamic and vary from person to person, or sometimes even paper to paper, based on the difficulty level.
Understand, that the goal is to clear the cut-offs first and then to maximize your overall score.
Apart from the subject knowledge, your time management skills play an equally important role in the exam.
Taking Mock Tests will also provide you with a situation where you can practice making such important decisions, and thus be better prepared for the actual exam.
Once you've done all that we've mentioned, rest assured that your ibps po mains preparation is complete. Just be confident and go ace that exam!
All the best!
---
Preparing for IBPS Clerk also? Join IBPS Clerk Cracker Course at ₹ 0
Attend Oliveboard's Free Live Classes to ace IBPS Clerk 2018
What is included?
Live Classes

Live Practice Sessions

Live Doubt Clearing Sessions

Recorded Videos
When: 29th Oct – 6th Dec 2018. Enroll Now!
Also Read- IBPS PO Syllabus 2019