Dear Aspirants,
The Institute of Banking Personnel Selection (IBPS) is going to conduct this year's IBPS SO Exam on 28th and 29th of January, 2017.
A lot of you might still be skeptical about applying for IBPS SO because of lack of awareness about the kind of jobs you will be landing post the exams or about the various perks/benefits that you will be receiving.
Therefore, we have compiled a list of benefits offered to an IBPS Specialist Officer along with their responsibilities, salary, nature of work and job profile in the following article, in an attempt to provide you some clarity on the same and help you in making the right career choice.
For those of you who don't know about the exam, IBPS SO is an annual recruitment exam conducted by the Institute of Banking Personnel Selection (IBPS) for the recruitment of Specialist Officers in banks. The IBPS Specialist Officers are recruited following IBPS Recruitment Exam and Personal interview conducted by the participating banks under the Institute of Banking Personnel Selection (IBPS).
Post their recruitment in banks, the IBPS Specialist Officers are allotted a particular department (of their choice) in banks. Following are some of the IBPS Specialist Officer Fields in a bank:
IBPS SO IT Officer
IBPS SO Agricultural Field Officer
IBPS SO Rajbhasha Abhikari
IBPS SO Law Officer
IBPS SO HR/Personnel Officer
IBPS SO Marketing Officer
Job profile and responsibilities of IBPS Specialist Officers
IBPS Specialist Officers get assigned a particular department (of their choice) in the bank. They are responsible for the smooth functioning of the assigned department & therefore, their responsibilities are limited to that particular department.
It's a great opportunity for those of you who are interested in pursuing a career in a particular field, to learn and grow while on the job. Just like Managers who work in corporate offices, Specialist Officers in banks have targets to achieve and are periodically reviewed.
Job Location of IBPS Specialist Officers
Specialist Officers are mostly posted in urban areas/metro cities, which is good for people who prefer cities and have inhibitions about getting posted in rural areas.
Nature of work of IBPS Specialist Officers
Most of the work of Specialist Officers is in their assigned department. Unlike general bankers, Specialist Officers don't have to deal much with the bank customers.
Most of their interaction is with the in-house staff. Specialist Officers also get a chance to meet and interact with people from different professional backgrounds. For instance, IBPS Marketing Officers are required to interact with people working in Ad agencies, PR agencies or publications.
Bank jobs provide good work-life balance; hence bank jobs are a great platform for your personal and professional growth.
Salary Perks and other Benefits of IBPS Specialist Officers
Specialist Officers in a bank enjoy almost the same perks and benefits enjoyed by other bank employees.
Like any other bank employee, Specialist Officers are entitled to the various allowances provided by banks such as, the Dearness Allowance (DA), Special Allowance (SA), City Compensatory Allowance (CCA), House Rent Allowance (HRA), Medical allowance, Transport allowance and other benefits.
Salary scale of an IBPS Specialist Officer is decent and the in hand salary of a scale 1 specialist officer is approximately 30,000 – 38,000 depending on the location of posting.
Given below is the salary structure of an IBPS Specialist Officer (Junior Management Grade Scale 1)
| | | |
| --- | --- | --- |
| Basic Pay | Annual Increment | Number of years |
| 14,500 | 600 | 7 |
| 18,700 | 700 | 2 |
| 20,100 | 800 | 7 |
| 25,700 | – | – |
Transfers & Job security of IBPS Specialist Officers
Specialist Officers face less frequent transfers as compared to general bankers. Bank jobs are usually secure. There is no risk of you losing your job.
Career Promotions of IBPS Specialist Officers
Although the promotions of Specialist Officers aren't as good as general bankers, dedicated workers are recognized and promoted to higher posts depending on their performance, seniority and determination.
Specialist Officers have an option to eventually get into General banking and enjoy the same promotions, benefits and perks enjoyed by general bankers.
Career progression of an IBPS Specialist Officer: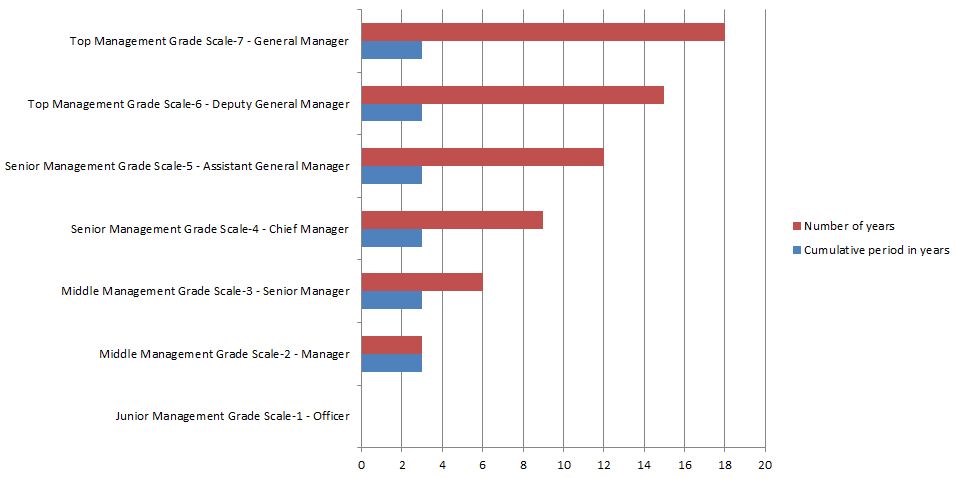 Apart from the above mentioned benefits, working as a Specialist Officer in banks also increases your knowledge of finance and economy which will help you plan your finances better.
We hope the above article helps you in making the right career choice.
  Oliveboard Live Courses & Mock Test Series