The IBPS Clerk 2018 prelims are just about two months away. While a majority of you would have begun your preparations already, but just in case you haven't, you should know, right now is the best time to begin your preparations! Follow the steps given below, to increase IBPS Clerk score. 
Steps to Increase IBPS Clerk Score
Following are three steps you must follow to increase IBPS Clerk score
Step 1: Begin Preparation By Giving An IBPS Clerk 2018 Mock Test First

Step 2: Understand & Strengthen Concepts

Step 3: Regularly Take Full-Length Mock Tests
So, read along!
Step 1: Begin Preparation By Giving An IBPS Clerk 2018 Mock Test First
To increase IBPS Clerk score, this is one of the most crucial steps of preparation, which is missed by most aspirants and is based on a straightforward logic: You need to know where you currently are in order to be able to chart out a way to get to the place where you want to be.
When you take a diagnostic mock and spend time analyzing, it gives you a reality check.
You develop an understanding of which are the areas you may be good at which topics are troublemakers. 
Once you've seen your performance, you will know how much effort you must put in, in order to achieve the desired result.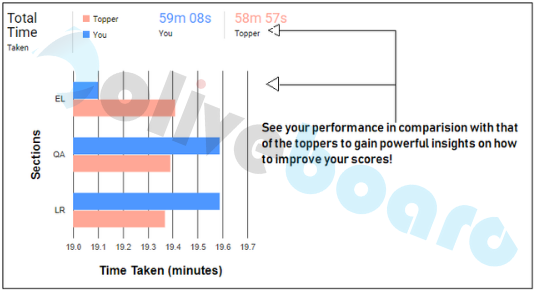 Step 2: Understand & Strengthen Concepts
There is no way around this, no shortcuts nothing! You must have crystal clear concepts in order to have a good chance of clearing any exam. So, invest a right amount of time building your basics. How to do this?
Suggested Reading: IBPS Clerk 2018 Section-wise Preparation Strategy
Take Topic Tests: 
These topic-wise tests have varying difficulty levels, i.e.: Level 1 (easy), Level 2 (medium), Level 3 (hard).
When attempted in that order, these tests are designed to help you bolster your concepts.
Step 3: Regularly Take Full-Length Mock Tests
Taking mock tests is a crucial part of preparing for an exam. However, only attempting mock tests is not enough. It's what you do after taking each and every mock test, that makes all the difference.
Follow this:
Take A Mock Test –> Analyze Your Performance –> Identify Weaknesses –> Improve On These Weak Topics –> Identify An Exam Attempt Strategy –> Take Another Mock Test –> Re-evaluate Performance
Devote the last stage of your preparation, which is the time when your exam date is close, take full length mock tests extensively.
Based on the analysis, refine your test-taking strategy and test that in the next mock test you take. This way, by the time your exam is due, you will have a foolproof exam strategy that works wonders for you!
Some preparation tips by previous years' IBPS exam toppers:
Be prepared for the worst. The level that Oliveboard mocks provide,  prepares you even for the worst. After giving their mocks, I used to think that I could not even come near the cutoff in the actual exam. But only after being prepared for the worst, I could clear the exams with flying colors.
My strategy for this section was to practice as much as I could. Because even after solving 100's of puzzles, one might not crack it in the paper, but that extra bit of practice in this section

helps speed up the thought process. Exam patterns are changing drastically. So, going online and searching for questions of different types would

help you score better.
Anyone preparing for the verbal / English section must start with basics, and the book I studied was Wren and Martin. It

helped me a lot. I also made sure there was a daily addition of at least 10 words to my vocabulary so that till the exam came, I had a

massive

number of words in my vocabulary. And daily reading (anything) would help in solving reading comprehensions. In my

opinion

, it's pretty much the most effective way of preparing for RCs.
– Chirag Gera, Cleared IBPS PO 2016 & IBPS Clerk 2016
Read More IBPS Clerk Topper Tips HERE.
Hope this helps. All the best!