Dear aspirants,
The Institute of Banking Personnel Selection (IBPS) is slated to conduct the IBPS SO 2016-17 Exam in the month of January, 2017. As you prepare for the exam, it is advisable to know about the job profile and responsibilities which you may need to fulfill in case you get selected for the post.
Therefore, the following article is written in an attempt to acquaint the aspirants about the job profile, roles & responsibilities, salary and career prospects of an IBPS SO IT Officer at a bank.
To make sure the functioning and efficiency of a bank remains smooth and glitch-free, it is extremely necessary to have a strong tech support. It has become even more important after the introduction of 'Core Banking'.
IBPS SO IT Officers are typically employed in a bank to take care of software and network systems, maintenance of databases, servers, evaluating new technology for further improvement of the overall working of the bank and so on.
Following are the various responsibilities of an IBPS SO IT Officer:
IBPS IT Officers are responsible for the management of the entire IT team and provide end-to-end support for banks core banking system.
They're responsible for providing support and procedural documentation and also maintain the shift duty system and for the handling of data as well as the core banking application files.
The IBPS IT Officers are responsible for setting up and maintaining new users' accounts, profiles and their passwords and developing new software and applications and modifying the bank's existing software.
IBPS IT Officers have to look after banks network security and anti-virus updates and are responsible for conducting safety checks on computer equipment, bank network security, Anti-Virus and Anti-fraud management etc.
It's the responsibility of IBPS IT Officers to make sure that the Bank's internal security is not breached and customers' details are not leaked.
All ATM related activities (maintenance and troubleshooting) are under the care of the IBPS IT Officers. They're responsible for management of various subsystems like ATM, Kiosks, Mobile banking, Internet banking, Networking, etc.
Selection procedure for IBPS SO IT Officers:
IBPS SO Exam -> Personal Interview -> Final Allotment
Salary Scale of an IBPS SO IT Officer (Junior Management Grade Scale -1)
| | | |
| --- | --- | --- |
| Basic Pay | Annual Increment | Number of years |
| 14,500 | 600 | 7 |
| 18,700 | 700 | 2 |
| 20,100 | 800 | 7 |
| 25,700 | – | – |
The in hand salary of an IBPS SO IT Officer scale 1 after his/her appointment will be approximately between Rs.30,000-38,000/-
Scope of work of an IBPS SO IT Officer:
Employees working as IT Officers in banks have more job security but less scope for promotions. The work is not very challenging, although the officers will have long working hours. Promotions are based on influence and seniority and the banks promotion policies.
Career Progression of an IBPS SO IT Officer: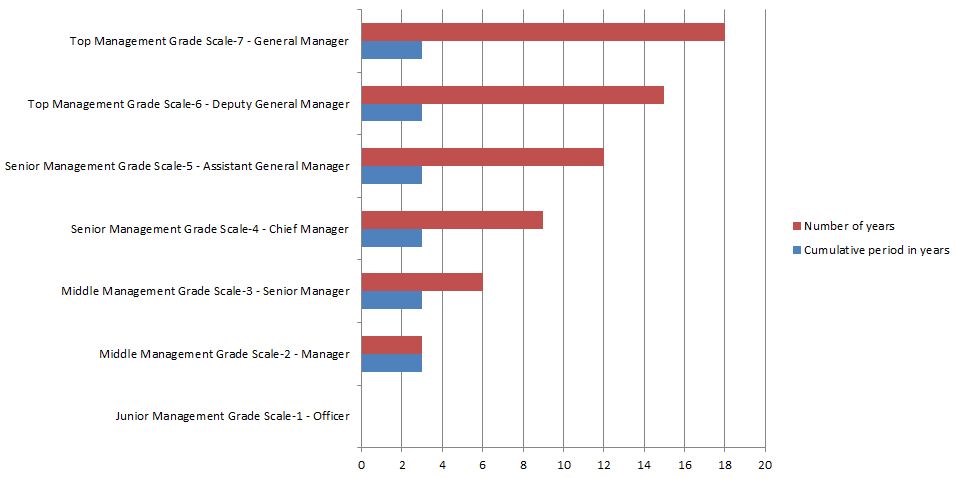 We hope the above information helps you make the right career choice.

The most comprehensive online preparation portal for MBA, Banking and Government exams. Explore a range of mock tests and study material at www.oliveboard.in