Several bank and government examinations include a descriptive part. Unlike the objective part where the candidate only must select the correct answer choice out of 4 or 5 given options, the descriptive part is all about how the candidate can convey information in the formal (or informal) context in a concise and accurate manner. Several examinations such as the SBI PO 2018, RBI Grade B 2018, BOB PO 2018, and many other examinations include a descriptive part wherein the candidate must finish an essay writing task and a letter writing task. In this blog post, the focus will be on how one can write a good letter. This blog post shall be of use if you are planning to write any of the following examinations:
In this blog post, the main points of letter writing shall be focused on wherein we will understand what are the things that one should do and what are the things that one should not do while they are practicing their letter writing tasks.
If you are however writing only clerical cadre examinations such as the:
RBI Assistant 2018

IBPS Clerk 2018

SBI Clerk 2018
Then you have no need to read this blog post as this blog post will not be applicable for you as only officer cadre posts require the candidates to take descriptive tests which include the essay writing and letter writing tasks.
However, if you are planning to write both levels of examinations including the Officer cadre examinations as well as the Clerical cadre examinations, then this blog post can surely be of help to you.
How to Write a Good Letter – General Tips
The following are the general tips that you can follow to ensure that you write letters more effectively:
Read more and read often
The idea of letter writing is to verify whether you can convey necessary information in an accurate and concise manner or not. Almost always, you can expect the letter to be regarding some social issue or problem; therefore, reading more helps because you will gain a wider idea of various elements of the Indian society as you continue to read. Reading the newspaper daily helps gain an idea of the state of current affairs in the country. So, if you are aware about an issue (that you read in the newspaper) and the same topic comes as a question in the letter writing task, then you can score well. At the same time, if you find to have all the 3 tasks that are not familiar, then you might find it harder to compose a letter as you will not be sure about the information to include in the same.
Practice regularly
It is quite important that when you practice, you keep up the momentum. Letters can be on any topic that may pertain to any aspect or dimension of the society. However, only if you practice regularly, only then you shall be able to keep up your speed and accuracy. For the best results, it is advisable to practice writing a letter every other day.
Increase your typing speed
This is a continuation of the previous point. When you practice regularly, your typing speed is also likely to increase. Given as how you do not have more than 30 minutes to complete both the letter-writing and the essay-writing tasks, it is necessary that you can type fast. This does not mean you have to type super-fast like going with 60-70 words per minute, but at least a speed of 30-40 words per minute is advisable for optimal results. Therefore, whenever you practice, ensure that you do not do it manually on paper with pen, but instead opt for the word processor on the computer and proceed with the same.
Time your practice
Bank examinations or even competitive examinations in general are not a test of just intelligence. They also test your mental agility and mental endurance; therefore, to ensure that you get better at the letter-writing tasks, start with using a timer whenever you practice. This will help you get used to the exam pressure as you know that the time is passing out due to which you will be forced to think faster. When you practice for the first or second time, you may do so without a timer, but ever since, it is strongly recommended that you time your practice.
How to Write a Good Letter – Step-by-Step 
To better understand and illustrate the points that have just been suggested, it is advisable to take a practical example and follow the same. Given below are the questions which are quite similar to that of what might come in the examination. You shall be given 3 options or choices, and you need to select any one of them. 
Write a letter to the manager of your bank's branch manager inquiring regarding the non-credit of funds into your personal savings account.

Write a letter to the editor of your preferred newspaper highlighting a social issue.

Write a letter to your younger sibling advising them on career options after they graduate from high school.
So, for the sake of illustration, we have chosen topic #1, which is where we need to write a letter to the bank's branch manager inquiring them about the non-credit of funds into our personal savings account. 
Step 1: Write the correct format for a letter 
As most students are possibly likely to forget what a letter's format is, they risk losing some marks there and then which could have been avoided. Therefore, ensure that you use the correct format: if needed make a small image of it before you start just to ensure that you do not forget the format. Since we have chosen a formal letter, the format would be as such: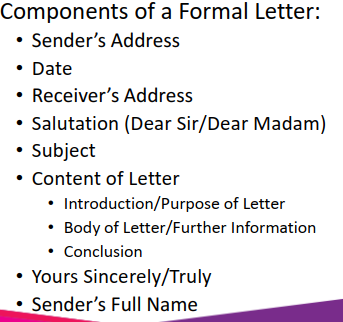 Step 2: Decide on the introduction of the letter
The introduction is the most important part of the letter both in the case of exam as well as in real life, because only if the introduction is relevant and correct will the reader read it and the rest of the letter. In this case, we could start with something like, "I intend to draw your attention to an unresolved issue I am facing despite my repeated complaints." The idea here is to keep the introduction as short and simple as possible. The main reason for that being that the person reading the letter would often not have much time or interest so it is best to get to the point straight. 
Step 3: Prepare the body of the letter
The body needs to further elaborate on the introduction of the letter; the body should state points or relevant information that care to tell the reader about what is exactly and absolutely needed from them. In this case, three points that can be mentioned here include:
All that has been tried thus far (your current  situation or context)

Outcome or result of existing efforts and attempts to fix the problem 

Problems faced due to the issue not been resolved
Once again, every statement should be written thoughtfully to ensure that no more than what's absolutely needed is presented. 
Step 4: Write the conclusion 
Once the other factors have been accounted for, the last step is the conclusion. The conclusion of the letter is quite important because it revisits the main idea of the letter in which case the reader is reminded about what they must take action on. Also, the tone must be diplomatic or neutral; in this case, one of the ways to conclude the letter would be, "I hope I shall be able to enjoy your bank's services once again without any disruptions or problems".
If you have taken care of all those points, then it is for certain that you will score well in your letter-writing task. Just ensure to keep practicing so that you do not forget any part.
All the Best!