LIC (Life Insurance Corporation of India) has released its notification for the recruitment of AAO (Assistant Administrative Officer)- Generalist. Oliveboard brings you some important details regarding the exam which are most frequently asked by the aspirants.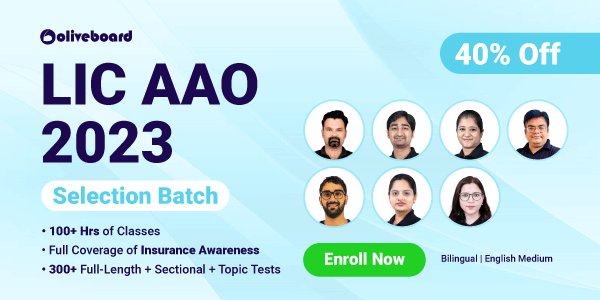 Q- I have a Master's degree. Can I apply for the exam?
A- Yes. Anyone with a Bachelor/Master's degree in any stream from a recognized Indian University/Institution is allowed to apply.
Q- Is there any age limit?
A- Yes, the age limit is 21-30 years. Candidates must have been born not earlier than 02/12/1985 and not later than 01/12/1994 (both days inclusive) only are eligible. This limit is relaxed for reserved candidates. Click here for more details.
Q- How many vacancies are there?
A- There are 700 vacancies, out of which 349 are unreserved. Click here to see the number of reserved vacancies.
Q- Can I apply Offline ?
A- No. Only online application is allowed. Click here to apply online.
Q- What is the salary which I can expect if I get selected?
A- It will be around Rs. 40, 245 per month (including House Rent allowance and City Compensatory allowance)
Q- Is there any bond?
A- Yes. Before joining as a Probationer, candidates will be required to give an undertaking to serve LIC for a minimum period of four years from the date of joining (including probationary period) failing which, he/she will be liable to pay Rs.200,000/-only (Rupees Two Lakhs only) .
Q- When is the last date to apply?
A- January 5th, 2016. The exam will be conducted on March 5th, 6th and 13th 2016.
Q- What is the syllabus and the pattern of the exam?
A- There will be 5 sections- Reasoning Ability, Quantitative Aptitude, General Knowledge, Computer Knowledge (30 questions each) and English Language test (40 questions). You will get 2 hours (120 minutes) for these 160 questions. Please note that the English Language test is of qualifying nature and the marks in English Language will not be counted for ranking.
Q- What is the marking pattern? Is there any negative marking?
A- Each question will carry 1 mark (Total- 300 marks) and 1/4th of a mark will be deducted for every wrong answer.
Q- Will there be any Sectional Cut-Off ?
A- Yes. The candidate must pass each section individually. The cut off marks shall be decided by LIC.

Oliveboard has launched Mock Test Series for the LIC AAO Exam. Click here to enroll.

The most comprehensive online preparation portal for MBA, Banking and Government exams. Explore a range of mock tests and study material at www.oliveboard.in