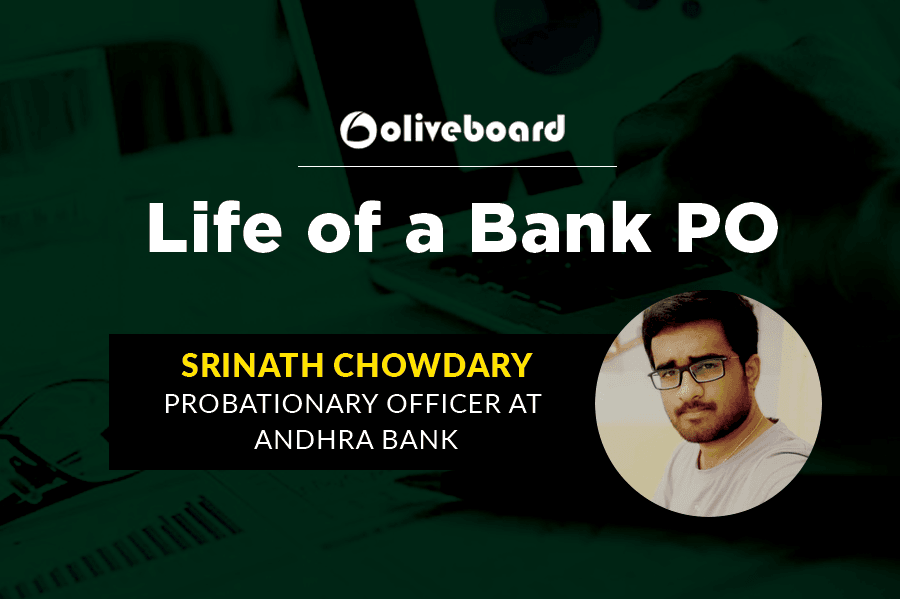 Srinath Chowdary, a Probationary Officer at Andhra Bank shares his experience as a PSD bank PO. He has previously shared with us this preparation strategy and interview tips for Bank PO aspirants. So, here's how he describes the Life of a Bank PO in his own words,
Life of a Bank PO
This was the most intriguing question and a big enigma for me when I was preparing for IBPS as though I wanted to be a banker, I had no idea what exactly a banker does.
A typical bank officer has to work around 9-11 hours a day depending upon his/her branch's business.
I'd like to share my experience at Andhra Bank where I am currently working as a Probationary Officer. I would say working culture is pretty good over here. I work around 10 hours a day.
Our bank has a probation period of 1 year, most other PSBs have 2 years. During our probation, we are expected to learn maximum. We need to explore all the counters in the bank. Being probationary officers, we have to do all sought of work starting from a Clerical job. Don't think that as an officer, one will be directly posted in loans/advances. It's nothing but a myth.
It's been 3 months since I joined, I handled SB counter where the basic banking operations take place like money transfer, passbook printing, Demand drafts, NEFT, RTGS, account opening, issuing Cheque books etc., for 2 months.
And now, from last month I am working at CTS (Cheque Truncation System), along with issuing debit cards, account statements, loading cash in ATM, handling CDM/BNA (cash deposit machines)
After this I will be trained on deposits, gold loans, advances (includes agriculture, retail, MSME)
This is the scenario in our bank, nonetheless, it varies from bank to bank and even branch to branch of the same bank slightly. It's nice working here as banker albeit some pressure. 
Here are some Pros and Cons.
Pros of working in a PSU Bank
First & foremost it's a public sector job with job security

Perks/allowances: The best thing in PSBs is allowances. As a PO, one is entitled to get Travel allowance, allowances for the newspaper and entertainment bill on a monthly and quarterly basis respectively. Apart from salary, one will be also getting house rent which varies from Rs.5000 to Rs.20,0000 depending upon the bank and place you have been posted and many more perks like Petrol allowance, conveyance allowance etc.,

Salary: I don't say it's pretty good, but I can say it's just decent. I am getting 35k in hand salary (after deductions). You will get a gross of 44-52k which includes leased accommodation, depending upon the bank you get & place you have been posted.

Corruption Free: Pure white-collar government job where you hardly get any question regarding corruption.

Service: As our main job is to deal with the customers, you will get satisfied if you are service oriented.  
Cons of Working in a PSU Bank
I don't want to bluff you guys by just saying all positive things. Everything under the sun has two sides, banking too is not an exemption from it.
Work pressure: It depends entirely on the branch you been posted. Some branches are cool with less work, some are mediocre, rest are hectic. Nevertheless, its good, if you are posted in a busy branch at starting of your career itself as you will get to know maximum banking operations than your friend who is posted in a small branch. Needless, to say you can survive anywhere across the country with utmost aplomb if you work hard. At the beginning itself.

Frequent Transfers: Transfers will be there once in every 3 years, while this is an advantage for people who love to travel and get wide exposure, for others it will be a minus.

Cautious: As we deal with public money, we need to be very cautious and responsible for each & every penny.
On a whole, you will enjoy the work if you have a single option to settle down as a banker and if you have any other idea of taking other exams like Insurances, CGL, RBI etc., you may find the job a bit hectic. However, if you are willing to and can plan accordingly you will find enough time to prepare for other govt jobs as well. 
To conclude I would only say, "It's your life, Make it Large"!
  Oliveboard Live Courses & Mock Test Series