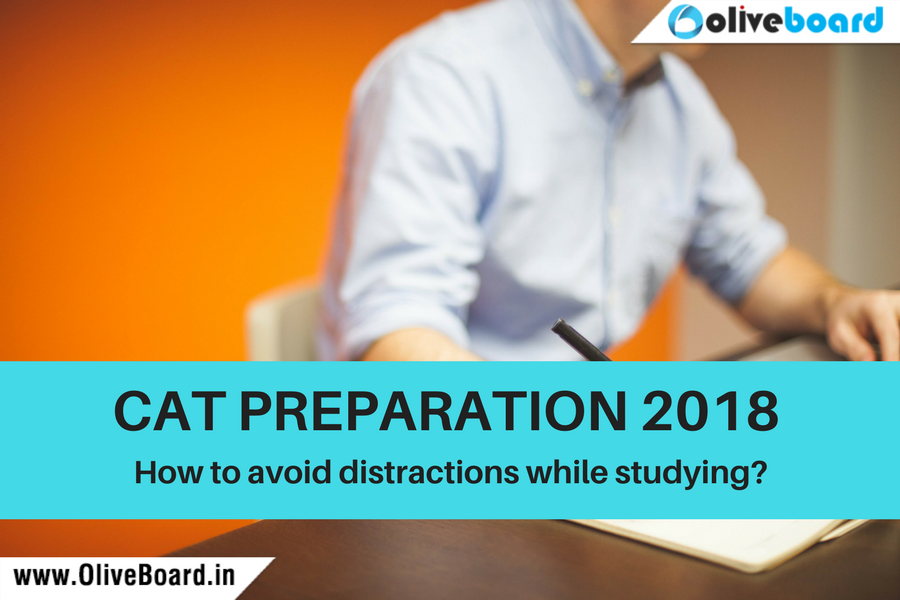 While studying online is convenient, it does come with few cons. While preparing, you go to Facebook for a 2 minutes break and end up spending 30 minutes. You might be busy understanding a topic and a shopping ad takes you to some online shopping. Practically, while it is good to take break between studies, sometimes these distractions might affect your preparation. Here's how to avoid distractions while studying online for CAT Preparation.
Using a Different Browser: This might be helpful as you will not have your usual bookmarks or social logins to distract you from study. The tendency to open Facebook or some other site will be lesser as soon as you open the browser.
Use a Mobile App: You can disable notifications and make use of do not disturb mode for your phone while you study through Oliveboard's mobile app. Practice tests and analyse instantly on your phone without getting distracted.

Distractions from Family and Friends: Be it staying at home or a PG, there might be chances when family or friends unfortunately become a distraction.  Therefore, it is important for one to create a schedule and stick by it. You can always get back to socializing once the CAT exams are over.
Anxiety: This is one of the most common problems faced by aspirants. The best way to stay away from anxiety is to start your CAT preparation early. Keep enough time for revision so that you complete the entire CAT syllabus and revise the same at least twice before the exam. Always talk to other aspirants; this will help you get better insights on your CAT preparation and give a break from your study at the same time. Also, do eat and sleep well because lack of that might cause anxiety too.

Make Good use of Social Distractions: While social media can distract you from studying, you can make the best use of this distraction. Get added to MBA preparation groups in FB and make sure you visit the groups and engage with peers. This will give you a social media break while helping you with exam information at the same time.
Watch Preparation Videos: One of the reasons for being prone to distractions can be monotonous study. To tackle this, include video learning in your schedule. This again will give you a break from text study while helping you with information.
Make your Study Interesting: Take mocks, participate in quizzes etc. to make your study interesting. You can start attempting a mock along with a friend and then compare results. Participate in group studies etc. These activities will make your study interesting reducing the inclination towards distractions.

These are few points on how to avoid distractions while preparing for CAT or other MBA exams. Hope this helps!
  Oliveboard Live Courses & Mock Test Series