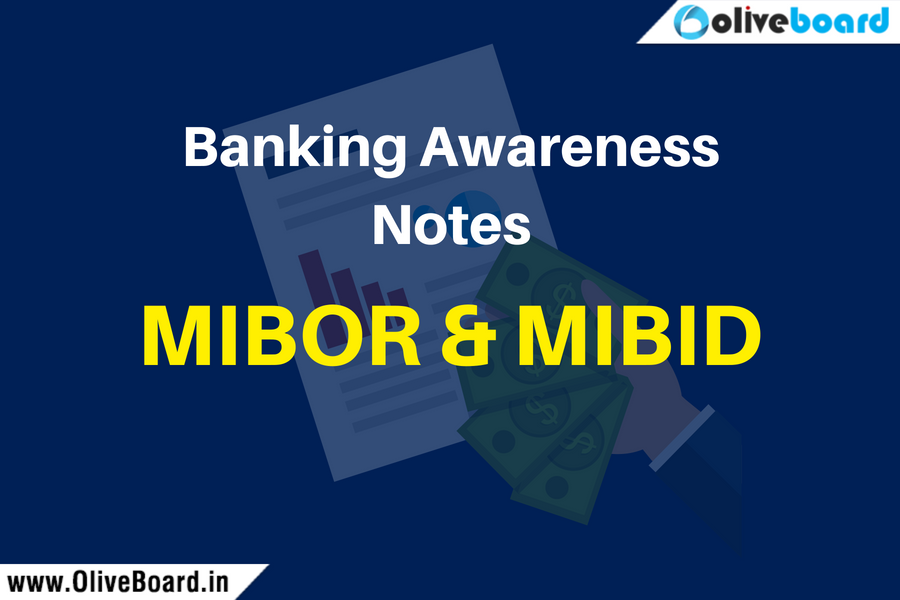 National Stock Exchange launched two new Reference Rates for the overnight money market on June 15, 1998. These rates are MIBOR and MIBID. Today in this blog we'll talk about these two terms as this is an important aspect of banking and finance. Questions related to this topic can be asked in the upcoming IBPS RRB PO, RBI Grade B, IBPS PO, IBPS Clerk and Indian Bank PO exams. We suggest you to go through all the Banking Awareness notes provided here to master general awareness section of all banking exams.
MIBOR and MIBID
Whats is MIBOR?
MIBOR is the acronym for The Mumbai Interbank Offer Rate.
It is the rate at which the unsecured funds are borrowed by banks from one another in the interbank market. MIBOR is the indicator of Lending Rates for loans. Banks borrow and lend money to one another on the interbank market to maintain legal liquidity levels and meet reserve requirements placed on them by regulators.
Whats is MIBID?
MIBID stands for The Mumbai Interbank Bid Rate.
It is the rate at which banks borrow from other banks.  It is the average interest rate at which term deposits are offered between prime banks in the Indian wholesale money market or interbank market.
Note: MIBID rate is always lower than MIBOR rate because banks will try to pay less interest after taking loans and will try to get more interest while offering loans.
Take Oliveboard Free All-India Mock Test
History of MIBOR and MIBID
National Stock Exchange (NSE), on the recommendation of The Committee for the Development of the Debt Market, had developed and launched the NSE Mumbai Inter-bank Bid Rate (MIBID) and NSE Mumbai Inter-bank Offer Rate (MIBOR) as an overnight rate on June 15, 1998. Its success encouraged the NSE to develop a benchmark rate for the term money market.
NSE, then, launched the 14-day NSE MIBID MIBOR on November 10, 1998 and the longer term money market benchmark rates for 1 month and 3 months on December 1, 1998. Later, it introduced a 3 Day FIMMDA-NSE MIBID-MIBOR on all Fridays with effect from June 6, 2008 in addition to existing overnight rate.
FIMMDA: It stands for Fixed Income Money Market and Derivative Association of India.
Calculation of MIBOR and MIBID
Financial Benchmarks India Private Ltd (FBIL), from July 22nd, 2015, has taken over the administration of the benchmark for the overnight inter-bank rate to be based on actual traded rate, thereby, replacing the existing 'FIMMDA-NSE Overnight MIBID-MIBOR' by 'FBIL Overnight MIBOR'.
FBIL announces the benchmark rate for Overnight Mumbai Interbank Outright Rate (MIBOR) on a daily basis, except Saturdays, Sundays and local holidays.
The benchmark rate is calculated on the basis of the actual call money transactions data obtained from the NDS-call platform of Clearing Corporation of India Ltd (CCIL). The CCIL acts as the Calculating Agent. The rate is announced at 10.45 AM every day.
FBIL uses transaction based system to arrive at benchmark rates. Only trades that happen on Negotiated Dealing System (NDS)-Call System between 9 am and 10 am are considered for computing the Overnight MIBOR.
Note: The MIBID rate and MIBOR rate are used as a benchmark rate for majority of deals struck for Interest Rate Swaps, Term Deposits, Forward Rate Agreements and Floating Rate Debentures, etc.
That is all from us in this blog. We'll discuss more banking and finance related terms in the upcoming posts. Hope you find the information useful.
All the Best!
Take Oliveboard Free All-India Mock Test
Other Blogs:
Banking Awareness: Structure and Functions of RBI
Banking Awareness: Subsidiaries of RBI
Banking Awareness: GDP and GNP
Banking Awareness: NDP and NNI
Banking Awareness: List of Important Banking Abbreviations