Preparing for Canara Bank/Syndicate Bank or any other GD round? Bringing to you a mock group discussion on GST in India. This would help all aspirants who are preparing for GD rounds like Canara Bank or Syndicate Bank.
Originally Published on Oliveboard's Discussion Forum. Check for more GDs, Quizzes, tips and much more.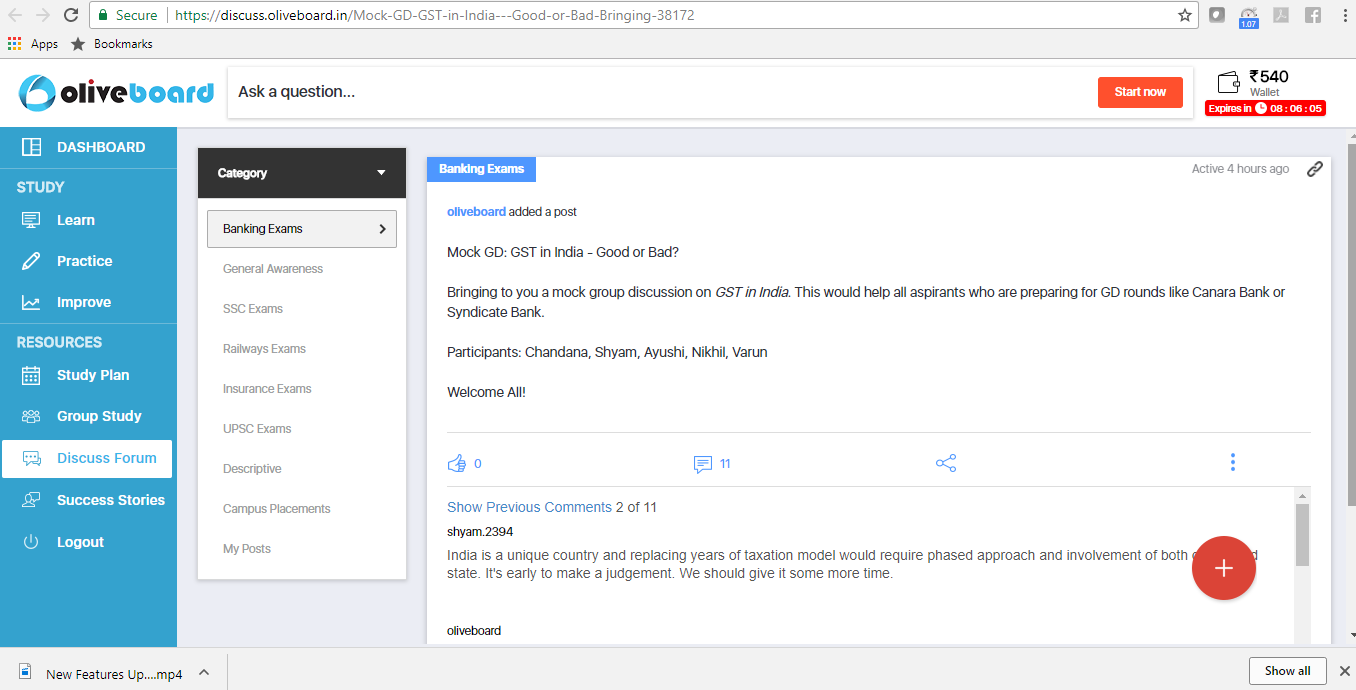 Participants: Chandana, Shyam, Ayushi, Nikhil, Varun
Chandana: We have a topic on GST today for discussion. GST or goods and services tax is the new indirect taxation system that has been brought to effect in India. The intention is to make India a single market. I think it is a decent way to move forward.
 Shyam: Good morning everyone. I agree with Chandana. It is a very good move. Rather than having so many taxes levied by different states and bodies, GST forms a single tax system. GST is essentially a tax which is calculated only on the value added at each stage in a typical supply chain I.e. Manufacturer to the end customer. When I see a bill today, I clear understand the tax deducted unlike earlier.
 Chandana: Yes, it is much easier to manage by everyone. Many taxes like excise duty, additional excise duty, service tax, customs duty at Central level are replaced. Also at state level octroi, entertainment tax, state VAT etc are replaced. If we consider this, GST is so easy to manage as it has replaced all previous taxes.
 Ayushi: Hi guys, I agree this is a single tax which has replaced other taxes but if we see clearly it is not a single GST but a dual GST- central and state. This actually is almost same as it was. If GST has to be a success, it should be a single GST system and not a dual system. Currently it is adding no value. We have just replaced old ones with new ones without actual advantage.
Nikhil: I completely agree with Ayushi. CGST and SGST are nothing but new names of the same structure. For GST to be successful it should have been single GST system.
Varun: You are missing the bigger picture here. India being such a big country and with population so large, we cannot directly replace existing system at one go. It's better to have dual administration in GST with centre and state playing their respective roles in the taxation. The point is GST replaced so many taxes which are there and structured them into more manageable system.
The previous structure had so many problems. For example, multiple taxes on same value at Central level and state level. These taxes were in form of excise duty, service tax, sales tax, and then VAT. Now think from perspective of a businessman, so many taxes and so many records. People faced hard times managing and understanding taxes. With GST, this issue gets resolved on its own. On every value created, tax is paid and then it moves on.
Chandana: That's a very fair point Varun. Also, with GST comes the technology backbone. With government backed IT infrastructure everything would be more accountable and transparent.
Ayushi: Theoretically things look good but practically, moving everything to GST is not easy. I don't feel people still have a clear understanding of what is GST and why it has been implemented. Across the world, GST is a tried and tested model but in a single administration model.
Shyam: India is a unique country and replacing years of taxation model would require phased approach and involvement of both centre and state. It's early to make a judgement. We should give it some more time.

Facts related to the topic
GST was introduced by Finance Minister of India, Arun Jaitley on 19th December 2014

It was brought to effect from April 2017

It includes CGST (Central) and SGST (State)

GST aims at a single complex-free taxation system

UK, China, Germany, France, Belgium etc all have GST
Related Articles:

  Oliveboard Live Courses & Mock Test Series