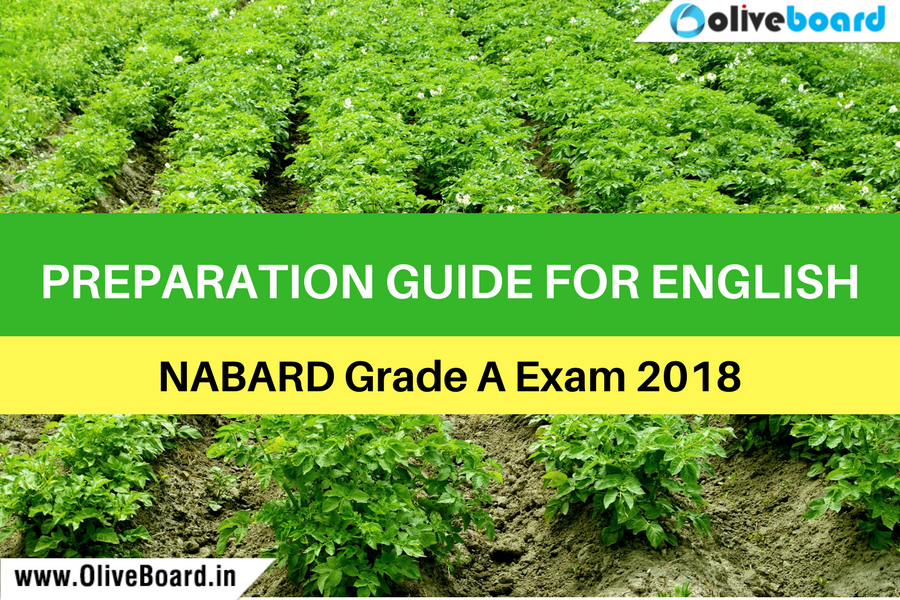 NABARD, one of the most reputed Public-Sector bank, has announced vacancies for the posts of Grade 'A' (Assistant Managers) recently. The Phase I Preliminary exam is scheduled to be held on 19th of May 2018.  To assist aspirants in NABARD preparation, today, we bring to you a preparation guide for English.
Let's have a look at the NABARD Phase I exam pattern first.
Section

Marks
Duration

English

40

2 Hours

Reasoning

20

Quantitative Aptitude

20

General Awareness

20

Computer Knowledge

20

Economic and Social Issues

40

Agriculture and Rural Development

40

Total

200
The English section will have 40 multiple choice questions with 40 marks. There is a 1/4th negative marking for every wrong answer.

NABARD Grade A (Phase I) – English Syllabus 
Reading Comprehension

Cloze Test

Error Spotting

Para Jumbles
NABARD Grade A (Phase I) – Best Books for English
Objective General English by S P Bakshi

High School Grammar and Composition by Wren and Martin

Word Power Made Easy by Norman Lewis
The Reading Comprehension passages carry most marks in English language paper. You can expect questions from topics based on Agriculture, Economic and Social Issues and Banking. You should allot around 19 minutes for this section to complete the entire paper on time. However, time strategy varies for different person.  What works for some may not work for others. Based on your strengths & weaknesses, you can change your strategy.

Tips to score more in English in NABARD 2018
Reading Comprehension
Choose the topic you are most comfortable with

Work out synonym-antonym questions first as these are straightforward and less time-consuming

The first few sentences of RC passage gives the major hint for the entire text. Also, the first question will be from the first few sentences.

Always stick to the passage while answering questions from RC.
Read more on how to improve your RC scores.
Cloze Test
Use eliminate options to attempt these questions. List out all the options and use the one that seems most suitable. Think of words that fits the context of the entire passage.

Pick questions with commonly used words so that you can build a connect and attempt the question.

Concentrate on the tone while attempting the answer. Understand if the sentence is in humorous or emotional and pick answer accordingly.

Get well versed with grammar rules and sentence structuring

Error Spotting
The verb and the sentence must comply with the subject of the sentence. As for example: a singular subject will go with singular verb and a plural subject with plural verb.

Two or more singular subjects that is connected by 'and' usually goes with a verb in the plural.

When the subjects are joined by 'or', 'nor' the verb agrees in person with the nearest one.
Para Jumbles 
Look for the introductory sentence where a person, place, concept is being introduced. This will be the opening sentence of the paragraphs.

Use articles to spot the opening sentence. While the article 'a' or 'an' will be used to introduce a subject, 'the' will be used for something that is already introduced and therefore, cannot be the opening sentence.

Spot connectives like although, though, if, until etc. Sentences will these words will never be opening sentence.

Spot the central theme of the paragraph. This will help you gather pieces of the paragraph faster.
Hope this helps!
Free Resources for NABARD Preparation: