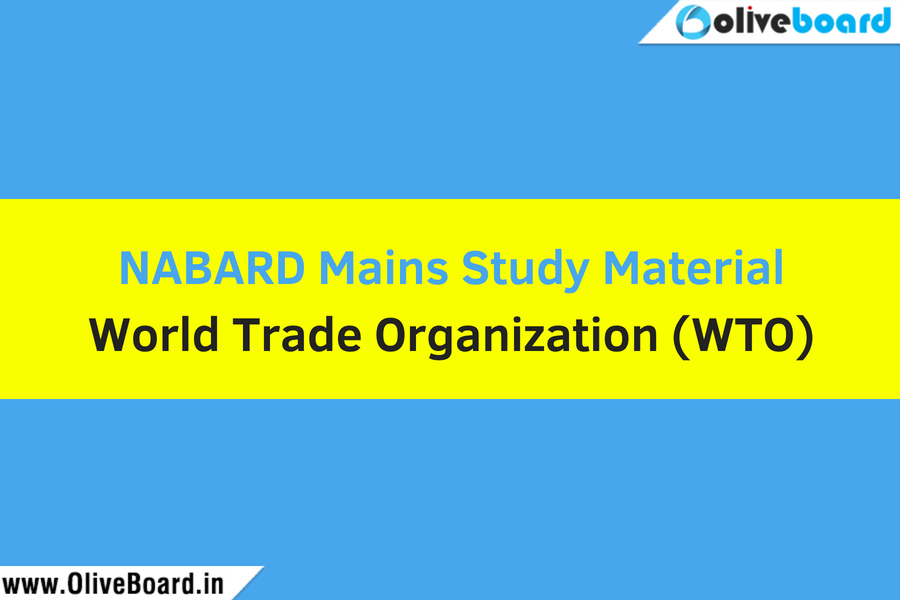 NABARD Exam Important Topics – Are you preparing for the NABARD Mains exam 2018? If yes, this post will be helpful. Economic and Social Issues is one of the important paper in NABARD Mains and World Trade Organization (WTO) is one of the important topics from that paper. For your assistance, we bring to you, important facts about the World Trade Organization in this post that will help in your NABARD Mains Preparation.
The World Trade Organization (WTO) is an intergovernmental organization.  An intergovernmental organization is an organization composed primarily of sovereign states (referred to as member states). So, many different countries are members. The primary purpose of WTO is the regulation of International Trade. It was formed on 1st January, 1995 under the Marrakesh Agreement. The Marrakesh Agreement, or Marrakesh Declaration, was an agreement signed in Marrakesh, Morocco, by 124 nations on 15 April 1994, It was the conclusion of the 8-year-long Uruguay Round and establishing the World Trade Organization, which officially came into being on 1 January 1995. WTO Created by: Uruguay Round negotiations (1986-94).
NABARD Exam Important Topics
WTO replaced General Agreement on Tariffs and Trade (GATT)
GATT was formed in 1948.

Secretariat of WTO : Geneva , Switzerland

Membership : 164 countries as of July, 2016 . (Afghanistan became 164th member in 2016)

Head: Roberto Azevêdo (Director-General)
The World Trade Report is an annual publication by WTO that aims to deepen understanding about trends in trade, trade policy issues and the multilateral trading system.

Functions of WTO
It oversees the implementation, administration and operation of the trade agreements among member countries.

It provides a forum for negotiations and for settling disputes.

Help in settlement of trade related disputes.

It monitors national trade policies.

Provides Technical assistance and training for developing countries.

WTO cooperates closely with the two other components of the Bretton Woods system, the IMF and the World Bank.
The WTO's predecessor, the General Agreement on Tariffs and Trade (GATT), was established after World War II . Other new multilateral institutions dedicated to international economic cooperation – the World Bank and the International Monetary Fund.  Seven rounds of negotiations occurred under GATT to formulate new rules for cross border trade. GATT members started feeling that it is not evolving as per new globalizing world economy. The rules of game were changing as the World was opening up to cross border trade.
The eighth GATT round – known as the Uruguay Round – was launched in September 1986. It was the biggest negotiating guidelines on trade ever agreed. So, all the original GATT articles were up for review.
Ministerial Conference:
The highest decision-making body of the WTO is the Ministerial Conference.

Normally meets every two years.

All members of the WTO comes together (Countries and Customs unions).

The Ministerial Conference discusses and takes decisions on all matters under multilateral trade agreements.

Last Ministerial conference : Buenos Aires in December, 2017
Doha Development Agenda: The WTO started the recent round of negotiations, the Doha Development Round, at the fourth ministerial conference in Doha, Qatar in November 2001.
Focus more on globalization.

Discuss and make policies on slashing barriers and subsidies in farming.
Interact with your fellow aspirants about Time Strategy For NABARD Entrance Exam and NABARD Study Notes in our discussion forum
Alternatively, you can also download the Oliveboard Mobile App and GK App for free study material and other latest updates.
Happy Learning from Oliveboard !
Hope this helps!
Related Articles: