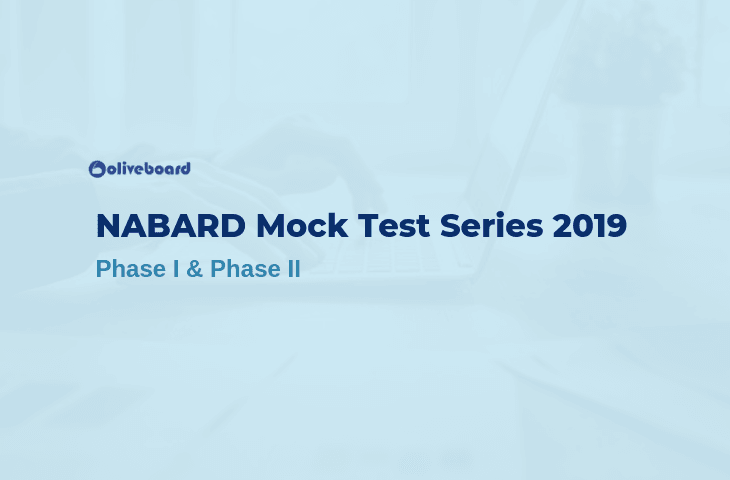 NABARD, which is an apex development financial institution in India,  has recently released the NABARD 2019 Notification for NABARD Grade A and Grade B Officer posts. Total of 87 vacancies have been announced. Countless candidates who aspire to clear the exam sits for it. As the exam is significantly tougher compared to other banking exams, it demands higher level of practice, concentration and dedication. And the fact that it has altogether different exam pattern and syllabus, it makes it necessary to have a different approach and strategy to crack the exam. For your assistance, Oliveboard has brought NABARD Mock Test Series to help you practice as per the latest exam pattern, covering entire syllabus and allowing you to choose different difficulty levels of test as you move ahead in your preparation. So, read along to check what NABARD Mock Test 2019 from Oliveboard has in store for you:
Also Check:
NABARD 2019 Date of Examination
Attempt Free Mock Test for NABARD Grade A and B on Oliveboard
NABARD Mock Test 2019
The NABARD Practice Set offered by Oliveboard is not just limited to Phase 1 & Phase 2 Mocks but also include study materials for Agriculture & Rural Development (ARD), Economic & Social Issues (ESI), Video Lessons, GK Supplement and a lot more. Let's have a look at it in detail:
Use Coupon Code "OB10" to get 10% Off on NABARD Test Series
The Mock Tests are of latest exam pattern and covers the entire syllabus. It can be taken on PC as well as on Mobile App. NABARD online tests will help you ace the exam because you'll get an idea of how the pressure and situation will be on the exam and this will help you feel more confident and more prepared. The difficulty level of these Mock tests will take your preparation to a much higher level making you aware of your strengths and weaknesses so that you can work on them and improve. Do remember, the mock tests will serve their purpose only if you analyze them and devote sufficient time to it, instead of simply attempting it. So, what are you waiting for? Take a free online test for NABARD exam now and try it yourself!
Have any doubt, ask directly from the faculty on Oliveboard Telegram Group. Install Telegram and join obbanking and OliveboardApp.
All the Best!