"Success is nothing more than a few simple disciplines, practiced every day" – Jim Rohn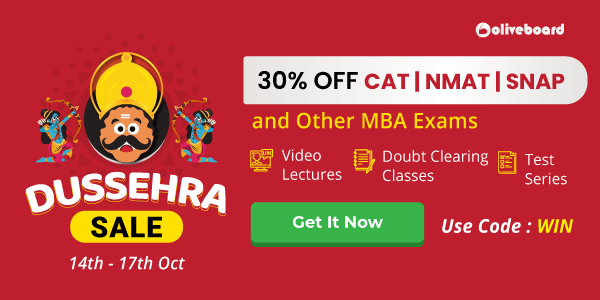 CAT (Common Admission Test) is considered as a monumental exam and cracking it in the first attempt and getting a coveted seat at India's topmost three B-Schools is no child's play. We got a chance to talk to Ganesh Nagarsekar who scored an impressive 99.89 %ile in CAT 2015 in his first attempt and successfully converted the call from IIM Calcutta. We are presenting the major excerpts from our talk in this post.
1. Hello Ganesh. Congratulations for converting the IIM Calcutta. How is the feeling?
The feeling is beyond surreal. Joka (IIM-C) has been a dream right from the day I started my CAT preparation and has been on my mind ever since I started finance in my second year at BITS. To finally get a convert from the college for which I had slogged for all year feels beyond amazing! I was initially waitlisted at #007, so was expecting the convert, but to finally see that mail from the Joka admission office is a different feeling altogether.
2. Tell us more about yourself. 
I graduated in Electrical and Electronics from BITS Pilani, Goa. Post that I worked for around 19 months with the investment banking arm of J.P. Morgan. I have also cleared CFA Level 1 and am currently preparing for Level 2.  To be honest, my academics were far from perfect. X-90, XII-83, Grad-65, but I believe my performance at JPM along with my undergraduate college brand helped me mitigate some of the damage!
I know people with acads similar to mine feel a bit apprehensive about the whole admission process. I would strongly recommend them to not lose hope and focus on what can be changed, the CAT percentile. There are a lot of top MBA colleges that are still ready to give you a second chance if you prove your determination and grit through your CAT score and your candidacy based on your work-ex or other extra curriculars.
3. Was it your first attempt in MBA Entrance Exams?
Yes.
4. What was your daily routine while preparation?
Managing CAT preparation along with a regular job is always an uphill task. Luckily I got both Saturday and Sunday off, so I tried to maximize my preparation on weekends. On weekdays, I was generally able to put in only 1-2 hours. A lot of this included analyzing mocks that I had given on weekends and practicing small sectional tests. I avoided starting anything new on weekdays, because I generally prefer having a continuous stretch of time to understand a new concept or subject area. On weekends, I did an average of 2 mocks(~6hrs) along with another 5-6 hours a day of regular practice.(TIME booklets, Arun Sharma etc.). So a total of around 25 hours a week[1-2 on weekdays, 8-10 on weekends].
5. Which resources did you use for your preparation?
Regular study material: Time booklets, Arun Sharma.
Mocks: TIME(Aimcats)
Sectional tests, Subject-wise test, Daily tests: Oliveboard
Video lectures: Takshzila Shikshak(By far the best material for Geometry, Numbers and Arithmetic)
Random sums: Pagalguy, Whatsapp groups, Facebook Groups
6. What were the major challenges that you faced during your preparation?
I had my CFA Level 1 in June, so I lost around 2-3 months of practice time to that. So managing the time that I had was a sizeable challenge. Managing CAT prep along with my job will definitely be on the top of my list of challenges, but my team-members at JPM as well as my family was extremely supportive throughout the process.
I was fairly confident about Verbal, but QA and DILR were areas in which I had to put in a lot of effort. There were times when my performance in these areas was extremely disappointing (especially DILR where my percentiles were all over the place), but with gradual practice things began to improve and stabilize.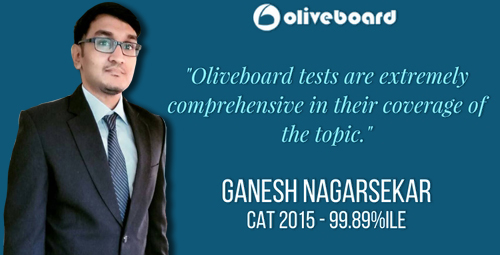 7. Please share your IIM Calcutta interview experience.
Joka was by far the weirdest interview I have ever given. Two Profs, let's name them prof who liked me PL and prof who didn't seem to like me too much PN and 1 kinda neutral alum A.(PN had seen me talking to a few people who were done with their interviews. Probably didn't like it!!!)
Essay topic: 19 IITs. Should the focus be on increasing the number of IITs or improving the quality of existing ones. Wrote a decent essay, starting with Nehru's vision. Presented the pros and cons and took a stand. (Expect around 7.5–8 in this) Was a bit psyched after my performance in the essay, but was trying to stay calm before the interview. Was 8–9th in the panel list, so a long wait!!!
PL asks me to come in and have a seat.
PN: So Ganesh, tell me one reason why we shouldn't take you?!
Me: *Wow, that's a start* Talked about stage fright in front of large audiences etc, how it can be a hindrance in a b-school. Also put in that I volunteer with JPM's training team where we train incoming interns and analysts so that I can work on this aspect.
PN: So when you say a lot of people, how many people are we talking. 10, 100,1000?
Me: Sir anything above 200–250 will be a fairly intimidating crowd.
PN: That's not much of a weakness, tell me one more reason why we shouldn't take you!
Me: Talked about how I am a bit untidy and lazy in my personal life, (lack of exercise, untidy room etc) and how I would need to be at both my physical and mental best at Joka, so need to work on these aspects.
PN: So we shouldn't take you because you are lazy?
Me: Only in my personal life sir. Talked about being a top performer at JPM and managing CFA and CAT simultaneously. (Go on for a bit too long here perhaps. Was just a bit defensive and didn't want the laziness part going against me!)
PN: I think speaking way too much should be a weakness too right. Try to keep your answers to the point.
Me: Offered lame justification.
PN: So your grad score is very low, what happened there! How do we know you will perform well at Calcutta? (Almost the exact same question was asked in my K interview. I had decided being honest was the best way around this one.)
Me: Explained lack of interest in electronics. Decision made at 17, based on the best I had in hand. Explained interest in finance since my second year at BITS, performance in electives and Coursera courses, etc.
PL: So, you have said you like reading. What types of books do you read
Me:*Ah, finally* Explained genres(fantasy, drama, thrillers) I enjoy, fav books(Shantaram, green mile), etc.
PL: So what do you think makes you like a book the most?
Me: Talked about character driven books. Discuss a bit about character driven vs plot driven.
PL: So which is the last book you read? Could you tell me the essence of the book?
Me: Flowers for Algernon. Discuss writing style and how it changes as the book progresses. Discuss the gist of the book and why I liked it.
PL: Asks an ethics based question about testing on humans
Me: Talked against it. Talked about the recent news about testing of vaccines in developing countries and children dying because of it. (In the middle of my answer I realized that testing on animals is probably necessary for scientific advancement, and tests would then be required to check if the same is safe with humans too. But didn't want to seem indecisive, so carried on with my broader theme.) Luckily no more cross questioning on this!
A: So what exactly do you do at JPM?
Me: Explained the role of CRG(Centralized research group) as an integral part of the global investment banking unit. Explained what I do on a day to day basis.
A: So what's a hedge fund?
Me:*Finally in my zone!* Talked about the basic definition, types of hedge funds, different hedge fund strategies etc.
A: Difference between hedge fund and mutual fund?
Me: Gave the broad difference between both
A:Looks satisfied. Okay now tell *in a maximum of 1–2 lines per point* about the five biggest problems facing India today, and possible solutions for the same.
Me: Take around 5 seconds to structure my thoughts. Start with first point. Try to expand a bit. *Alum cuts: Next point* Try to be as concise as possible now. Tell him the next four points.
A:Smiles, Thanks, we are done.
I get up, thank them and get ready to leave.
PN: So which other calls do you have?
Me: *Standing awkwardly, thinking about whether I should sit again* Tell him about my calls. Tell him I'm done with L and K
PN: Just one tip for your remaining interviews. You speak a lot and tend to deviate from the point. Try to keep your answers crisp and concise.
Me: Sure sir. I thought some points needed some explanation, so was just trying to do that
PN: Smiles,(finally!) Please don't take this personally, this is just something to help you improve
Me: Thanks a lot sir, I'll definitely try to work on it!
Thank all three again and leave.
Verdict: Initial WL 007 😀 Now convert! 🙂
8. You took the "Sectional Tests" by Oliveboard. Can you please share your experience with Oliveboard for the future aspirants?
I found the sectional tests offered by Oliveboard extremely comprehensive in their coverage of the topic, and a great way to strengthen your hold of the topic while also increasing speed. The tests also come in three levels of increasing difficulty which help you understand where you stand in terms of a particular subject area.
9. What are your post-MBA plans? Where do you see yourself 5-10 years post MBA?
Was never a big fan of 10-year plans! I plan to pursue a career in finance and strategy. Venture capital, corporate finance or a consult based role where I bring my finance skills to the table are options that I am currently looking at. That being said, I would like to keep my options open, try to learn as much as possible and explore the opportunities that IIM-C has to offer!
Disclaimer: This post is based on a written interview by the Oliveboard team.
Log on to Oliveboard here and take a Free Mock Test for CAT 2016.