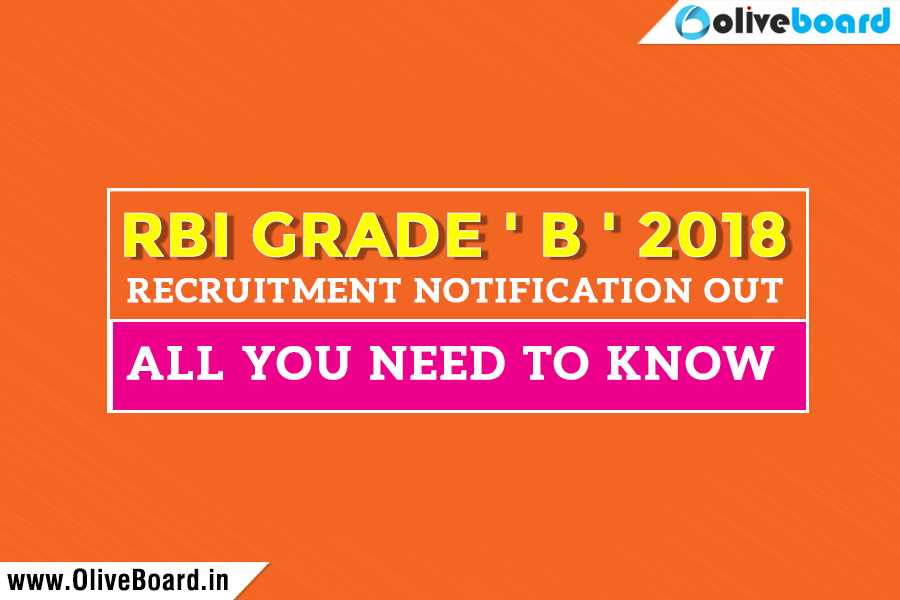 The much-awaited RBI Grade 'B' 2018 Notification has just been released and here we bring to you all the important details regarding the exam.
Download the official notification here!
RBI Grade B 2018 Notification | Vacancies: 166

RBI Grade B 2018 Notification| Important Dates
Registrations start: 03 July 2018

Registrations end: 23 July 2018

RBI Grade B Phase-I Exam Date : 16 August 2018

RBI Grade B Phase-II Exam Date : 07 September 2018
RBI Grade B 2018 Notification | Eligibility
A candidate must be between 21 – 30 years of age.

Upper age limit is relaxed based on educational qualification & reservation category as per norms.

A candidate must have scored at least 60% marks in both graduation, class 12th, and class 10th.

This percentage is relaxed to 50% for reserved categories
RBI Grade B 2018 Notification | Selection Procedure
The selection process is rigorous and is done in 3 successive stages, as mentioned below:-
RBI Grade ' B ' Phase – I  Exam (Objective Type)

RBI Grade ' B ' Phase – II Exam (Descriptive Type)

RBI Grade ' B ' Interviews
RBI Grade B 2018 Notification | Exam Pattern

How To Prepare For RBI Grade B 2018 | Phase – I & II Detailed Day-wise Study Plan

RBI Grade B 2018 Notification | Read Detailed Syllabus | Recommended Books Here
RBI Grade ' B ' Interviews
Candidates will be shortlisted for the interview, based on an aggregate of marks obtained in Phase-II (Paper-I +Paper-II +Paper-III).

The interviews have a weightage of 50 marks.

Final selection is made based on performance in both phase – II and the interviews
Get started with your exam preparation today.
RBI Grade B 2018 Notification | Application Fee

RBI Grade B 2018 Notification | Salary & Perks | Career Prospects
RBI Grade B Salary | PayScale
Starting basic pay of ₹ 35,150/- per month

The scale is ₹ 35150-1750 (9)-50900-EB-1750 (2)-54400-2000 (4)-62400

Officers in Grade B will also be eligible for Dearness Allowance, Local allowance, House Rent Allowance, Family Allowance and Grade Allowance as per rules in force from time to time.

At present, initial monthly gross emoluments are approximately ₹ 75,831/-(approx.)
RBI Grade B Salary | Perquisites
Bank's accommodation subject to availability

reimbursement of expenses for maintenance of vehicle for official purpose, newspaper, telephone charges, book grant, allowance for the furnishing of residence, etc. as per eligibility.

Free dispensary facility besides reimbursement of medical expenses for OPD treatment/hospitalization as per eligibility.

Interest-free festival advance, Leave Fare Concession (once in two years for self, spouse and eligible dependents).

Loans and Advances at concessional rates of interest for Housing, Vehicle, Education, Consumer Articles, Personal Computer, etc. Selected candidates will be governed by 'the defined contribution New Pension Scheme (NPS)', in addition to the benefit of Gratuity.

At certain centers, a limited number of residential quarters are available. Facility for securing residential accommodation on lease, however, exists at all centers

Selected candidates are liable to be posted and transferred anywhere in India.
RBI Grade B 2018 Notification | Comprehensive Study Plan | How To Prepare for RBI Grade B 2018
RBI Grade B Career Prospects
The initial appointment will be on probation for a period of two years.

At Bank's discretion, the probationary period may be extended up to a maximum period of four years.

There are reasonable prospects for promotion to higher grades.
For candidates possessing very high academic or professional qualification/ experience of significant value to the Bank, the Bank may, at its sole discretion, consider granting up to four advance increments.
The Board, at its sole discretion, may consider requests for higher emoluments on account of higher qualification/special experience of value to the Bank at the interview stage only.

Such information may be furnished in the Biodata Form in the appropriate column. The number of maximum increments will be four. The Board/Bank will not entertain any request received after the interview.
All the best!