RBI Grade B officer post is one such post that is aspired by many but only a few who toil hard manage to get it.
They say, "Work hard in silence and let your success make the noise".
But in these times of cut-throat competition, in addition to the hard work that one puts into the preparation for the Grade B exam, I would emphasize that smart study is equally important.
One must know what to study, how to study when to start the preparation and most importantly the what study material to follow.
Let us understand here what strategy one needs to follow to complete RBI Grade B Exam Preparation 2020 for Phase 1 and Phase 2.
Use Coupon Code 'P30' & Get a 30% discount on RBI Courses!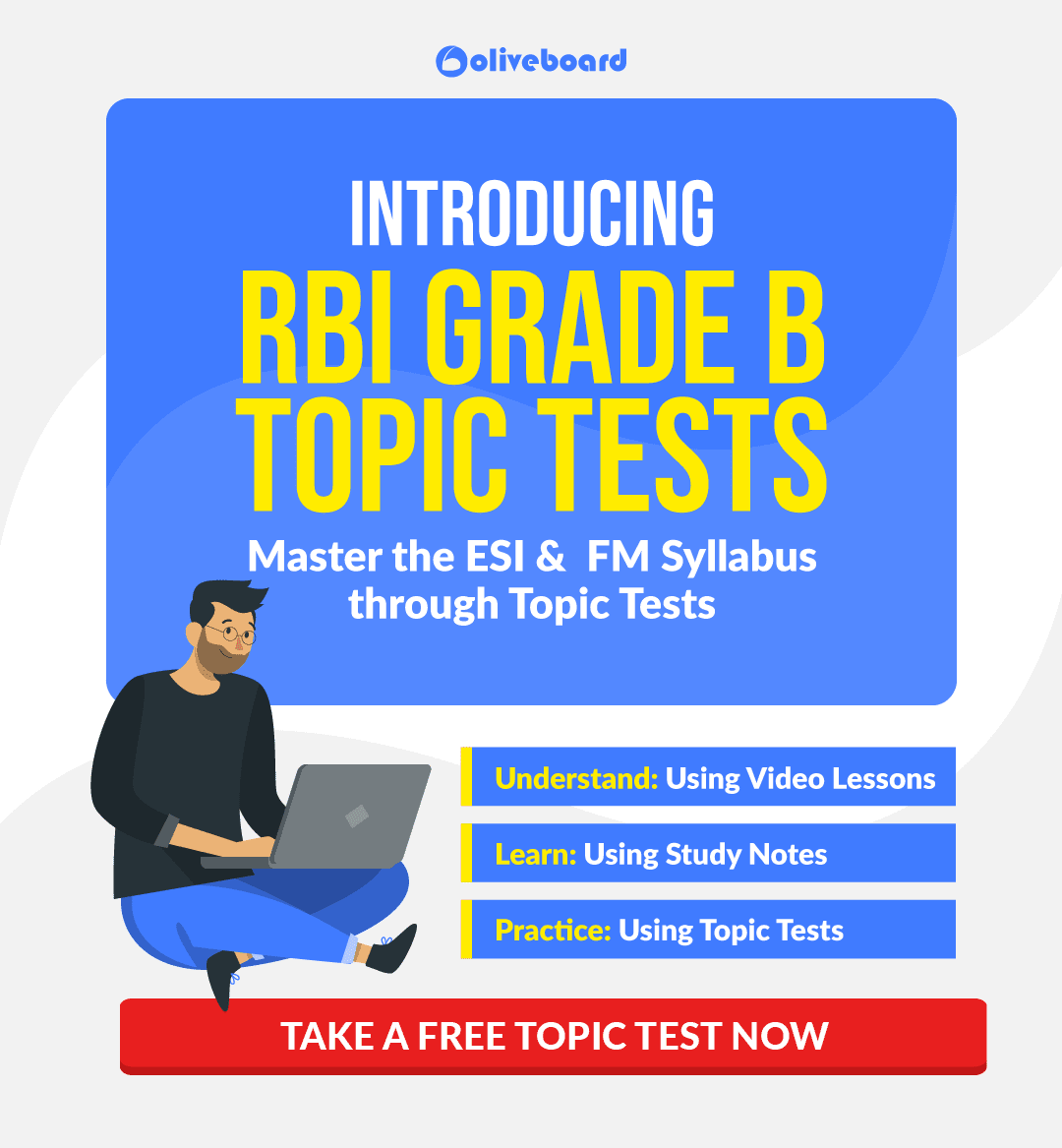 Take RBI Grade B Free Topic Tests Here
---
RBI Grade B Preparation Strategy 2020
I. What & How to Study? 
Here is the RBI Grade B 2020 Preparation Strategy for each of the Phases. But first, let us skim through the exam pattern.
1. RBI Grade B Phase 1 Exam Pattern
---
2. RBI Grade B Phase 1 – Important Pointers & Preparation Strategy
i. The key section will be the General Awareness section.
Keep reading the daily current affairs & revising them weekly. The last 6 months of current affairs before the notification are important. Having said that, the three months before the exam will be of utmost importance.
Revision is the key.
Remember your overall scores in phase 1 can be boosted by increasing the GA scores.
ii. Practise is important for the sections of Reasoning, Quants & English. Keep practicing the questions regularly say 3 to 4 times a week. 
iii. Identify your strengths and play on the same.
iv. Follow this simple flow:
Concept Building & Practice
                ⇓
               ⇓
v. Attempts and accuracy matter the most. If the difficulty level of the paper is easy to moderate, then attempts need to be sufficiently high to be able to clear the overall cut off.
vi. Sectional timings had been introduced since the 2019 paper. Therefore, it becomes extremely important that we can correctly solve the questions in the time given to us. Here Mock Tests would help you.
vii. Sectional cut-offs will also play a part in your selection. You need to be good enough in each of the four sections to be able to clear the sectional cut-offs and thereby the going on to clear the overall cut off marks.
Note: Attempt Daily Free Quizzes of Quants, Reasoning, English and GA on Oliveboard App and improve upon your weak topics.  
---
3. RBI Grade B Phase 2 Exam Pattern
| Name of Paper | Type of Paper | Time | Marks |
| --- | --- | --- | --- |
| Paper-I: Economic and Social Issues (ESI) | Objective Type | 90 minutes | 100 |
| Paper-II: English (Writing Skills) | Descriptive, to be typed with the help of the keyboard | 90 minutes | 100 |
| Paper-III: Finance and Management (F&M) | Objective Type | 90 minutes | 100 |
4. RBI Grade B Phase 2 – Important Pointers & Preparation Strategy
4.1. Economics and Social Issues:
i. Current Affairs has the maximum weightage in ESI.
ii. Clear your basics of the topics given in the syllabus and simultaneously keep track of current affairs.
iii. Current Affairs for the 6 to 8 months before the exam would suffice.
iv. Other Important Topics to be covered are:
Latest Government Schemes & Other old important Schemes

Latest Union Budget & Economic Survey

Census & SECC 2011

Important RBI Notifications & Circulars
4.2. Finance:
i. There has been a change in the trend in the type of questions being asked these days. The weightage for numerical has been decreasing. More emphasis is being given to basic concepts linked to current affairs.
ii. Have a firm grip over the topics of the syllabus accompanied by a dose of Finance current affairs. Keep reading a business newspaper.
iii. Important Topics to Cover are:
Time Value of Money

Bonds

Risk Management

Functions of RBI

Finance Commission

FRBM & Inflation

Corporate Governance

Primary & Secondary Markets

Derivatives

Income Statement & Balance Sheet
4.3. Management:
i. Now this section is quite easy to prepare. Cover the topics given in the syllabus and then keep revising through reading and solving MCQs.
ii. Important Topics to be covered are:
Leadership

Motivation

Communication

General Management

Human Resource Development

Corporate Governance
4.4. Descriptive Paper:
i. Start reading the editorials of the English newspapers.
ii. Practise 1 Essay, 1 Precis, and 1 Reading Comprehension every week.
Enol Here for RBI Grade B Phase 2 Mock Tests.
---
For an elaborate strategy for RBI Grade B 2020, do watch the following given video here.
---
II. When to start?
Start right from today. The sooner the better.
Have a look at the detailed preparation strategy by Oliveboard Expert here.
---
III. What study material to follow?
Oliveboard's RBI Grade B Online Course 2020 will be your one-stop destination for all your preparation needs
1. Course Details
RBI Grade B Cracker is designed to cover the complete syllabus for the 3 most important subjects: GA for Phase 1 and ESI + F&M for Phase 2 exam. Not just that, it also includes Mock Tests & Live Strategy Sessions for English, Quant & Reasoning for Phase 1. The course aims to complete your preparation in time for the release of the official notification.

1.1. Features:
Phase I
Phase II

Weekly Live Classes for GK

Special Live Classes on Exam Pattern & Strategy for Quant, Reasoning & English

Sectional + Topic + GK Tests

Weekly Live Classes & 50+ Video Lectures for ESI, and F&M

Live Practice Sessions

Class and Tips for Descriptive Writing

Complete Notes for ESI, F&M
Use Coupon Code 'P30' & Get a 30% discount on RBI Courses!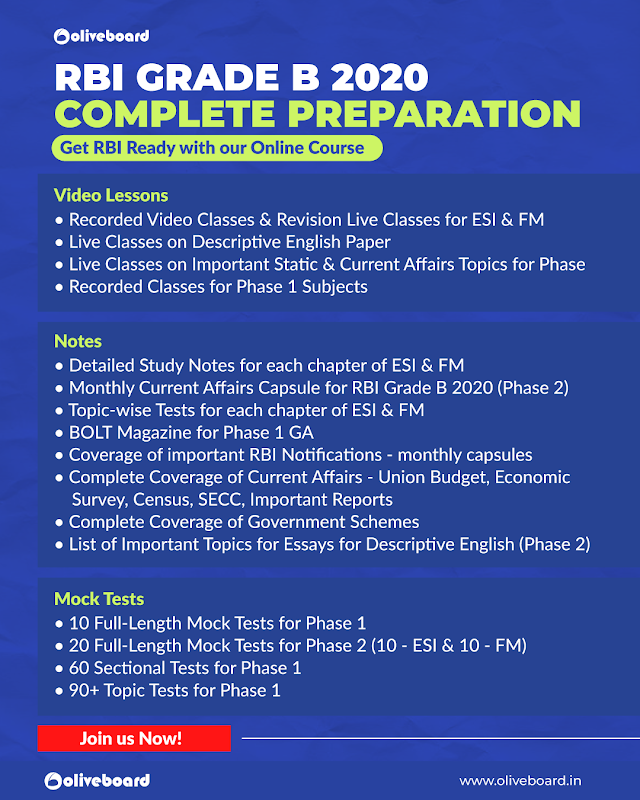 Subscribe & Join the RBI Grade B 2020 Online Coaching here.