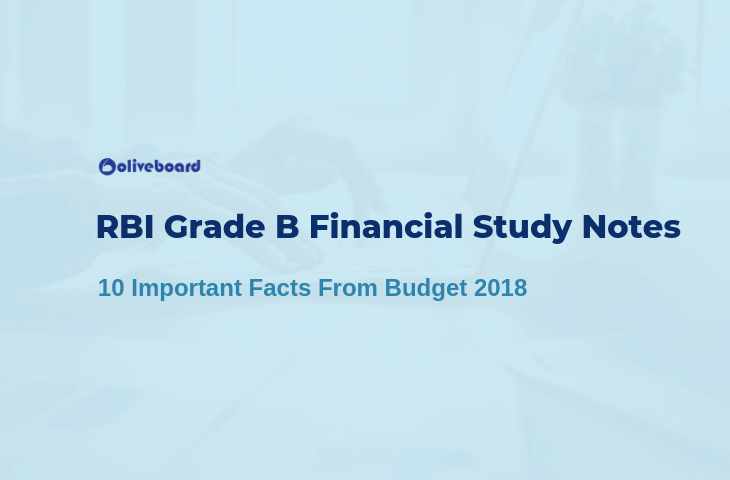 The RBI Grade B Exam – Prelims is scheduled to be conducted on 16th August 2018. This leaves us with only 7 more days for preparation. This makes it the right time to revise RBI Grade B Financial Study Notes from one of the important topic – Union Budget for RBI Grade B Officer Exam preparation.
Keeping this in mind and to assist you with the revision we bring to you today's blog – RBI Grade B Financial Study Notes – 10 Important Facts From Budget 2018.
The information provided in this RBI Grade study notes blog is very important and would help you a lot in solving the questions from General Awareness section.
RBI Grade B Financial Study Notes – Budget 2018: facts and figures
1) ₹ 5.95 Lakh crores – This was the revised figure of Fiscal Deficit, which is 3.5% of the GDP
2) ₹ 11 Lakh crores – This is the target of Institutional Credit for Agriculture sector in 2018-19. It was ₹ 10 lakh crores in 2017-18
3) ₹ 1.38 lakh crores – That is the value of combined budgeted expenditure on education, health and social protection. The value could be increased by ₹ 15,000 crores through additional allocations during the year.
4) ₹ 3790 crores – It is the amount which has been allocated for credit support, capital & Interest subsidy and innovations in the Medium, Small and Micro Enterprises (MSME) sector.
5) 7 million – that is the number of jobs which will be created in the year 2018-19 in India. This figure has been arrived at by an independent study conducted for Budget 2018.
6) 5.97 lakh crores – It is the amount allocated as Budgetary allocation for the development of Infrastructure in the country.
7) ₹ 2.04 lakh crores – that is figure marked as the budgetary outlay for the Smart Cities Mission, under which 99 cities have been selected.
8) 35,000 km – It is the number of kilometers of road construction which has been approved under the phase 1 of Bharatmala Pariyojana. The total cost would be ₹ 5.35 lakh crore.
9) ₹ 3,073 crore – That is the Budgetary allocation for the Digital India Programme in the year 2018-19.
10) ₹ 80,000 crore – the set target for Disinvestment in 2018-19.
How much would you score if the exam was today? check now
Conclusion
That is all in this edition of RBI Grade B Financial Study Notes blog. Ensure that you remember all the facts and figures mentioned above, by heart. As RBI asks very factual questions in the general awareness section of the exam.
All the best for RBI Grade B Exam 2018
Additional RBI Grade B Study Material Blogs -:
Other Blogs on RBI Grade B Exam – 
Interact with your fellow aspirants about RBI Grade B Exam and RBI Grade B Study notes in our Oliveboard's discussion forum
If any have any further queries or suggestions regarding RBI Grade B Exam – 2018 you can connect with us on FB, Twitter, Instagram and YouTube as well.
Alternatively, you can also download the Oliveboard Mobile App and GK App for free study material and other latest updates.