The SBI PO Mains 2018 exam is scheduled to be conducted on 4th August 2018. This leaves us with roughly 12 more days of preparation. Before we move on to 'how to prepare for SBI PO Mains descriptive writing', following are some points that you must keep in mind for SBI PO Mains: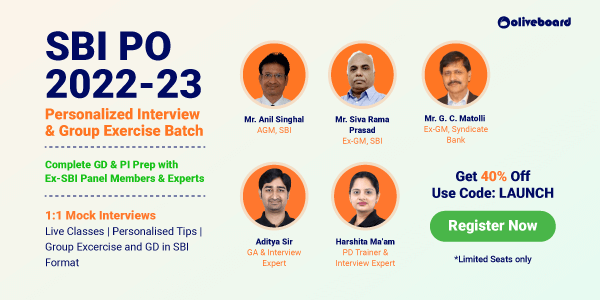 In SBI PO Mains, you are essentially competing with the toppers, so even the smallest of all things make a lot of difference.

While the descriptive section is only qualifying in nature, it is important to keep in mind, who are the people you are competing against.

A major portion of your mains syllabus for reasoning, English, and quant is prepared for during prelims preparation. For mains, the best way to go about preparation is to take mock tests, sectional tests and topic tests and focus on your preparation of the general awareness and descriptive sections.
In this article, we have collated all the important information about how to attempt the descriptive writing section. This article also includes videos that will help you understand how to write letters and essays and how they are evaluated. So, read along.
Before we delve into the topic, let's quickly glance through the exam pattern of SBI PO Mains 2018.
SBI PO Descriptive | Exam Pattern
The descriptive section of SBI PO Mains is as follows:
Total Marks: 50

Total Time: 30

Number of Questions: 2

Question Type: Essay + Letter Writing (formal / informal)

SBI PO Descriptive | Essay Writing
An essay is nothing but a short piece of writing on a particular topic. What sets an essay apart is not just being error-free in terms of grammar and spelling but also the structure and flow of ideas in the essay. A basic but ideal structure to follow is:-
1) Introduction:- This should contain a brief introduction of the topic with an explain the background of the topic. Use this section also to briefly mention your view on the topic before elaborating on that in the body paragraphs.
2) Body Paragraphs:- The body paragraphs (or the middle paragraphs) are used to present one's point of view on the subject in a detailed manner.  You should restrict the number of paragraphs here to 2 or 3. The purpose of the body is to list out in detail the examples that support your view. It is always advised to put forth your strongest argument first followed by the second strongest one and so on.  Each paragraph should contain one idea and sentences supporting it.
3) Conclusion:- The conclusion is placed to restate the main argument/view you made by showing the connections made between the different points in your essay. However, one should not use the same words to do so.
The conclusion should also not be a place to introduce any new idea or thought but just a summarizing of your main argument using some of the strongest evidence supporting it.
Following is a video that will explain how to write essays in detail.

SBI PO Descriptive | SBI PO Essay Writing Topics
Consequences of Brexit

Merger of SBI with its associates

Resentment over 7th Pay Commission

MPC (Monetary Policy Committee) formation

Rising NPAs of Indian Banks

India's NSG Debacle

What to expect from the new RBI Governor

7% Growth in Indian Economy: Figures and Realities

Make In India: Where we have reached

2 Years of Modi Government: Achievements and Challenges

SBI PO Descriptive | SBI PO Letter Writing
There are two types of letters asked in these exams are:-
Informal letters (written to friends, relatives, parents, siblings (brother/ sister)

Formal letters (written to a bank manager, news editor, government department/ officials etc.)
Broadly speaking, a letter, formal or informal must contain the following parts:-
In addition to this, the key point differentiating essays and letters is adherence to format. In simple words, you must follow a fixed format while writing a letter. Also, you cannot afford to be verbose. This is especially the case for formal letters. You should be concise and succinct. Watch the following video to understand all aspects of letter writing. In this video, we have also discussed the proper format for writing a formal as well as an informal letter. It includes a sample letter as well.
SBI PO Descriptive | Get Your Letters & Essays Evaluated By OliveBoard Experts!
We have established that in mains, we are competing with some of the best performers of prelims, it should be understood that in mains preparation, we cannot take anything for granted. So, here we bring you Oliveboard's descriptive tests to help you ace this section.
You can take a Descriptive Test comprising an Essay & Letter. Just like in the actual exam. 
Once you submit it, these tests will be rated/scored by Oliveboard experts (we try to evaluate all but in rare cases, a few may be missed) & other Oliveboard users.
Submissions are rated on Relevance to Topic, Spelling & Grammar, Length of Essay, Structure etc. You can then use the scores provided by users to improve on your next writing assignment.  
Here's How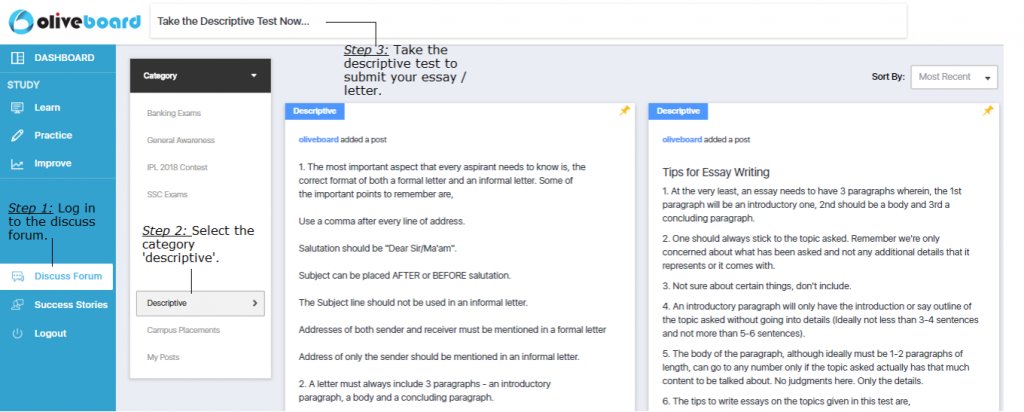 Following is a sample analysis of an essay submitted by a user: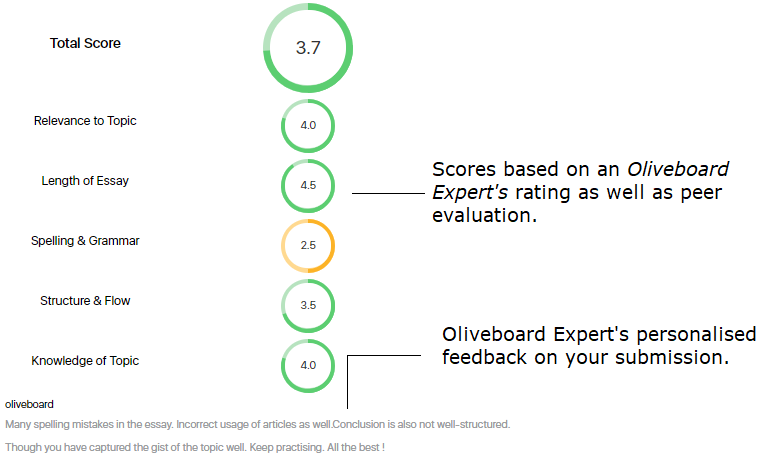 Hope this helps. All The Best!

The most comprehensive online preparation portal for MBA, Banking and Government exams. Explore a range of mock tests and study material at www.oliveboard.in