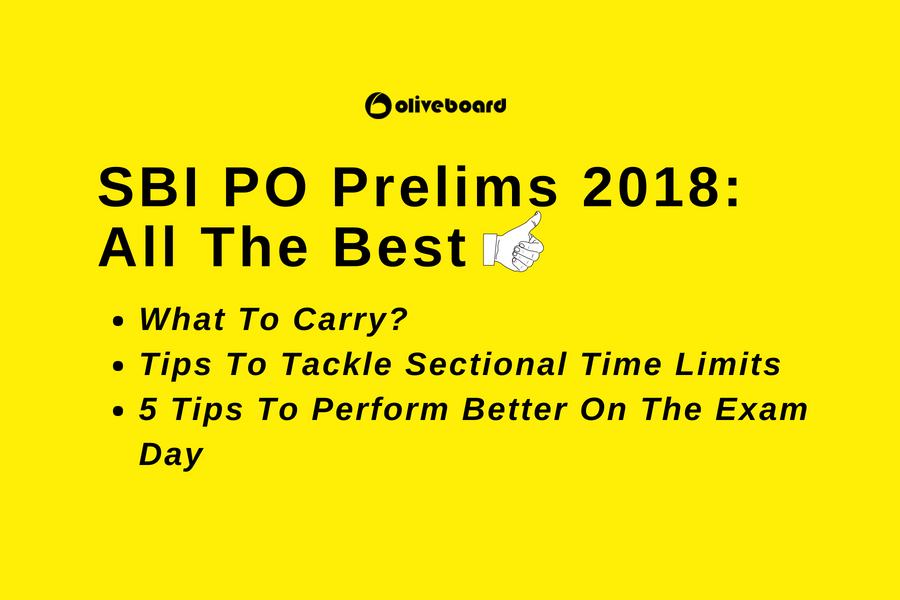 The SBI PO Prelims 2018 will commence from 1 July 2018. With just a handful of days left for this much-awaited exam, here we bring to you a last-minute exam checklist to help you avoid any last minute hassles. This article will enlist the following:
SBI PO Prelims Exam Checklist: What To Carry?

SBI PO Prelims New Pattern: How To Tackle Sectional Time Limits

SBI PO Prelims Exam Day Tips: 5 Tips To Perform Better On The Exam Day 
So just read along!
SBI PO Prelims 2018 | Exam Check-list | What To & Not To Carry
Carry one of the following photo identity proofs:

Passport

Adhar

PAN Card

Driving License

Voter's Id Card

Bank Passbook with duly attested Photograph/ Identity Card issued by School or College/ Gazetted Officer in the official letterhead

Self-attested photocopy of the ID proof

SBI PO Prelims Call Letter 
Please note that: SBI PO Prelims Last Minute Tips
No use of books, notes, calculators & cell phones will be allowed
It is advisable to reach the exam at least half an hour before the reporting time to avoid any last minute hassles or panic.
SBI PO Prelims 2018 | New Pattern | How To Tackle Sectional Time Limits
This year's prelims exam is going to be different than the previous years' exam as sectional time limits were introduced in prelims this year. Following are some important pointers to help you make the best use of these time limits. SBI PO Prelims Last Minute Tips
20 minutes to solve each section

~ 35 to 40 seconds per question

Attempting the section in multiple rounds namely: easy, moderate & (if time allows) hard

Don't get stuck on a question
Just remember that the thumb rule for attempting any competitive exam is to start with the easier questions as it helps boost your confidence. The idea is to attempt maximum correct answers in the given time.
SBI PO Prelims 2018 | Exam Day Tips | 5 Tips To Help You Perform Better In The Exam
Take a break before the exam day. Try to keep all the stress and nervousness at bay. Calm yourself down. This refreshes your mind thus helps you perform better. Use this break-time to and collect and keep all the important documents like admit card, ID proof etc at one place. 

SBI PO Prelims Last Minute Tips

Remind yourself, multiple times if need be, that YOU have given 100% to your preparation. There is no reason to panic and be scared. And though the following may sound cliched, it's quite true: enjoy the exam instead of stressing over it!
Attempt the easy questions (topics you're comfortable with) first and then move on to some of the difficult ones. This will help you gain confidence and thus, boost your performance. 

SBI PO Prelims Last Minute Tips

Calculated Guesses | Indulging in blind guesswork would have a negative effect on your scores. Accuracy is as important as speed in this exam. Hence, try the elimination method to eliminate 2-3 options before making calculated guesses, and refrain from any blind guesswork. 

SBI PO Prelims Last Minute Tips

Get at least 8 hours of sleep before exam day. People tend to underestimate the advantage that a fresh mind can provide especially during such a competitive exam.
All The Very Best for SBI PO Prelims 2018!!!
  Oliveboard Live Courses & Mock Test Series