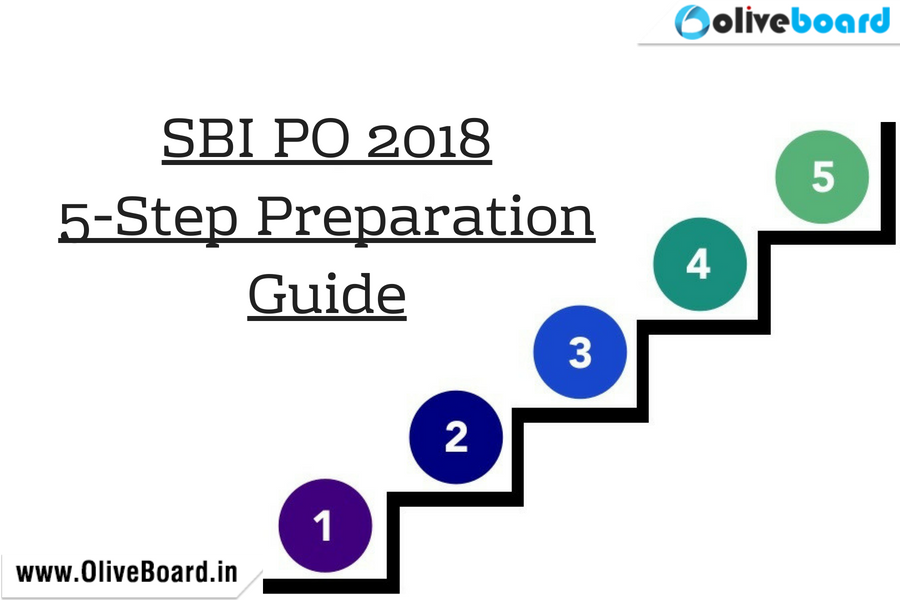 The SBI PO 2018 exam is roughly 50 days away. Here we bring to you a 5-step preparation strategy to help you prepare for the exam better. So without much ado, here are the steps:
SBI PO Preparation | Step 1: Build Your Concepts
One of the most important aspects of exam preparation is having crystal clear concepts. Having strong basics helps you crack the toughest of all questions and thus score better.
How To Do This?
The best way to build your basics is to watch video lessons. These are better alternatives as:
video lessons are interactive

you can learn at your own pace

if you're not clear, you can always watch again!
Here are our NEW Oliveboard Videos!
SBI PO Preparation | Steps 2 & 3: Strengthen Each Topic & Section-wise Strategy
Taking tests is the best way to strengthen and improve in any area. Along with studying a concept, keep taking tests to see how you fare in each topic. This helps you identify your strengths and weaknesses. In SBI PO 2018 prelims, sectional time limits have been introduced. There may be other exams which do not have sectional time limits in one stage or the other. However, having a strategy is still important.
What does sectional strategy mean?
Have an idea about which is a relatively strong section

Which topics in that particular section are you comfortable with

Which are the ones that need improvement

How to do this?
Taking tests regularly is the best way to achieve this goal. Various types of tests can help you improve on various aspects. Here's how:
Topic Tests: These tests come in 3 difficulty levels, namely: Level 1 (easy), Level 2 (moderate), Level 3 (difficult). Take these tests to establish your proficiency in a particular topic. Learn the basics and then gradually move from easy to higher difficulty questions. 
Sectional Tests: There are 20 sectional tests provided to you for each of English, Quant, and Reasoning. Use these tests to build on your sectional strategies. This will help you focus on each section and think of it as one paper in itself. Fine tune your strengths, identify your weaknesses and work on them.
Full Length Mocks: Take the full-length mocks to give yourself a feel of the exam. Ideally, one full mock must be attempted before you begin your preparation, as this helps you see where you stand and where you need to reach. Think of this as a diagnostic test. As you progress in your preparation, these mock tests should be equally divided during the complete duration, wherein the intensity increases as the SBI PO prelims approach.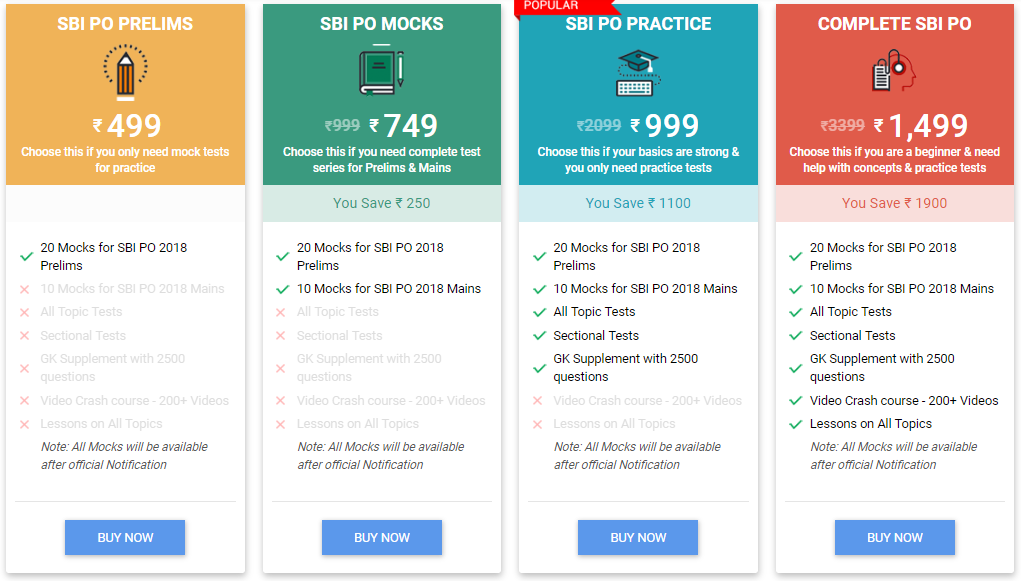 SBI PO Preparation | Step 4 & 5: Work on Weaknesses | Take Mocks | Repeat!
As you keep taking these topic and sectional tests, you will get an idea about your strengths and weaknesses. Remember that just attempting a lot of mocks is not enough. You MUST spend a great deal of time analyzing your performance and coming up with ways to improve in the next mock.
Remember: What's important is to IMPROVE!
Also, incorporate this into building an exam attempt strategy and refining it every time you take a mock test. Try to take mocks at the same time as the actual exam and make sure you spend some quality time analyzing your performance.
Follow these steps diligently and you're on your way to success!
Hope this helps!