The SSC CGL Tier 1 Exam, 2018 is scheduled to start from 25th July 2018 till 20th August. With Just over a month to go for the eagerly awaited Exam, we are sure that you are following the SSC CGL Study plan provided earlier by us. Which would ensure your SSC CGL preparation levels are at an all-time high. If you are not following the plan then, preparing without a plan in place might not yield the desired results. Adding on to our previous plan, in this blog, we are providing you with the SSC CGL Success plan suggested by experts to ensure that you clear the SSC CGL 2018 Exam.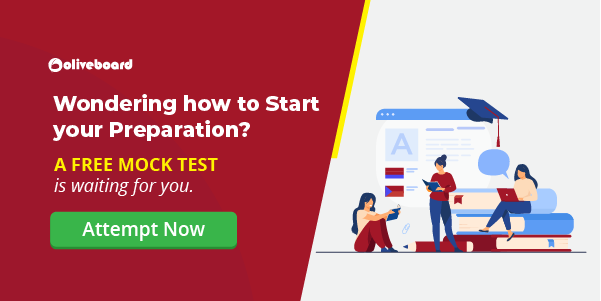 So, read along!
SSC CGL Success Plan Step 1 – Take a Mock Test every day starting today till your exam day.
We all are well aware that taking mocks is an indispensable part of exam preparation. In these days before the exam, take at least one mock test every day. However, just taking mock tests is not enough. You must do the following as well:
Analyze performance in each mock
Make a note of mistakes, tough questions & any new tricks
Invest extra time on the preparation of topics, where performance was not up to the mark
Make sure you don't repeat the same mistakes in the next mock as per SSC CGL Success Plan
SSC CGL Success Plan Step -2 Analyze your performance through Oliveboard's Expert Feedback after each test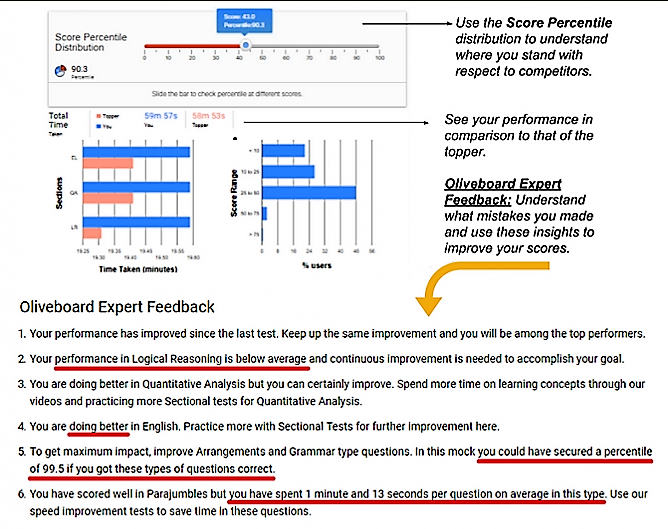 Analysis of a mock test is by far the most important part of SSC GL Exam preparation. It helps you understand where you need to improve in order to boost your scores. You can then include those topics or subjects in your SSC CGL Success plan and pay special attention towards their preparation. It also helps you understand your standing when compared to your competitors. In order to make the best use of mock tests, it is important to analyze each one properly and make it a point to not repeat the same mistakes in the subsequent mocks.
With Oliveboard, the analysis process is made easier and far more effective. As illustrated in the image above, you can go about the analysis while following the SSC CGL Success plan in the following manner.
review detailed solutions to questions you couldn't attempt or got them wrong in the test
for the questions you got right, see if there's a better or less time-consuming approach to solve that

understand how much time you took more / less than the topper to solve a particular question, tweak your strategy accordingly

use

 Oliveboard's expert feedback 

to target your weak areas and understand the qualitative improvements you can make before you take the next mock test

using the

 time v/s accuracy analysis, you can understand the topics/question-types you should and shouldn't attempt in the exam, use this analysis to refine your exam attempt strategy
Use this feedback to IMPROVE your scores in each of the subsequent mocks you take.
To get the best out of the SSC CGL Success Plan REPEAT this entire process before you attempt the next mock test.
If any have any further queries or suggestions regarding SSC CGL 2018 Exam you can connect with us on FB, Twitter, Instagram and YouTube as well.
All the best for SSC CGL 2018 Exam


The most comprehensive online preparation portal for MBA, Banking and Government exams. Explore a range of mock tests and study material at www.oliveboard.in