The prestigious SSC CPO 2018 exam is about 50 days away. The exam will be conducted over a week, starting from 4th to 10th of June 2018.
The key to succeeding in an exam is diligent and consistent preparation and same goes for the SSC CPO exam. An important part of preparation is the study material you refer to and the topics you focus on. This significantly impacts your performance and plays a key role.
In this article, we would be listing the important topics for the exam and would also be recommending some books for preparation. We will also tell you how you can combine your preparation from these books as well as online mocks or tests to achieve the maximum results.
Let us first take a look at SSC CPO 2018 exam pattern.
SSC CPO 2018 Exam Pattern

SSC CPO 2018 Syllabus | Important Topics
Section

Syllabus Important Topics

General Intelligence & Reasoning

Similarities and differences

Space visualization

Spatial orientation

Problem solving

Analysis

Judgment

Decision making

Visual memory

Discrimination

Observation

Relationship concepts

Arithmetic Reasoning

Figural classification,

Number series

Non-verbal series

Coding and decoding

Statement conclusion

Syllogistic reasoning etc.

Semantic Analogy

Number and figure analogy

Semantic Classification

Classification

Problem Solving

Word Building

Coding & De-coding

Numerical Operations,

Symbolic Operations,

Trends

Space Orientation

Space Visualization

Venn Diagrams

Drawing inferences,

Pattern folding and unfolding,

Embedded Figures

Critical thinking

Emotional and Social Intelligence

General Awareness

National and International Events

Awards and Honours

Personalities

Sports

Economy

Finance

Polity

Quantitative Aptitude

Numbers and number systems

Whole numbers

Decimals

Fractions

Relationships between numbers,

Percentage

Ratio and Proportion

Square roots

Averages

Interest

Profit & Loss

Discount

Algebra Partnership Business

Mixture and Allegation

Time and distance

Time & work

Algebraic Identities

Algebra and Elementary surds

Graphs of Linear Equations

Triangle and types of Centres

Similarity and congruence of triangles,

Circle and its chords

Tangents

Chords and angles subtended by them

Common tangents to two or more circles,

Quadrilaterals and Regular Polygons

Right Prism, Right Circular Cone and Right base

Heights and Distances

Histograms, Bar diagrams & Pie charts

English Comprehension

Recognition of errors

Fill in the blanks

Vocabulary

Spellings

Grammar

Sentence Structure

Synonyms

Antonyms

Sentence Completion

Phrases and Idioms

Comprehension

Basic comprehension

Writing ability, etc.
SSC CPO 2018 Best Preparation Resources For Each Section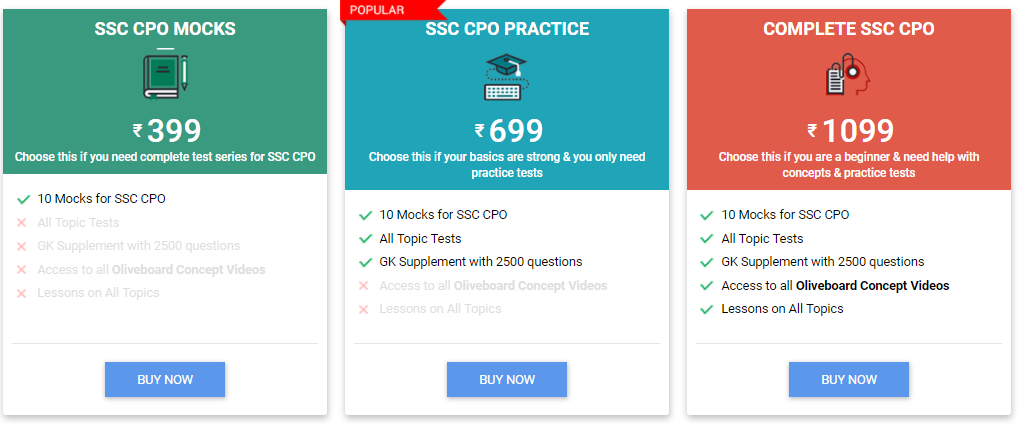 Preparation Tips for General Intelligence and Reasoning
The SSC CPO books mentioned above will help you improve and build your analytical skills. Go through all the concepts thoroughly. Books that are useful for preparing for the reasoning section are:
A Modern Approach To Verbal & Non-Verbal Reasoning – RS Agarwal

A New Approach to Reasoning: Arihant Publication

Analytical Reasoning  by MK Pandey
Syllogism
Practice all question types to master this topic. Here is a preparation video for reverse syllogisms for your reference.
[embedyt] https://www.youtube.com/watch?v=-ycT3qTfeFE&width=700&height=375[/embedyt]
Alphanumeric Series / Number Series / Alphabet Series
The key to this topic is a good observation skill which can only be developed through practice and clear concepts. Learn some shortcuts and common series patterns to be able to identify them quickly. Here is a video for the preparation of this topic.
[embedyt] https://www.youtube.com/watch?v=7mvZK7UDKO4&width=700&height=375[/embedyt]
The puzzles and seating arrangement questions consisting of negative information are usually on the tougher side. So practice them well. Also, for seating arrangement questions, be thorough with the inward-outward facing concepts. Here's a preparation video for your reference.
[embedyt] https://www.youtube.com/watch?v=TxrVBaCFFl4&width=700&height=375[/embedyt]
Blood Relations
A technique that many people find useful in solving the blood relation questions is to apply the question to oneself and solve accordingly. A caveat here is, never to assume the gender. Only consider what is mentioned explicitly in the question.
Direction Sense
Learn the concepts of directions, cardinal directions, sunrise, sunset etc. It's preferable not to solve these questions verbally. Always draw a sketch. Watch the video to learn this topic:-
[embedyt] https://www.youtube.com/watch?v=pxFyg-uOjag&t=1s&width=700&height=375[/embedyt]
Order and Ranking
There are rules and formulas for this chapter which you must know in order to solve them accurately in minimum time. Understand questions of left and right as well as top and bottom and between. Watch the following video to learn the tips and trick of this topic.
[embedyt] https://www.youtube.com/watch?v=lsy22vyl5Jo&t=21s&width=700&height=375[/embedyt]
Preparation Tips for General Awareness
Some SSC CPO books / resources which will help you prepare for the general awareness section daily are:
Manorama Year Book

Daily Newspaper
General knowledge/awareness is divided into 2 main parts: STATIC GK &  CURRENT AFFAIRS.
Important topics for Static GK Preparation
International Organizations:  Major world organizations including economic organizations like WTO, IMF, and WB are important. Various political global groupings like UN and regional groups like ASEAN, SAARC, etc. are also important.One can expect regarding headquarters, chairpersons, functions of the organization or any other major reform/ event that took place (pertaining to the organization).
Geography: You can expect general questions from geographical features from India and across the world. Questions on theoretical aspects of geography, like the mechanism of earthquakes, volcanoes etc. are rarely asked.
Everyday Science: Focus is more on questions from the application of science rather than theoretical aspects of Physics and Chemistry. Further, expect questions on technologies involved in communication, IT, space, biotechnology etc. Questions are generally of the School level.
Awards and Honors
History: It can be further divided into Indian and World History. Indian History, especially after the 1857 revolt is more important.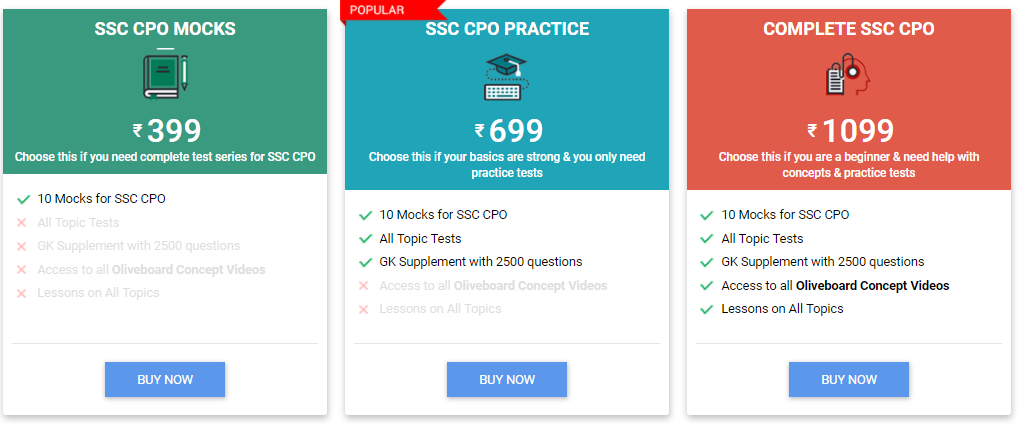 Economy: This is an important section for all entrance tests. You can expect questions from theoretical as well as practical aspects of Indian and World Economy, with a special focus on India's macroeconomic indicators, like inflationary trends, GDP etc.
Constitution & Polity: In this, you may be asked questions on the working of the Indian Political System e.g. political parties, pressure groups etc. Also, as far as the constitution is concerned, expect questions on major Articles, Schedules and Constitutional Amendments. Further, features of major social schemes launched by the central government in the past are very important. Use "Comparative Reading". For instance, read in the following manner –  First read about the President, then the governor, then read about PM, then CM, Parliament and then State Legislature, Supreme Court and then High court and so on.
Though the syllabus may seem vast, a good way to prepare is to refer to reliable resources. Consider custom-made e-books for each exam. One can also peruse NCERT ( up to class 10) books for preparing static GK. Some of Oliveboard's e-books for general awareness preparation are mentioned below:-
1. Free E-books For General Awareness Preparation For Banking, Government & MBA exams
The GK section has the potential to  help you clear those overall cutoffs and seal the deal as it:
Provides 100% accuracy (unless you indulge in blind guesswork)

Is highly time-efficient and,

Extremely scoring
Thus, to aid your preparation Oliveboard NOW has GK tests which cover the following topics:
Current Affairs

Banking & Insurance

Computer Knowledge

Polity & Governance

Culture, Books & Awards

Countries and Capitals

Geography

Dates and Committees

Economy

Science and Technology

History

Sports
The tests are extremely comprehensive and cover all important questions and aspects. FREE Tests are available for all of these categories.
Preparation Tips for Quantitative Aptitude
The most important things required for acing this section are:
Clarity of concepts: develop a stronghold over your basics

Knowledge of your strengths and weaknesses: space out your mocks attempts evenly throughout the course of your preparation and devote a good amount of time analyzing your attempts

Build your own question selection and attempt strategy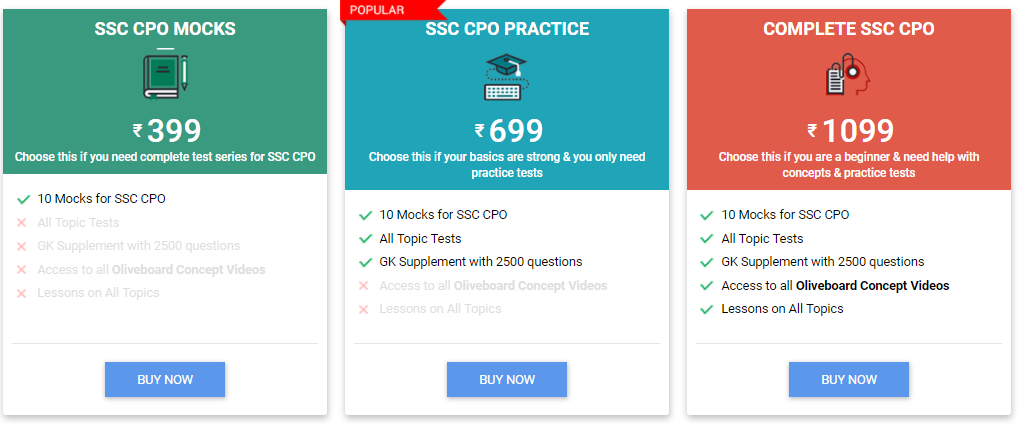 Some common series types in number series are Squares and cubes, geometric, two-staged and mixed number series. Thus, it is advisable to memorize all squares up to 25 and cubes up to 20. This will make it easier for you to identify series at the first glance and hence, will help you improve your speed. The key to mastering this particular topic is daily practice. Attempting 4-5 questions, daily without fail and from various sources will go a long way.

Data interpretation is one topic that can be calculation intensive. Some recurring question types are tables, bar graphs, line graphs and pie charts. Make sure you practice at least question of each type. This will help you comprehend the data sets more quickly as you will be familiar and also will help you increase your speed. Another important thing to do here would be to remember some fraction to decimal conversions. This will help you increase your speed of solving questions.
The SSC CPO books mentioned will cover all the topics required for the examination. These books that you can use for additional practice are:
Quantitative Aptitude for Competitive Exams by R S Aggarwal

Fast Track Objective Arithmetic by Arihant Publications

Magical Book on Quicker Math by M Tyra
Preparation Tips for English Comprehension
For this section, you will need to have strong reading skills and you need to be well equipped with grammar. Keep reading articles from newspapers, books, blogs and other content to improve your reading skills.
Some SSC CPO books that can help you strengthen your preparation are:
Objective General English by S. P. Bakshi

High School Grammar and Composition by Wren and Martin

Word Power Made Easy by Norman Lewis
Hope this helps.
All the best!