The SSC CPO 2018 exam pattern has 50 marks allocated for General Awareness section. General Awareness includes topics like History, Geography, Culture, Science, Current affairs, etc. To score well in General awareness of SSC CPO 2018 Exam all the topics need to be prepared well, this includes the subject of Culture. Therefore, we bring to you the study plan to prepare for the Culture section of the SSC CPO 2018 Exam.
Exam Pattern and Syllabus
The First thing you should do is to go through the pattern and syllabus of the exam.
SSC CPO 2018 Exam Pattern

For Syllabus of SSC CPO 2018 Exam click here
Our focus is now on Art and Culture component of General awareness section for SSC CPO 2018 exam.
The subject of Art and Culture covers topics like –Architecture, Paintings, Literature, Dance Forms, Dramas, Music, etc. of Ancient India and other Historical period of Indian History. It also includes religious philosophies like Jainism, Buddhism. Covering all these topics 100% will ensure you great scores in Art & Culture questions of the SSC CPO 2018 exam.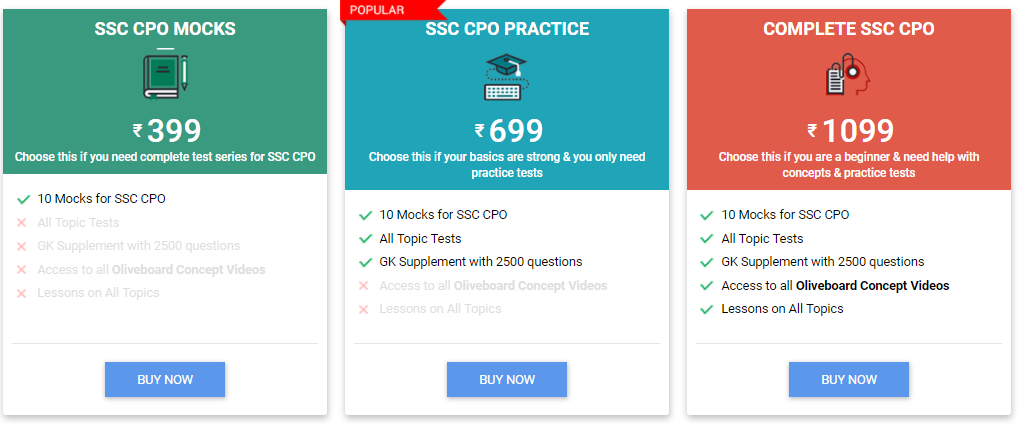 Art and Culture for SSC CPO 2018 Exam – Preparation Strategy
Books – To cover the above-mentioned topics of Art and Culture the following books can be referred to
NCERT's for Art and Culture – NCERT Class XI – An Introduction to Indian Art and
      NCERT Class XI – Living Craft Traditions of India (Chapters 9 & 10)
LUCENT's GK – The Ancient India part of this book will be useful to cover Art and Culture related topics.
Indian Art and Culture by Nitin Singhania – Refer to this book for get details about any topic. The book is bit lengthy hence, do invest too much time on it. Use it only as a reference book for the content studied from NCERT and Lucent's.
Previous year Question Papers for SSC CPO
Preparation strategy for any exam and not just SSC CPO Exam is incomplete without Analysing previous year's question paper. This exercise helps you understand the content, type and pattern of the Questions asked in the actual exam.
With regards to trend of questions asked on Art and Culture topic, SSC has asked on an average of 6-7 questions in question papers of 2016 and 2017 of SSC CPO exam. This shows preparing the Art & Culture Topic well can guarantee you 6-7 marks in the SSC CPO exam where a single mark can make a difference.
Below are the few questions which have been asked in previous year's question papers –
Question 1. Which of the following is not true about Ajanta Caves? (2016)
Options:
a) They are in Maharashtra
b) They are decorated with Buddhist art
c) They depict the techniques used in Ancient India
d) They do not contain painting of floor and fauna
Correct Answer: Option C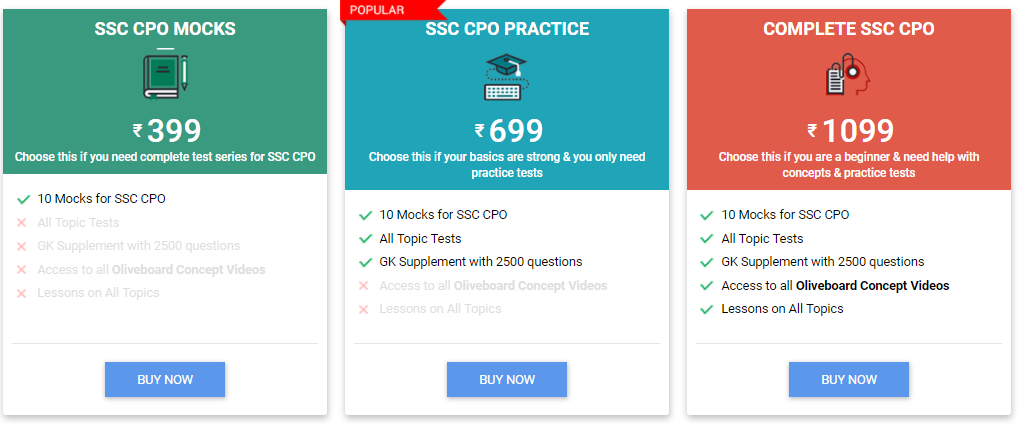 Question 2. Which of the following is a Classical Dance form from North India? (North India)
Options:
a) Bharatanatyam
b) Kuchipudi
c) Kathak
d) Kathakali
Correct Answer: Option B
Question 3. Nalanda Mahavihara site is in (2017)
Options:
a) Rajasthan
b) Assam
c) Bihar
d) Gujrat
Correct Answer: Option C
Practice – Mock tests for SSC CPO 2018 Exam
As it is said "Practice makes a person perfect", So just studying and analysing is not enough to crack an important exam like SSC CPO 2018. One must also practise a lot of questions related to topics studied from sources give above. Solve as many question as possible for every topic to have a better chance pf clearing the SSC PO 2018 Exam
Thus, to aid your preparation Oliveboard NOW has GK tests which covers the Art and Culture topic.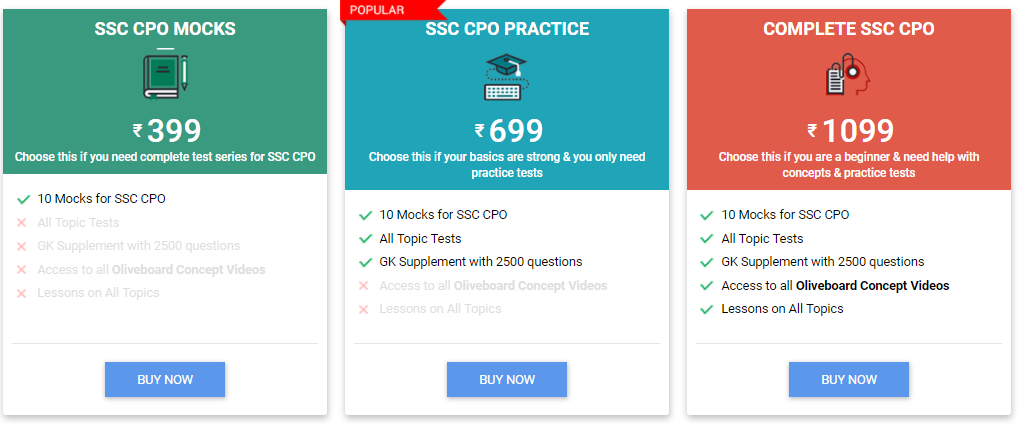 Few Practice questions have been given below for your preparation.
Question 1 – The 'Panchatantra' was written during which of the following periods?
Options:
a) Later Vedic period
b) Mughal period
c) Post Gupta period
d) Mauryan period
Correct Answer: Option c.
Question 2 – During which if following Dynasty's rule was the famous 'Nataraja' image was made?
a) Pallavas
b) Cholas
c) Rashrakutas
d) Cheras
Correct Answer: Option b.
Question 3 – Patanjali is credited for which of the following philosophies?
a) Yoga
b) Nyaya
c) Samhita
d) Advaita
Correct Answer: Option a.
We Hope this is helpful in your preparation of Art and Culture for SSC CPO 2018 Exam. All the Best!
The most comprehensive online preparation portal for MBA, Banking and Government exams. Explore a range of mock tests and study material at www.oliveboard.in
  Oliveboard Live Courses & Mock Test Series