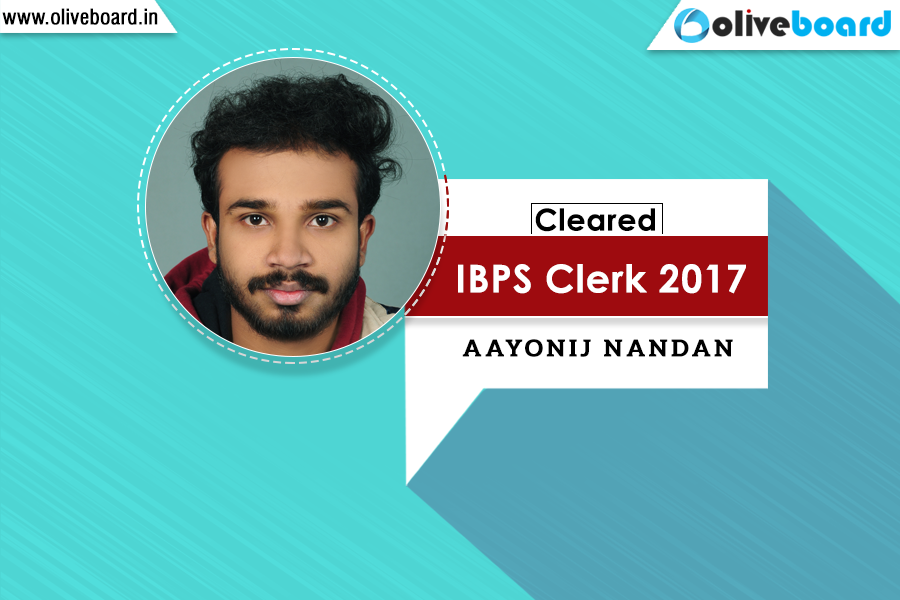 In his own words – 
"Just Flow, Life Has Its Own Path."
"Hi, this is Aayonij Nandan and I have cleared IBPS CLERK 2017 and have been allotted the position in CANARA BANK.
My Journey for the preparation of Government and Banking Exams started from 1st August 2017 with the blessings of my Mom and ended on 1st April 2018 at 11.45AM.
A fresh graduate from KIRORI MAL COLLEGE,DU was going to join a Private Bank through the Campus Placement but took the bravest decision by quitting it and started preparation for Banking Exams which was highly supported by my Family including Dad,Big Brother and Sister-in-law who are also Bankers and my Sweet Sister who had much belief on me that I can do it.
My first paper was of RRB PO which was on 9th of September 2017. The paper was easy for me but if I could have attempted 5 more questions, the result might have been in my favour.
Another paper was of RRB CLERK on the 24th of the same month. I did well and was sure certain that I will definitely get the Hall Ticket for MAINS but there was something else in my f te. So, I couldn't do it.
After 2 Failures, I started analysing myself and realised the things which were missing. For me, that was "PRACTICE".
After that, I gave my blood And sweat and practised as much as I could.
Oliveboard Mock Test Series helped me a lot to boost my confidence.
Now came the most anticipated paper IBPS PO. 1st Day, 3rd Show i.e 7th of October. Finally, it was my Day. It gave me the Flow and Direction to my preparation. I cleared the Prelims Examination and this result boosted me and my beliefs.
Now, it was time for my first Mains Exam on 26th November which went well but couldn't convert into Interviews just by the mere 2marks. I was shattered but not for so long. The very next day i.e 29th December 2017 it was time for IBPS CLERK Prelims Result and that was the day of joy and happiness for me.
January 21, 2018, was the date for IBPS CLERK Mains Exam. 22Days in hand and just a single thought that this is the last hope for me as it is the last paper of the Year. For the next 22Days, my only companion was some online  Capsules and OLIVEBOARD MOCK TEST SERIES. Mains Paper went well, as I had thought.
1st April,2018-: Provisionally Allotted to CANARA BANK.
A Day to be cherished for lifetime definitely as there was a big smile on my faces and tears in my the eyes.
Thank You to my Family for their unconditional Love and Support. Now I can Proudly say that I CLEARED A BANKING EXAM IN THE VERY FIRST ATTEMPT.
YES, I DID IT!!!
For all Banking Aspirants – "PRACTICE AND BELIEVE IN YOURSELF AND DEFINITELY YOU ARE GOING TO ACHIEVE WHAT YOU ARE SEEKING FOR".
ALL THE BEST.
THANK YOU SO MUCH!!!?"
Read more success stories.

  Oliveboard Live Courses & Mock Test Series