"Success is no accident. It is hard work, perseverance, learning, studying, sacrifice, and most of all, love of what you are doing or learning to do". The same is true for Akhilesh Singh, who has successfully cleared RBI Grade B 2021 after relentless perseverance and continuous learning from his earlier attempts at the exam. Let us go on to read the Success Story of Akhilesh Singh and the strategy that he followed and learn something new today.
Success Story of Akhilesh Singh
I'm Akhilesh. I'm 27 now. I completed my graduation in Civil Engineering in 2016. Then I started preparing for UPSC. I cleared IBPS PO in 2017. I also reached to the interview stage of SEBI 2021 & many other examinations. Currently, I'm in second year of MA economics though open education program by IGNOU.
I started my preparation in 2016 itself. But my serious attempts were in 2019 & 2021, when I gave only regulatory body examinations & shifted my focus away from UPSC. It's overall a long journey of 4-5 years, but the push that I got after clearing a few or reaching interview stages, kept me moving.
Subject-wise Preparation Strategy
Phase 2
I'd share the phase 2 strategy first, as this is the most important phase. More than 50 percent of candidates clear phase 1 and then, after seeing the humongous phase 2 syllabus, give up. So I'd suggest everyone, even those having finance & economics backgrounds to first clear 80-90% of the static portion & then come to phase 1. 
Also, now that the exam is descriptive, I would also suggest keeping your English good. A well-written answer with a lot of spelling mistakes can make it difficult for you to reach your goal. For descriptive, keep reading and getting knowledge (as masala is very important). Then go for writing one answer every 2 days in a blank notebook/online once you cover the aforementioned static portion.
Phase 1
"GA is the key" – One should not forget this mantra. But one can also not forget Quant, Reasoning and English (QRE). QRE can be as easy as RRB clerk (2019 exam) & can be as difficult as CAT (2021 exam). So one should be prepared for the worst. Oliveboard test series is considered difficult, but preparing with its difficulty level helped me score 12 marks more than prelims cut off (Scored 78, Cut off 66).
---
INTERVIEW EXPERIENCE
The interview should be prepared only after phase 2 is done. You'll get 2 months for it. I divided my interview syllabus into 4 parts:
Profile based questions,
About RBI,
Finance concepts and
Current affairs.
Some people say to prepare a list of 500 questions for the interview. Please don't do that. Nothing can be more futile than this. Just keep reading & make topic wise notes.
---
Role of Oliveboard
Oliveboard was a great help. I referred to their Bolt magazine for Phase 1 GA. Their marathon session on YouTube just before prelims was a great help. For phase 2, their test series was very helpful. And for the last phase, they even provided me with a mock interview session with RBI CGMs & GMs.
Tips for Aspirants
I'll say that never give up. And take life easy, chill. Clear hua toh theek, warna I'm sure that God would have something big planned for you. Keep doing your part ie keep preparing.
Download RBI Grade B Free Study Material PDF Here
---
RBI Grade B Online Course 2022 – By Oliveboard
Oliveboard offers the best RBI Grade B Online Coaching that can help you prepare comprehensively for the exam. Oliveboard's RBI Grade B Online Course 2022 will be your one-stop destination for all your preparation needs for Phase 1 & Phase 2.
Go through free RBI Grade B study materials PDF eBooks and take up RBI Grade B Free mock tests online.
Course Details
RBI Grade B cracker course is designed to cover the complete syllabus for the 3 most important subjects:
GA for Phase 1
Objective + Descriptive portions of ESI for Phase 2 exam.
Objective + Descriptive portions of F&M for Phase 2 exam.
Not just that, it also includes Mock Tests & Live Strategy Sessions for English, Quant & Reasoning for Phase 1.
The course aims to complete your preparation in time for the release of the official notification.

Features
RBI Grade B 2022 Online Course Offerings
Video Lessons & Study Notes
Mock Tests

90+ Video Classes for ESI & FM

LIVE + Revision Sessions for ESI & FM

10+ Descriptive English Classes

Detailed Study Notes ESI & FM Current Affairs Capsules & Past Year Papers

6 Descriptive Mock Tests (ESI & FM)

30 Objective Mock Tests (15 – ESI & 15 – FM)

10 Full-Length Mock Tests for Phase 1

75+ Topic Tests for each chapter of ESI & FM (1 Markers & 2 Markers)
*We will get your ESI & FM descriptive answers evaluated!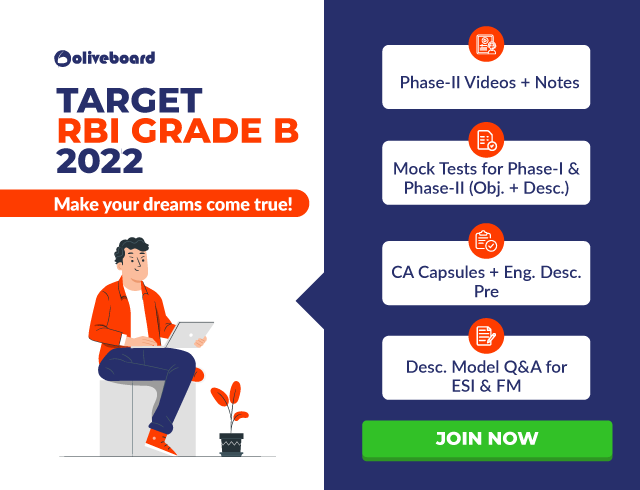 ---
How to Enroll for the RBI Grade B Online Course 2022?
Sign up or log in using the link given below. You will be redirected to the payments page. Read the course offerings and subscribe to RBI Grade B 2022 Cracker Course.
Now that you are aware of the RBI Grade B Online Classes, why wait?
Get Started with RBI Grade B 2022 Online Coaching comprising Video Lessons, Detailed Study Notes & All-India Mock Tests for Phase-1 & Phase-2.
Use Coupon Code LAUNCH & Get 20% off on RBI Grade B Course
Connect with us on:
  Oliveboard Live Courses & Mock Test Series