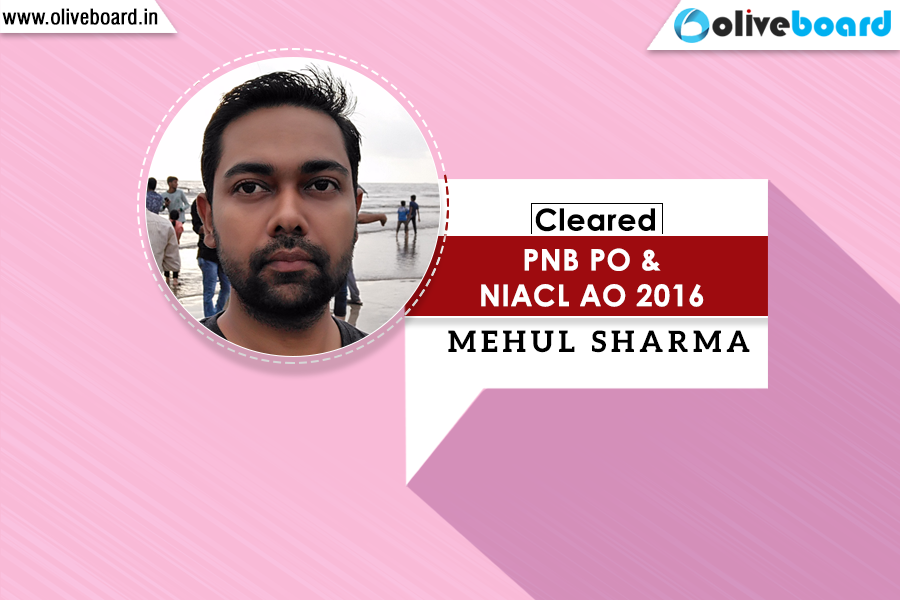 In his own words,
"Hi, I am Mehul Sharma from Nainital and finished my schooling from Army School, Hempur. I decided to take up BCA and then went on to complete my MBA from Sikkim Manipal University. I did a diploma course for 2 years in programming, a designing course and then worked for about 6 months at a company.
I decided to come back home and started working as a freelance web designer for one and half years. It struck me that I could manage to prepare for government and banking exams along with freelancing. Work and income in my job were fluctuating, so I decided to go for prestigious and better options. I opted for self-study for 9 months and accumulated study material from all possible sources. Unfortunately, I did not clear IAS and UPPCS, the two exams that I had appeared for.
I started working and decided that I could take some weekend classes and prepare for banking exams. Put IAS on hold. I wanted to supplement my coaching classes with online mock tests and came across the Oliveboard Online Mock Test Series. They have the best online test series in terms of the difficulty level of questions, analysis, personalised help and the price tag. After one year of regular studies and appearing for multiple mock tests, I cleared 3 exams:
PNB PO 2016
NIACL AO, 2016
IPPB PO (didn't appear for Interview)
The approach that I had taken for various subjects were :
General Awareness: This subject is tricky to prepare for. You should choose a few reliable sources. Go through them very well and make notes on a daily basis. Before the exams, you can revise your notes 2-3 times so that you remember everything. Remember, Consistency is the key.
Quantitative Aptitude: I had referred to books by Sarvesh K Verma and Arun Sharma. You can easily master quant concepts as they are explained in a very simple way. Oliveboard Mock Test Series played a vital role in preparing this section. The Oliveboard mock quant section is of a higher difficulty level and I used to go through all the solutions, whether I had answered questions correctly or incorrectly, after the test. 30 days before the exams, I used to stack up all the mock tests and give one exam per day. I would spend quality time on analysis of my tests. This helped me identify my weak areas and work on their improvement.
Reasoning: I was strong at this section and I only referred to my coaching material, Oliveboard Mock series and a few other online sources.
Oliveboard was a big boost to my preparation for banking exams. The level of their mock questions is slightly higher than the actual exam questions. I used to score well in all of the tests. It helped me become confident that I could solve all questions before the actual exam. This helped me to stand out and score more than others, In these competitive exams, one really needs high-quality mock test series to test one's knowledge before the actual exam. Do remember to analyse each question. It will be extremely helpful to you when exams are around the corner.
Tips for aspirants: 
Never give up, I had given 12 exams before I cleared three banking exams. Believe in yourself and keep going! All the best to aspirants!
Thank you!"
Read more success stories.