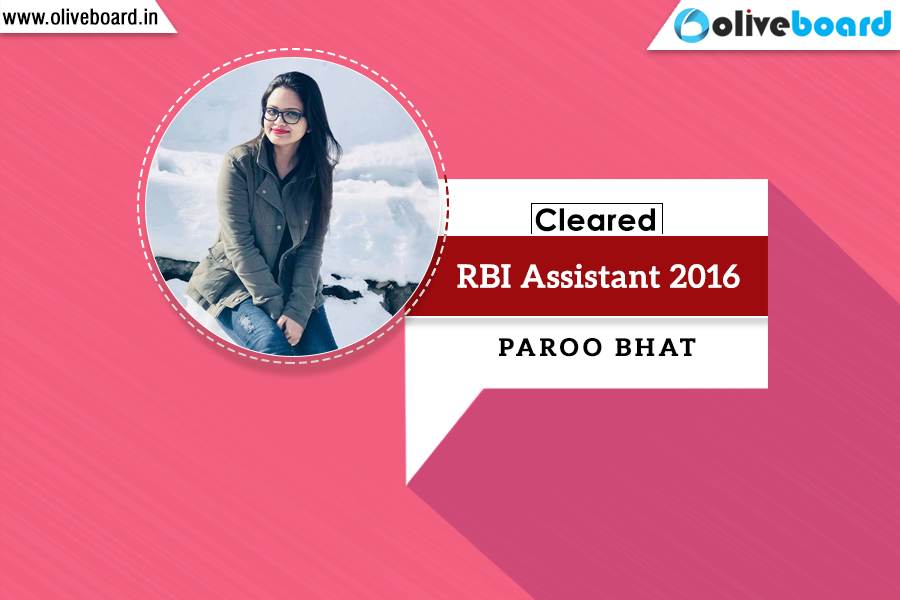 Success Story of Paroo Bhat in her own words -:
"Hello folks, this is Paroo Bhat from Jammu and Kashmir and I work as an Assistant at Reserve Bank of India. I cleared RBI Assistant examination in 2016. Firstly, I feel honoured to be able to share my wisdom and insights on this prestigious examination and thank you Oliveboard for this opportunity.
Before going further, I would like to give you a glimpse of my background. I hold a Bachelor's in Electronics and Communication Engineering. After completing my graduation in 2012, I joined Cognizant Technology Solutions, Bengaluru where I worked for a year. But my passion towards government jobs made me quit my private sector job in 2013 and I started preparing for civil services examination. This was the time when I started appearing for banking exams. I wrote RBI Assistant, RRB PO and IBPS PO in 2015 and due to my consistent perseverance, I got through all the three exams with a decent score.
I still remember my initial struggle with quants and reasoning which gave me many sleepless nights. Today, when I introspect I can say Arun Sharma (for Data Interpretation) and Oliveboard test series helped me a lot in quants and reasoning preparation.
For verbal ability, I relied on newspaper reading which helped me a lot in improvising my comprehension skills and vocabulary in a shorter span of time. During my preparation, I used to read "The Hindu" and "Financial Express". I am an ardent reader and this habit of mine has not only prepared me for English section but also helped me in enriching my General Awareness.
To be honest, when I wrote RBI Assistant examination, I had no strategy for it. I started taking Mocks where I would say Oliveboard test series helped me a lot in terms of providing a real-time experience of the examination and hone my skills vis a vis attempting questions from all the sections of the exam.
Well, I believe that what worked out for me, may not work out for you. So make your own strategy according to your weak and strong areas and make necessary improvisation in your strategy. Ultimately, you are a better judge for yourself. What I could assess from my journey is that don't push yourself so hard when you cannot concentrate. Take a break when you are lost but never give up. Learn to rest but don't quit. Take some time out with family and friends and rejuvenate your life. Then start afresh. The most important aspect of my success has been Consistency. Small efforts repeated day in and day out will ultimately pave the way to success.
In the end, it is a game of being positive and believing in yourself. If you put in your best, success will be yours. Just remember that-
"You need to live few months or years of your life like most people will not. So that you can live the rest of your life like most people cannot".
Final words, thanks to the team of Oliveboard who understand the present scenario of exams and curate mock test series which match the difficulty level of exam and this helped me in improving my efficiency and accuracy too.
ALL THE BEST TO ALL ASPIRANTS!!! Have faith in your efforts and hustle hard !!"
Read more success stories.