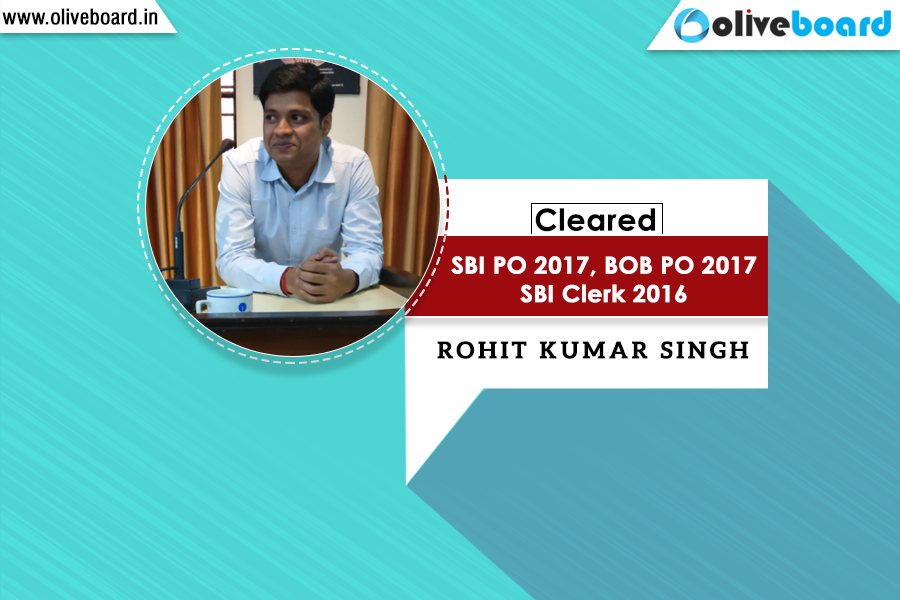 "If you can dream it, you can achieve it" says Rohit- who once failed in all the major banking exams in his first attempt, cleared the most competitive banking exam in his third attempt. Read the motivational success story of Rohit Kumar Singh below:
"Hi Friends, I am Rohit, currently working as Probationary Officer at SBI. I cleared SBI PO in 2017. It's an honour for me that Oliveboard gave me a chance to share my strategy which can help many aspirants achieve their goals. Thanks, Oliveboard for providing me with this wonderful opportunity.
After graduating in 2014 as an Electronics and Communication Engineer from Techno India Saltlake, Kolkata. I was working in TCS as a software engineer. It was the beginning of the year 2015 when I gave a thought to switch and was looking for other career options and thought about banking. I took SBI PO, IBPS PO, RRB PO in 2015, but was not able to cross the threshold of a single exam and was eliminated in preliminary screening.
But this had no impact on my belief that one day I would crack these exams. In 2016, I subscribed to Oliveboard's complete banking package and started writing mock tests. Since I was working during my preparation, I was able to find very less time for my preparation and hence relied only on Mock tests. After dedicated and consistent efforts from my end, I started getting results. I cleared Preliminary tests of both SBI PO and Clerk.
I was on cloud nine, as this was the first instance where I had cleared any banking exam. I started preparing wholeheartedly for the Mains Exam and cleared SBI PO Mains. My happiness was short lived as I was eliminated in the final merit list because my marks in interview were bit low and hence I couldn't clear the final cutoff. However, I did manage to clear SBI Clerk Mains and I was allotted Gorakhpur Module as I had applied from Uttar Pradesh.
But I declined that offer as I believed that "I have not come this far only to come this far". I had full faith in my capabilities and this confidence in me helped my parents to stand by my decision to let go the Clerical job.
I went back to my basics, gave a lot of mocks analysed them thoroughly. Subscribed to Oliveboard Mock Test series again in 2017 and started giving mocks all over again, but this time with double determination. Patience and determination showed its fruits. I was finally selected in Bank of Baroda Manipal course and was about to join the course. But due to God's grace, SBI also announced its PO results and my name was there in the final merit list.
All I want to say to the young aspirants or future bankers is that – Never Give Up on your beliefs. No exam is bigger than your own self-confidence. If you can Dream it, you can achieve it.
Good Luck!!
Read more success stories.