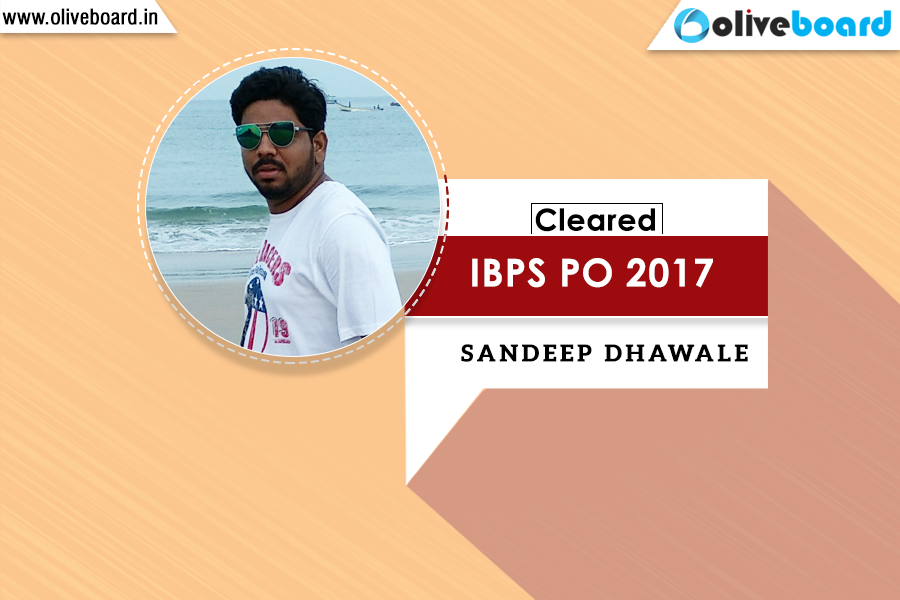 In his own words,
"Hi guys, this is Sandeep here. I have cleared IBPS PO exam and got selected in Bank of India.
I am an engineering graduate from 2014. Immediately after college, I started to prepare for UPSC without any guidance and failed badly in my first attempt, which forced me to move towards other exams. Then for one year, I tried for Maharashtra state services exam and again failed in the Prelims Exam.

Meanwhile, some of my friends qualified banking exams and I realized that since I am good at Mathematics, I can also go for it.

So I started my banking exams journey as follows:

2016 SBI PO Prelims qualified 55/100, cut off 48
2016 SBI PO Mains failed 58.50/200, cut off 60
2016 IBPS PO Prelims qualified 52.25/100, cut off 46.50
2016 IBPS PO Mains qualified 58/200, cut off 52.50 but missed the final cut off by 2 marks.
2016 IBPS RRB PO Prelims failed 51/100, cut off 51.25
2016 IBPS Clerk Prelims qualified 68.50/100, cut off 58
2016 IBPS Clerk Mains qualified, 81/200 cut off 66. Got BOI. Did not join.
2017 SBI PO Prelims qualified 51/100, cut off 48.50
2017 SBI PO Mains failed 76/200, cut off 79. Big disappointment.
2017 NIACL Assistant qualified, don't remember the marks but did not join.
2017 NABARD Grade A Prelims, qualified 98.25/200 cut off 98.25
2017 NABARD Grade A-Mains failed 117/200, cut off 125
2017 RRB PO Prelims qualified 55/100, cut off 46
2017 RRB PO Mains qualified 76/200, cut off 62.25
2017 RRB PO Interview 50/100. Hence, failed to clear final cut off.
2017 RBI Assistant Prelims qualified 76.25/100
2017 RBI Assistant Mains qualified 109..25/200 but failed in LPT.
2017 IBPS PO Prelims qualified 46.50/100, cut off 42.25
2017 IBPS PO Mains qualified 85.88/100, cut off 75
2017 IBPS PO –  qualified with 67 marks in interview and 43.94/100 marks in final where cut off was 43.02.
Guys, you may laugh at me by watching these numbers. But the numbers are the only deciding factors. Many times, I failed by a small margin and got frustrated but finally, the same small margin made me qualify the exam. So always keep in mind that even 0.01 mark will create the difference.
In this whole journey, I followed the Oliveboard Mock Test Series for every exam, which made me familiar with difficult papers.
I am thankful that  I watched some Youtube Channels and got access to some of the Best Current Affairs videos.

The last thing I would like to share with you guys is that "Never waste your time in answering the people who doubt your abilities, your success will answer them better than your tongue".

All the best to all those who believe in themselves for their future journey."
Read more success stories.