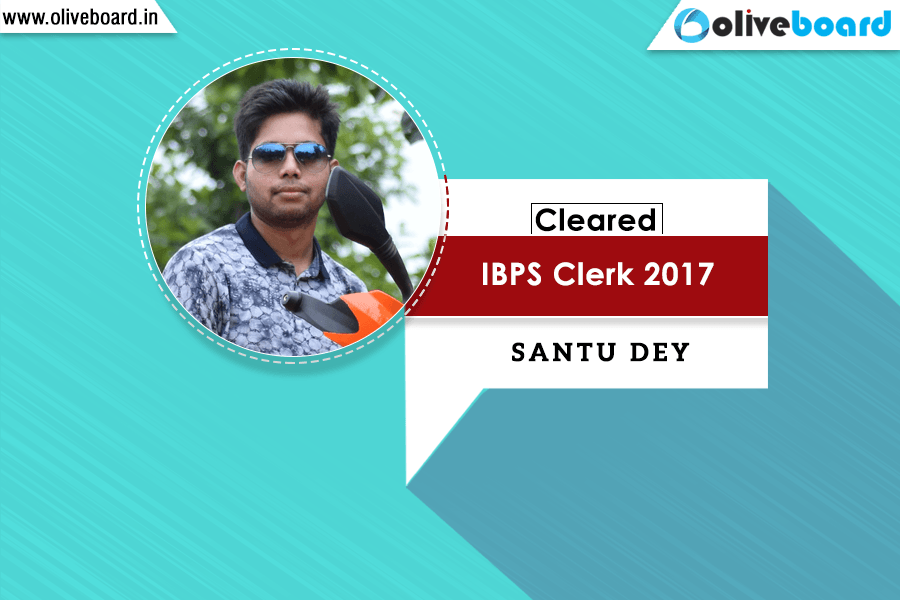 'Failure lies in quitting. Hence do not stop until you succeed', says Santu. Read the success story of Santu Dey below:
Hello Everyone, I am Santu from West Bengal. I have cleared IBPS Clerk 2017 and currently works at Allahabad Bank. I started my preparatory journey in the year 2016. I hold a bachelor's degree in Mathematics and graduated in the year 2016.
Preparation Strategy which I followed:
I have always been good at Mathematics and it is my strongest point. So, I didn't prepare much for it and relied solely on Oliveboard's mock tests. But if one is weak and wants to improve then he/she has to do a lot of practice in this area. Go through the syllabus of the examination find out the chapters from which the questions have been asked repeatedly in the previous year papers. Learn the formulae involved in those chapters, clear your fundamentals either by referring any of the books available in the market or via referring to the YouTube channel. Once, done with these basic kinds of stuff then start attempting mock tests. At the end of each mock tests do the proper analysis and rework on the problems which you did wrong or didn't attempt.
Logical reasoning: To clear my fundamentals I followed different YouTube channels and after that, I relied on high-level reasoning problems provided by Oliveboard. I didn't refer to any of the books. If one wants to ace this section brace yourself for rigorous practice, as logical reasoning section only demands practice.
English: This is a little weak point for me. So, for this section, I followed a book by SP Bakshi. It helped me in improving my English by enhancing my vocabulary and helped me in eliminating often made grammatical errors.
General Awareness: For current affairs, I followed affairs cloud and a few other online resources. For the banking awareness, I made use of the videos that are available on YouTube. At last, to check my overall progress I attempted quizzes and took the test by Oliveboard.
In the end, I would only say that the only failure lies in quitting. Hence do not stop until you succeed.
Hope this helps!
Good Luck!"