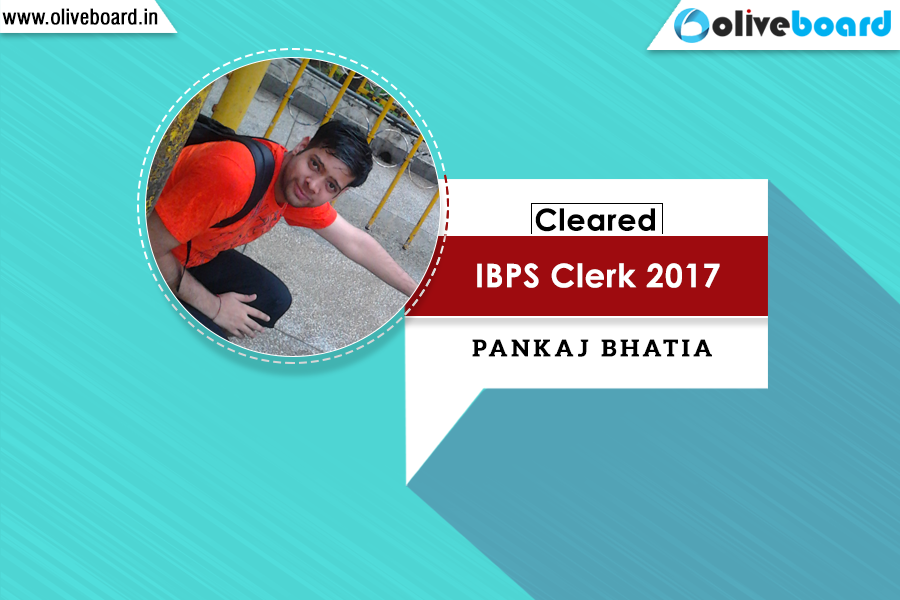 "Don't count the days, make the day's count" says Pankaj Bhatia who cleared IBPS Clerk 2017. Read the Success strategy of Pankaj Bhatia below:
"Hello Everyone, I am Pankaj from Punjab, presently working at Punjab & Sind Bank. Before I start, I would like to thank Oliveboard for providing me with this wonderful opportunity to share my strategy. However, before proceeding further, I would like to share a few details about my background.
Friends, I graduated in the year 2011 and have done my Engineering in IT. After graduation, I started working at Wipro in Gurgaon and worked almost for 3 years. I started my banking journey in the year 2016 and I achieved this success after preparing for a year.
To kick-start my preparation, I chose Quantitative Aptitude and cleared all the basics from R.S Aggarwal and then started taking Mock Tests to gain maximum possible speed.
For Reasoning, I took High-Level Reasoning tests from Oliveboard and other online resources as high-level reasoning tests prepare you for the D-Day and you will be not surprised even if you get few higher level questions in your exam. Oliveboard Mock Tests were of a higher standard which helped me a lot in clearing my exam with ease.
For English, I didn't put much effort as I was good here. The only thing which I followed religiously, was reading "The Hindu" daily. I used to read political news and economics news which not only inculcate reading habit but also helped me to stay updated with current affairs.
For Current Affairs, I followed GK today and for static GK used eBooks from Oliveboard.
Success Strategy of Pankaj Bhatia – Conclusion
From my experience, I would say 6 hours is sufficient to clear banking exams. I would like to conclude here with two tips:  Please review all the questions before you start attempting the questions so that you will have some idea about how to go and attempt the tests.
Always start with easy questions as it helps you in gaining initial momentum which is required to ace any competitive exam.
All the Best!"
Read more success stories.