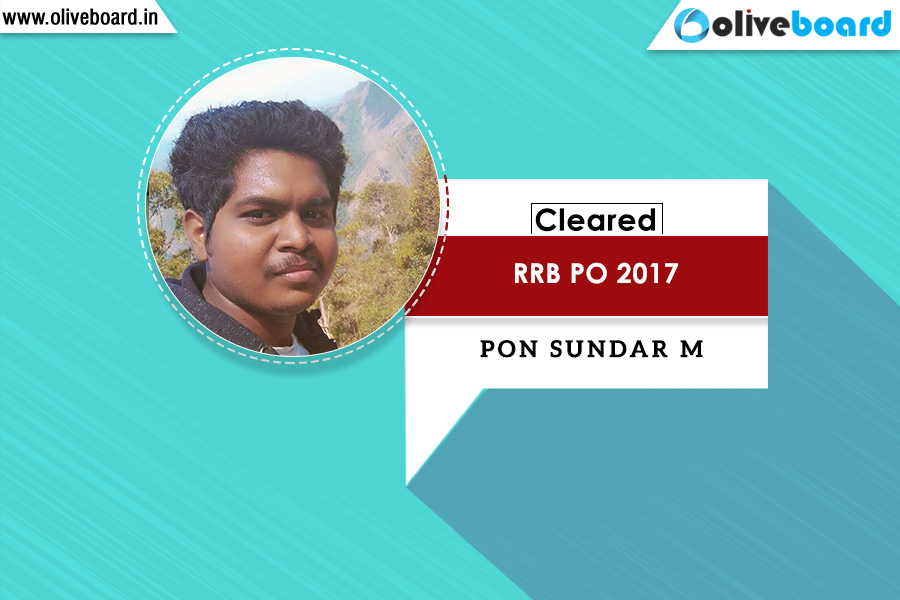 'Winners are not people who never fail, but people who never quit', says Sundar who cleared RRB PO 2017 in his maiden attempt. Read the Success Strategy of Pon Sundar M below:
"Hi Friends, I'm Pon Sundar from Tamil Nadu. I have cleared RRB PO in the year 2017. Before I proceed with my strategy I would just like to share something about my background. Friends, I graduated in the year 2017 and I hold a Bachelor degree in Engineering.
I started preparing for banking exams, since my final year of the college. I choose banking because of the reason all other government examinations take a lot of time and I wanted to start up with my professional career immediately after college. So, I carefully observed all the opportunity that was available to me at that point in time and then went ahead with banking.
Here is my Section Wise Preparation Strategy:
Quantitative Aptitude: I started my quants preparation from R.S Aggarwal when I was in my final year. Later switched to M.Tyra in look out of shortcut approach and tricks. M. Tyra really helped me by increasing my calculation speed and clearing my fundamentals. After that, I referred to some Youtube channels for further doubt clarification and then I started with Mock tests. I solely practised from Oliveboard's mock tests. I used to take 3 mock tests every day before appearing for my first banking exam. After taking 60 – 70 odd number of mock tests I was very confident that I am surely going to make a cut.
I cleared the fundamentals of Logical Reasoning from some of the YouTube videos after that I directly started taking mock tests from Oliveboard. Friends, for puzzles solving, I would say the only thing which can help you hear is your hard work and your consistent practice. So, keep practising and keep taking mock tests.
English: English was easy for me and hence I didn't practice much of English apart from reading the daily newspaper "The Hindu". For anyone, who is preparing for banking examination I would say first identify your strength and weakness and then devise your strategy accordingly and then work upon them. You will surely succeed.
Current Affairs: I only followed Affairscloud along with Oliveboard tests for this section. I used to read monthly PDF of affairscloud and it worked out for me.  
Interview Tips: From my experience I would say, Panel just check your confidence level and little of banking and general awareness, if you are good with these two things you can easily sail through an interview.
Best Wishes!!"
Read more success stories.