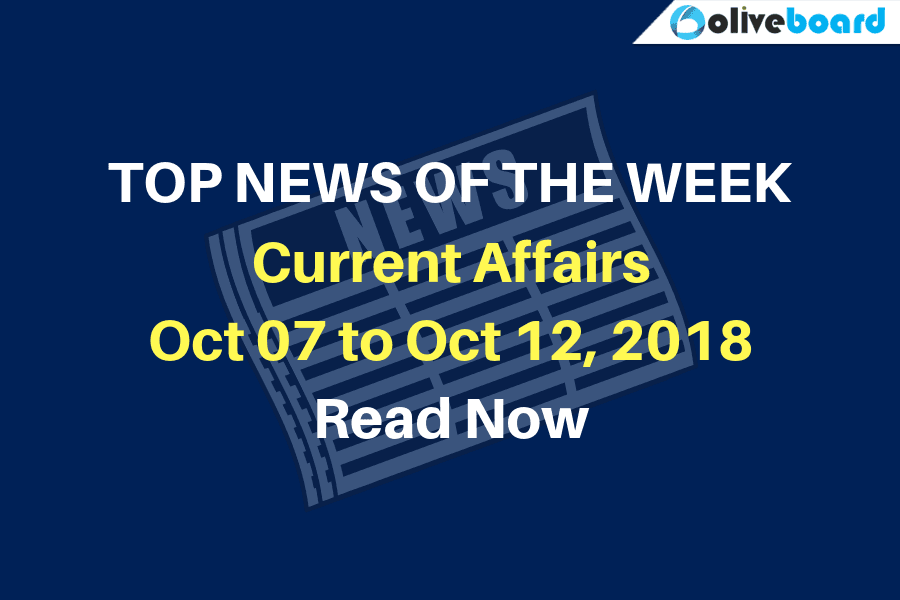 In this blog, All the Top news of week Top News of the week – Current Affairs from Oct 07 to Oct 12 2018 for your General Awareness and Current Affairs preparation for Bank and Government exams
1) NASA has announced the first crewed flight by a SpaceX rocket to the International Space Station (ISS) is expected to take place in June 2019. SpaceX will carry out an uncrewed test in January 2019, and Boeing in March 2019.
2) India-Russia ties have received a boost with a $5bn deal to buy an S-400 air defence system i.e.Long-Range Surface to Air Missile System from Moscow despite looming threat of US sanctions. They also committed to fight against terrorism and drug trafficking.
3) The government appointed senior banker Rakesh Sharma as managing director (MD) and chief executive officer (CEO) of IDBI Bank for six months or until further orders. He is a former MD and CEO of Canara Bank.
4) The International Monetary Fund (IMF) forecasted a growth rate of 7.3% for India in the current year of 2018 and that of 7.4% in 2019. In 2017, India had clocked a 6.7% growth rate. China was the fastest growing economy in 2017, ahead of India by 0.2% points
5) Govt has set up a panel, headed by NSA Ajit Doval, to assist the National Security Council, on national security and strategic interests. The Strategic Policy Group (SPG) will undertake a long-term strategic review of the country's security affairs.
6) The government of India and the Asian Development Bank (ADB) have signed a 110-million-dollar loan agreement for the upgrade of 2,800 km all-weather rural roads in Madhya Pradesh. The loan is part of the Rural Connectivity Investment Program.
7) Jeremy Lalrinnunga has scripted history by winning India's first ever gold medal at the Youth Olympic Games in Buenos Aires. Jeremy Lalrinnunga lifted a total of 274kg to finish on top in the 62-kg category.
8) The first India-Israel Innovation Centre (IIIC) was launched in Bengaluru. It is a noteworthy step towards facilitating penetration of Israeli companies in India and aims to forge local partnerships & joint ventures b/w companies from the two countries.
9) World Mental Health Day is observed on 10 October with an aim of raising awareness of mental health issues around the world and mobilizing efforts in support of mental health. 'Young people and mental health in a changing world was this years' theme.
10) The Appointments Committee of the Cabinet has approved an extension in tenure of the MD and CEO of Bank of Baroda P S Jayakumar for a period of one year till October 12, 2019. He was the co-founder and CEO of VBHC Value Budget Housing (VBHC).
11) WB ranked India 115th with a score of 0.44 out of 1.0 among 157 countries in the Human Capital Index. GOI dismissed HCI to undertake the Human Capital Development. Singapore topped in the index followed by Japan, Hong Kong, and Finland.

  Oliveboard Live Courses & Mock Test Series