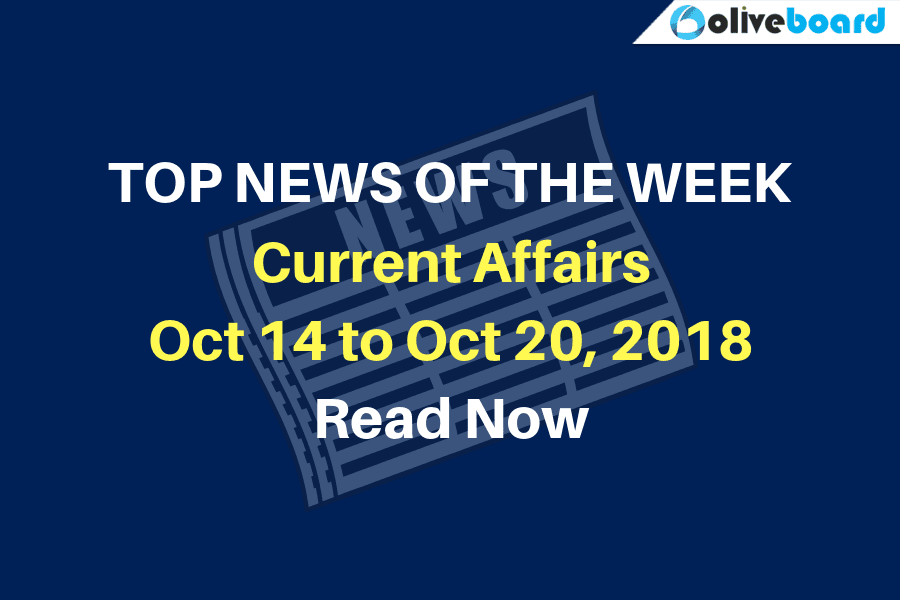 In this blog, All the Top news of week Top News of the week – Current Affairs from Oct 14 to Oct 20 2018 for your General Awareness and Current Affairs preparation for Bank and Government exams
1) Women and child development ministry proposes setting up a committee with senior judicial and legal persons as members to look into all issues emanating from the #MeToo campaign. A committee will include senior judicial and legal persons as members.
2) Legendary musician Annapurna Devi died because of age-related issues at Breach Candy hospital in Mumbai. She was 91 years old. Annapurna Devi was an Indian surbahar player of Hindustani classical music. She was married to sitar maestro Ravi Shankar.
3) India recorded its best-ever showing in the Asian Para Games by bagging 72 medals, including 15 gold, with the shuttler adding two yellow metals and three bronze on the concluding day of competitions.
4) India's first fully organic State Sikkim won the top prize in an UN-backed award. It was declared organic in 2016 after phasing out chemical fertilizers, pesticides & substituting them with sustainable alternatives.
5) India's overall exports in April-Sep 2018-19 are estimated to be USD 265.39 Billion, exhibiting a positive growth of 17.38 per cent over the same period last year. The overall trade deficit for April-Sep 2018-19 is estimated at the US $ 56.01 Billion.
6) Anna Burns has become the 1st Northern Irish author to win the Man Booker prize, for Milkman which is about an 18-year-old woman known as middle sister, being sexually harassed by a powerful man. According to the chair of judges, it is incredibly original.
7) India has been ranked as the 58th most competitive economy with a score of 62.0 on the World Economic Forum's global competitiveness index for 2018, which was topped by the US. It is a composite indicator that determines an economy's level of productivity.
8) The famous Shahi litchi of North Bihar has got the Geographical Indication (GI) tag. It is the fourth product from the state after Jardalu mango, Katarni rice and Magahi paan to have got the GI tag. GI Tag certifies identical products of geographical location
9) The Vice President of India participated in two-day 12th Asia-Europe Meeting (ASEM) in Brussels. The theme of the ASEM Summit is 'Global Partners for Global Challenges'. This is a bi-annual event highest platform for discussion in Asia-Europe.
10) Suheil F. Tandon has won the International Olympic Committee's Sport and Active Society Commission's Grant Award for his contribution to sports for development. He is the Founder of Pro Sport Development (PSD) and ED of Martha Farrell Foundation.
11) The continuing fall of the rupee has had its impact on foreign exchange reserves, which plunged by $5.143 billion to $394.465 billion during the week on account of a decline in foreign currency assets.
12) India and Japan are all set to hold the first-ever joint military exercise 'Dharma Guardian -2018' with the Indian Army and Japan Ground Self Defence Force at Counter Insurgency Warfare School in Vairengte, Mizoram from November 1 to 14, 2018.
  Oliveboard Live Courses & Mock Test Series