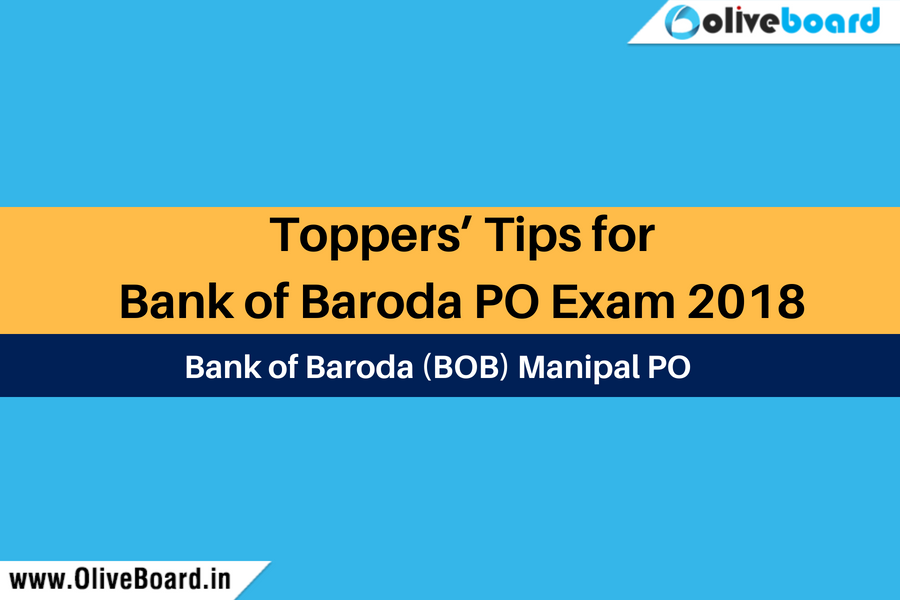 Bank of Baroda (BOB Manipal) PO exam is less than a month away and you might be preparing well for the exam. In our previous blogs, we helped you with the detailed syllabus and preparation strategies to get started. Today, we bring to you few toppers' tips that will help you prepare better for the upcoming Bank of Baroda PO Exam 2018.  
Kislay Nikhar (Cleared Bank of Baroda PO 2017)
Due to high level of competition, it was really tough to crack all the 4 stages of the exam (Prelims, Mains, GD, PI). The pattern of the exam was being changed regularly in the past few years and I was also pursuing my main stream course, i.e. CA-Final.
All I did was to extract some 1-hour time daily to view the videos on YouTube to be familiar with the syllabus and various tricks plus concepts. And a major part of my success goes to Oliveboard team, which provided me a platform to examine my strengths & weaknesses, providing questions based on new pattern plus excellent level of the questions to practice on, which has helped me a lot to achieve success in a short time.
Here are the books, which I referred to study: 
English- S.P. Bakshi

Maths- R.S. Agrawal

Reasoning- Questions on various sets, after clearing all the concepts through YouTube.

General Awareness- Oliveboard
All the tests that I gave on Oliveboard helped me in enhancing my thinking capability and helped me solve various levels of questions in a shorter time.
Read his complete success journey.
Prashant Singh Rawat (Cleared Bank of Baroda PO 2017)
As I was preparing on my own, I had no guidance and proper strategy so I took help of Facebook and various groups where a friend told me about Oliveboard speed tests. As recommended by her, I registered for them. My friend and I started giving speed tests and comparing each other's scores and analyzing the Oliveboard tests. With the help of analysis of the tests, I got to know one of my major weaknesses-improper time management. After giving some of the tests and trying different strategies, I realized that banking exam is not about solving a question, it is about picking the right question. Oliveboard questions are unique and tricky and that helps you prepare for the unexpected!
Tips for aspirants:
Practice multiple questions online because the exam will be in online mode, tests of Oliveboard is at par with IBPS exams, even higher than IBPS at times.

Don't get disheartened by your score be it in real exams or speed tests, just try to analyze your mistakes. I used to get even in 20s in Oliveboard but gradually it increased to a good level.

Don't whine about unnecessary things like vacancy, new pattern etc. which are not in your control and focus on self-improvement.

Being complacent in case of good score and disappointed in case of less score, are both dangerous, you should compete with yourself and must score higher marks in every next attempt.

Lastly, stop procrastinating and start acting.
Read his complete success journey.
Saahil Gupta (Cleared Bank of Baroda PO 2016)
In my opinion studying 12-15 hours a day will not help you till your approach isn't right. If your approach is right, you can crack any exam. The first thing which I did was joining Oliveboard Test Series. This is one of the best test series you will find. The questions are of very good level & you all know that the exams these days are not easy. The approach to the questions is so well defined that it's not only easy but also error free. There was a sudden improvement in my scores after joining the test series. 
Tips to all aspirants:
You can see the improvements. It's all about the approach, guys. The other important point to note here is patience. Never fear from your failure. Failure can make your confidence zero, but it can also make you rise to the top level. We fret it, we try to avoid it, and we question ourselves every time we have unconventional ideas. But the truth is, no great success was ever achieved without failure. Whether we like it or not, failure is a necessary stepping stone to achieving our dreams.
Read his complete success journey.
Deepak Bharadwaj (Cleared Bank of Baroda PO 2017)
For Math and Reasoning, I was totally dependent on mocks. I didn't go through any books except 1-2 books to understand the patterns. If your concepts are not good, then first learn them. Then start giving mocks. The concept doesn't mean short tricks.
For GK, I learned concepts of banking and insurance from various sites including Oliveboard. Static capsule of Oliveboard was of great help. It covered all static information. For current affairs, I referred various sites and videos.
As my English is not up to the mark but for clearing cut-off I attempted the maximum question. Reading is the best way to improve English. Read grammar rules at least once in a week. That's enough according to me.
Oliveboard test series helped me a lot. I always preferred mocks in which time is given for every question because it helped me in analyzing well. I always analyze every mock at least for 1 hour. I constantly work on my mistakes and practice math and reasoning only in mocks because I was good in both.
Read his complete success journey.
Tanmoy Nandy (Cleared Bank of Baroda PO 2017)
One of the thumb rules of my preparation was to limit the number of 'sources' of preparation and increase the number of revisions from those same sources.
Some Advice to Aspirants:
Always target a minimum of 90 percentile in

Oliveboard mocks.

For GD the secret to being able to speak on any topic is to mentally ask 'Why', 'What', 'How', 'Where', 'When' to the topic. You can bundle together the answers you get and start the discussion.
Create a challenging daily routine and try to execute it no matter what – win each day to win the final exam.
Meditation improves concentration exponentially. Start Meditating for a few minutes every day.
Lastly, I would like to say that from my entire journey, I have learned that discipline supplemented with a regular routine, avoiding procrastination and with a little perseverance, anyone can crack this examination. Thank you for reading and wish you all the very best!
Read his complete success journey.
After going through the above success stories, we can come to few points that are common and are sure shot tips for the upcoming Bank of Baroda BOB Manipal PO Exam. Let's glance through these tips.
Keep your sources to minimum

Practice

maximum

Have clear concepts

Analyze your performance

Stay confident
Hope these tips help. All the best for the upcoming Bank of Baroda PO Exam.