The Staff Selection Commission's recruitment examination for the CGL Junior Statistical Officer is expected to be conducted in May/ June 2022. The notification for this examination is expected to be released in January 2022. This article will give you details about SSC JSO Books and other study material for the examination.
Study Material For SSC JSO: Books And Sample Papers
The best source of preparation are:
Examination preparation books recommended by experts
Previous years' question papers
Sample papers
Mock test series.
These are provided by coaching institutes. If you plan to prepare for the SSC JSO by self-study, you can purchase the books mentioned in this article for your preparation. Also, take mock tests online. The examination sample papers are available for free on the internet.
Best SSC JSO Books For Exam Preparation
| | |
| --- | --- |
| English Books | Authors/Publication House |
| Objective General English | SP Bakshi (Arihant) |
| Competitive General English | Kiran Prakashan |
| Perfect Competitive English | V.K. Sinha |
| Quick Learning Objective General English | RS Aggarwal & Vikas Aggarwal |
| From Plinth to Paramount | Neetu Singh |
| How to Prepare for Verbal Ability and Reading Comprehension | Arun Sharma |
| Objective English for Competitive Examinations | H M Prasad |
| Wren & Martin – High School English Grammar and Composition | Wren & Martin |
| A Mirror of Common Errors | Dr. Ashok Kumar Singh |
| | |
| --- | --- |
| Quantitative Aptitude | Authors/Publication House |
| Quantitative Aptitude | Dr. R.S Agarwal |
| NCERT Maths from Grade 6 to Grade 11 | NCERT |
| SSC Elementary and Advanced Maths | Kiran |
| Magical Book on Quicker Maths | M Tyra |
| Advance Maths | Rakesh Yadav |
| | |
| --- | --- |
| Reasoning Books | Authors/Publication House |
| Modern Approach to Verbal & Non-Verbal Reasoning | Dr. R.S. Aggarwal |
| Analytical Reasoning | M.K. Pandey |
| Logical and Analytical Reasoning | A.K. Gupta |
| How to Prepare for Logical Reasoning | Arun Sharma |
| | |
| --- | --- |
| General Awareness Books | Authors/Publication House |
| NCERT Books of Class X, XII- History, Geography, Economics | NCERT |
| General Knowledge | Lucent Publication |
| Manorama Yearbook | Manorama |
Although preparing from the examination books is a good idea, you must also follow the previous years' question papers as they are a very good source of what to expect in the examination. In case the previous years' question papers are not available, the candidates can opt for the sample paper and mock test series available online. The advantages of practicing the previous year's question papers, mock test series, and sample papers are given below:
This will acquaint the candidate with the pattern of the question paper, the marking scheme of the examination, and the weightage given to each section.
While solving the sample papers, previous year's question paper, and taking mock tests, the candidates will answer different types of questions and will be better prepared to answer short, lengthy, tough, tricky, difficult, and easy questions.
Due to solving question papers and sample papers, the candidate will be in a position to answer questions in the examination more proficiently, quickly, and correctly.
To prepare well for the examination, the candidates should have a clear idea of the syllabus.
SSC CGL Syllabus Tier I
General Intelligence And Reasoning
General Awareness
Quantitative Aptitude
English Language And Comprehension
SSC CGL General Intelligence And Reasoning Syllabus For Tier I
Word Building
Decision making
Non-verbal series
Logical Reasoning
Semantic Classification
Venn Diagrams
Coding & decoding
Visual memory
Alphabet Reasoning
Similarities and differences
Number Classification
Drawing inferences
Number Series
Cause & Effect
Statement conclusion
Seating Arrangement
Figural Classification
Relationship concepts
Semantic Analogy
Problem-solving
Venn Diagrams
Counting Figures
Space Orientation
Arithmetical reasoning and figural classification
Analogy
Decision Making
Figural Series
Order & Ranking
Space Visualization
Inequality
Figural Analogy
Judgment
Problem Solving
Date & city matching
Statement & Argument
Symbolic Operations
Direction & Distance
Syllogism reasoning
Data Sufficiency
Semantic Series
Figural Pattern- folding and completion
Calendar
Order and word formation
Cubes and Dice
Blood Relations
Embedded Figures
Critical thinking
Emotional Intelligence
Social Intelligence
SSC CGL General Awareness Syllabus
Sports
History (Ancient, Medieval and Modern)
Culture
Geography
Economic Scene
General Polity
Indian Constitution
Scientific Research
SSC CGL Quantitative Aptitude Syllabus
Standard Identities
Sphere
Tangents
Time and distance
Square roots
Computation of whole numbers
Complementary angles
Hemispheres
Quadrilaterals
Time & Work
Averages
Heights and Distances
Rectangular Parallelepiped
Regular Polygons
Elementary surds
Interest
Decimals
Fractions and relationships between numbers
Histogram
Regular Right Pyramid with triangular or square base
Right Prism
Graphs of Linear Equations
Profit and Loss
Percentage
Frequency polygon
Trigonometric ratio
Right Circular Cone
Triangle
Discount
Ratio & Proportion
Bar diagram & Pie chart
Degree and Radian Measures
Right Circular Cylinder
Circle and its chords
Partnership Business
Mixture and Alligation
SSC CGL English Syllabus
Candidates' ability to understand correct English, their basic comprehension and writing ability, etc., would be tested.
SSC CGL Tier-II Syllabus
There are 4 papers in SSC CGL Tier II-
Quantitative Aptitude
English Language & Comprehension
Statistics (for Junior Statistics Officer)
Finance & Economics (For AAO)
CGL Tier-II Syllabus Paper 1 – Quantitative Aptitude
Frequency polygon
Sphere
Time and distance
Tangents
Fractions and relationships between numbers
Quadrilaterals
Bar diagram & Pie chart
Hemispheres
Time & Work
Interest
Percentage
Regular Polygons
Regular Right Pyramid with triangular or square base
Rectangular Parallelepiped
Elementary surds
Profit and Loss
Ratio & Proportion
Square roots
Trigonometric ratio
Complementary angles
Right Prism
Discount
Graphs of Linear Equations
Averages
Degree and Radian Measures
Heights and Distances
Right Circular Cone
Partnership Business
Triangle
Computation of whole numbers
Standard Identities
Histogram
Right Circular Cylinder
Mixture and Alligation
Circle and its chords
Decimals
CGL Tier-II Syllabus Paper 2 – English Language & Comprehension
Active/ passive voice of verbs
Spelling/ detecting misspelled words
Spot the error
Conversion into Direct/ indirect narration
Idioms & phrases
Fill in the blanks
Shuffling of sentence parts
One-word substitution
Synonyms
Shuffling of sentences in a passage
Improvement of sentences
Antonyms
Cloze passage
Sentence Structure
Comprehension passage
CGL Tier-II Syllabus Paper 3 – Statistics (Junior Statistical Officer)
Subject
Collection, Classification, and Presentation of Statistical Data
Measures of Central Tendency
Measures of Dispersion
Moments, Skewness, and Kurtosis
Correlation and Regression
Probability Theory
Random Variable and Probability Distributions
Sampling Theory
Statistical Inference
Analysis of Variance
Time Series Analysis
Index Numbers
DOWNLOAD THE OLIVEBOARD APP FOR ON-THE-GO EXAM PREPARATION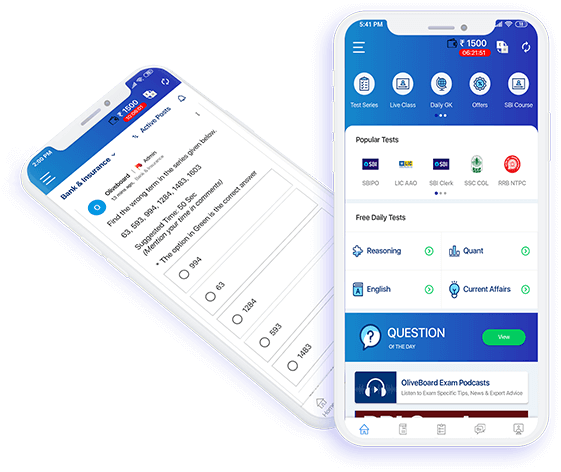 Video Lessons, Textual Lessons & Notes
Topic Tests covering all topics with detailed solutions
Sectional Tests for QA, DI, EL, LR
All India Mock Tests for performance analysis and all India percentile
General Knowledge (GK) Tests
Free videos, free mock tests and free GK tests to evaluate course content before signing up!

SSC JSO Preparation: Important Tips
Candidates preparing for SSC JSO without coaching should follow the below tips and use them for their preparation to get positive results:
Make weekly and monthly plans for your preparation:
In the weekly plan, allot a fixed number of hours for studying. For the monthly plan, calculate the total number of months you have in hand for the preparation. Now, divide the number for completion of the syllabus, taking mock tests, and revision.
First, take up the subject in which you are least proficient. Listen to the advice of your friends. Let your mentors and online tutorial groups guide and help you to prepare for the examination.
Complete your syllabus and get a concept of the examination pattern and difficulty level; after this, start taking mock tests. Take as many as you can, as it will help you overcome your shortcomings and improve your proficiency and confidence.
Also, solve sample papers. After solving each sample paper, evaluate your performance and improve on it in the next paper you solve.
Do not be disappointed if you don't perform well in the mock test initially. As you keep taking the tests, you will find that you are performing better and better.
Conclusion:
You can clear the SSC JSO recruitment Exam if you study systematically and earnestly. Since Tier I and Tier II are online examinations and there is a certain manner of answering the questions, it is best to practice the examination before you actually take it. Choose an online platform that provides you with mock tests. Prepare well and take the mock tests to get an idea/ gain experience for the examination. You will become more proficient in taking the test and thus, be able to perform better and fare well in the examination.
FAQs: Frequently Asked Questions
Where can I get the SSC JSO study materials?
You can get the SSC JSO study materials from websites like www.oliveboard.in
Will preparing from the SSC JSO books help me clear the exam?
You must also go through the previous years' question papers, sample papers, and take online mock tests. It needs diligent studying and an earnest approach towards preparation to clear the examination. So, a well-planned study schedule and hard work are indeed necessary.
  Oliveboard Live Courses & Mock Test Series